Snake at Parque Zoologico Nacional La Aurora, Guatemala
If you are doing zoological research or zooarchaeology, the Park Zoologico Nacional La Aurora is a pleasant safe place to work. The staff are understanding of academic research and helpful. FLAAR has spent tree days doing photography of the crocodiles and snakes to study for iconography and epigraphy of Classic Maya imagery. We have also taken photographs of the ocelots and some of the jaguars, but not as intensely as of the crocodiles and snakes. With the later two species we could get research access inside their cages. For the snakes, they were taken out by the experienced herpetologist, Lic Carlos Patzan.
We thank Dra. Laura Gómez the director of Departamento Técnico of the Parque Zoologico Nacional La Aurora for permission to undertake our ethnozoological research here. Most of our photographs taken in the Guatemala City zoo park will be in various full-color FLAAR Reports in PDF format (in other words, in the free downloadable reports rather than on this web page).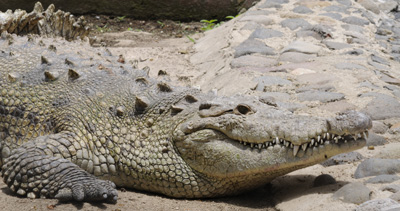 Crocodile at Parque Zoologico Nacional La Aurora, Guatemala
Ethnobotanical opportunities in the Parque Zoologico Nacional La Aurora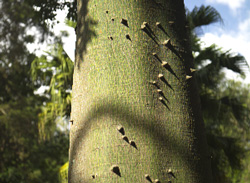 Ceiba photographed by Nicholas Hellmuth at Parque Zoologico Nacional La Aurora, Guatemala.
There are several ethnobotanically important tree species inside the Guatemala City Zoo park area, namely two different species of sacred Ceiba tree: both Ceiba pentandra and Ceiba aesculifolia. Other examples are in the Jardin Botanico of the Universidad San Carlos. But the Jardin Botanico is at the start of Avenida Reforma, Zone 10 side of the street (other side is Zone 9), and is a few kilometers away from the Zoo. The actual main Universidad San Carlos is in Zone 12, not close to either the zoo or the botanical park.
The Parque Zoologico Nacional La Aurora
Zoologico Nacional La Aurora is the official name. The Guatemala City zoo park in the La Aurora area is not far from the airport. The Museo de Historia Natural and the Museo de Arqueologia are only a few blocks away (all are in the former area of Finca La Aurora). All are Zona 13 (the location of every building, every street and every feature of the city is told by what "zone" you are in).
Although it is considered the "city zoo" evidently the zoo is operated and managed by private citizens who are interested in animals. Photographer Dickie Mata is one of the individuals on their Board of Directors whom I have known for decades. His photographic archive of animals of Guatemala is one of the best in Central America.
Their web site is www.aurorazoo.org.gt
I would rate the zoological park in Guatemala as relatively clean, probably cleaner than the areas outside the zoo.
Other zoological parks in nearby parts of Central America: List of zoos
Whereas the Parque Zoologico ZOOMAT (Miguel Alvarez del Toro) regional park in Tuxtla Gutierrez, Chiapas, Mexico is dedicated to species that inhabit Mexico in general and Chiapas in particular, the Guatemala City park is a full-range zoo: girafes, zebras, etc. in addition to species found in Guatemala, Mexico, and Honduras. I have also done extensive photography several decades ago in the Tuxtla Gutierrez zoo.
The Belize zoo is another option for research but we have no contacts there so have not worked there.
The ARCAS Wild Animal Rescue and Rehabilitation Center is along the edge of Lago Peten Itza in the Peten area of Guatemala (just south of Tikal).
Petencito Zoo, I have been here several decades ago. I will need to check and understand the relationship between Petencito Zoo and ARCAS Wild Animal Rescue and Rehabilitation Center
El Retiro Sanctuary and Snake Exhibit, Peten (I find only one mention, and no actual web site).
Parque Ecologico del Sur, Erhco Park, is a place I am not familiar with. It is en route to El Salvador.
IRTRA private zoo, I have not visited.
Auto Safari Chapin is a private reserve with primarily African animals but does also have Guatemalan species such as jaguars, local crocodiles, spider monkeys, etc. Auto Safari Chapin is a drive-through-yourself zoo. You stay in your car since the lions are loose. When we went to photograph we had a permit so the lions were not wandering around while we were in their area doing photography of local plants of interest to our Mayan ethno-botany research. I have visited Auto Safari Chapin once in 2008 and once in 2009.