Itzimte, Clerodendrum lingustrinum, is a native species of shrub from Mesoamerica. It has medicinal and edible properties, for medicinal properties, the leaves are useful for headaches and diuretic issues. Itzimte was also useful for flavoring cacao beverages for the Mayas.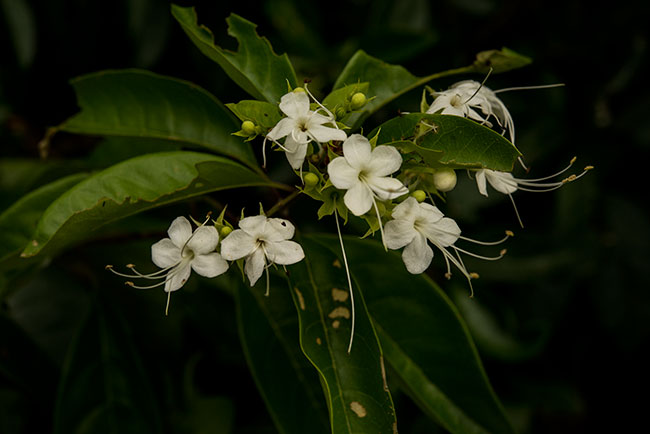 Clerodendrum lingustrinum, by Nicholas Hellmuth, Nikon D810, 60 mm, f 11.0, ISO 500.
PDF, Articles, Books on Clerodendrum lingustrinum
ACHARI, B., CHAUDHURI, C., SAHA, C., DUTTA, P. and S. PAKRASHI
1990
A clerodane diterpene and other constituents of Clerodendron inerme. Phytochemistry. Vol. 29, No. 11. Pages 3671-3673.

Sold online:
www.sciencedirect.com/science/article/abs/pii/...

BASHWIRA, S., HOOTEL, C., TOURW, D., PEPERMANS, H., LAUS, G. and G. van BINST
1989
Cleromyrine I, a new cyclohexapeptide from Clerodendrum myricoides Tetrahedron. Vol. 45, No.18. Pages 5845-5822.

Available online:
www.researchgate.net/publication/256863961_Cleromyrine
_I_a_new_cyclohexapeptide_from_Clerodendrum_myricoides

BELIAEV, Dimitri, DAVLETSHIN, Albert and Alexandre TOKOVININE
2009
Sweet Cacao and Sour Atole: Mixed Drinks on Classic Maya Ceramic Vases. in: STALLER, J. E. and M. D. Carrasco, Pre-columbian Foodways: Interdiscipilanary Approaches to Food, Culture, and Markets in Ancient Mesoamerica. Pages 257-272

Available online:
www.rsuh.ru/upload/main/knor/binary/Beliaev_et_al_2009.pdf

BREEDLOVE, D. E.
1986
Flora de Chiapas. Listados Floríst. México. No. 4. 246 pages.

COWAN, C. P.
1983
Flora de tabasco. Listados Floríst. México. No. 1. 123 pages

LUNDELL, Cyrus L.
1937
The Vegetation of Petén. Carnegie Institution of Washington, Pub. No. 478.

ROYS, Ralph
1931
Ethno-botany of the Maya. Tulane University, Middle American Research. 359 pages.

RUEDA, Ricardo M.
1993
El género Clerodendrum (Verbenaceae) en Mesoamérica. Annals of the Missouri Botanical Garden. Vol. 80, No. 4, Pages 870-890.

STEVENS, W. D., ULLOA, C., POOL, A. and O. M. MONTIEL
2001
Flora de Nicaragua. Monogr. Syst. Bot. Missouri Bot. Gard. Vol. 85, No. 3. Pages 2497-2525.

STANDLEY, Paul C., WILLIAMS, Louis, and Dorothy Nash GIBSON
1974
Flora of Guatemala. Fieldiana: Botany, Vol. 24, Part X, No. 3 and 4. Field Museum of Natural History Pages 1970-1973.

Suggested webpages with photos and information on Clerodendrum lingustrinum
www.medicinatradicionalmexicana.unam.mx/monografia.php?l=3&t=Moste&id=7729
Information.
www.theplantlist.org/tpl/record/kew-42769
Synonyms.
www.tropicos.org/name/33701118?projectid=3
Information and map location.
http://enciclovida.mx/especies/6063286
Map location.
www.cicy.mx/sitios/flora%20digital/ficha_virtual.php?especie=1425
Information.
www.plantillustrations.org/species.php?id_species=255518
Illustrations.
First posted, June, 2018