Posada Don Diego, coffee and hotel for budget-minded travelors to Antigua, Guatemala
If you don't want to spend a bundle, this basic posada offers a safe haven for the visitor to Antigua Guatemala.
Favorable Location for a hotel in Antigua
This posada is directly across the street from La Merced church, one of the attractions of colonial Antigua Guatemala.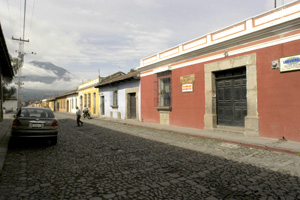 This is the street where the hotel is located.
Antigua is a tad dark and unoccupied after about 8 pm on weeknights, so it is good to be close to the center. Here you are within walking distance, down principal streets, from the main square.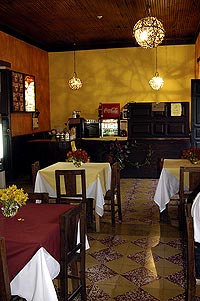 The cozy restaurant of the hotel
The posada is small and cozy. This is not a huge pension where hundreds of travelers hang out. Not a backpackers hotel The rooms are really clean. Hot water is readily available in the shower, which is across the hall (some rooms have private showers inside the room). Antigua itself is so pretty you will be outside wandering around all day and in bars at night. So all you really need in a hotel is a safe clean place for recuperating overnight. That's what the Posada Don Diego offers.
No cockroaches, no bed bugs, no filth.
Bed linens were clean. The owner-operator himself evidently remodeled this house into the pension.
Carlos Roberto Castillo is a pleasant person and justifiably proud of the work he has accomplished. It is a family run business, and well known for his honest reputation.
A small patio has greenery so you realize you are not in some modern concrete bunkhouse.

The dog was fenced off but seemed to beg to be petted and hugged. No cats in sight and the dog did not roam free.
There is a back yard in case you need to plan some outside event during the non-rainy season.
FLAAR members have stayed here over the past 5 years everytime we go to photograph in Antigua. The Hotel has been remodeled since our first visit, now it has more rooms, and improved breakfast and lunch menus.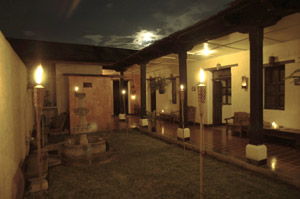 Inside the hotel has the typical colonial style.
Reservations by:
e-mail: posadadon_diego@hotmail.com Or posadadondiego@gmail.com
telephone: (502) 7832-1401and 7832-4466 cel phone: (502) 5752-2339
address: 6th Avenida Norte # 52, Antigua, Guatemala.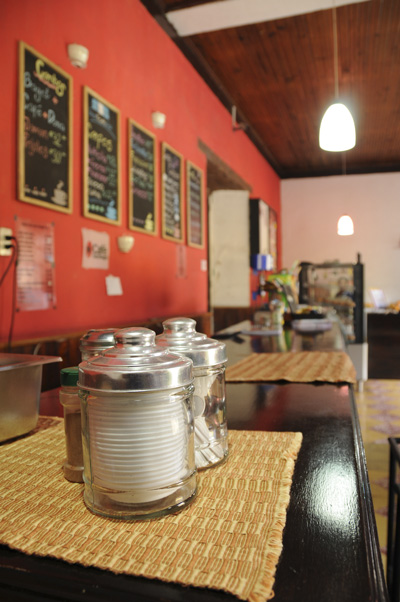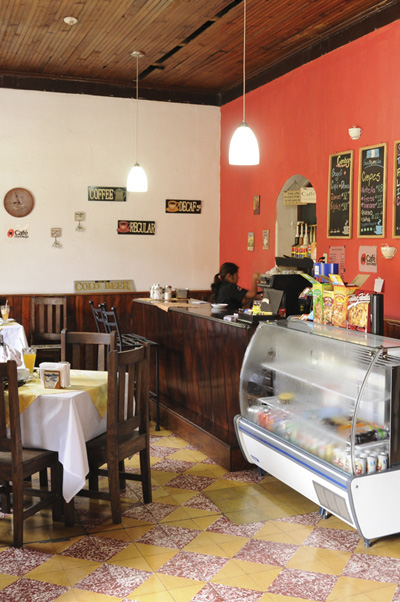 Nicholas visited the restaurant of Posada Don Diego Hotel during his stay in Antigua Guatemala to photograph the ruins of Capuchinas in August 2009. We also stayed here again several times in 2010.
Wireless internet is available in the cafeteria and most of the rooms, and there is also one computer available for guests. During a sunny day the back garden is very pleasant.