Lantana camara, Cinco Negritos, black fruits are used for natural dye colorant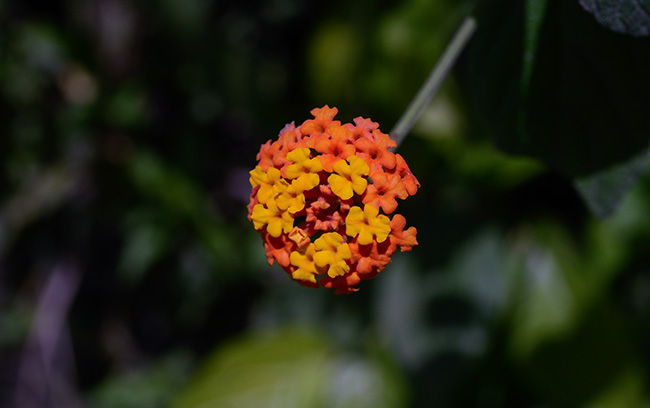 Lantana is one of the more common roadside weeds of the Neotropics, and is common in many areas of Guatemala, Mexico, Costa Rica etc. We grow it in our Mayan Ethnobotanical Research Garden of FLAAR Mesoamerica because the colorful flowers attract butterflies.
Much to my surprise, it is not the colorful yellow and orange flowers which give the dye colorant; it is the black fruits (from which the plant gets its common name in Spanish, Cinco Negritos).
I have never seen the pink variety wild in Guatemala; only the orange with yellow set of colors.
PDF, Articles, Books on Lantana camara, Cinco Negritos
Family Verbenaceae; called wild-sage and many other names; but called Cinco Negritos in Latin America due to the color of the small black fruits.
Although frequently listed as a medicinal plant throughout Mesoamerica, most of the plant is toxic, and actually is a great plant to have in your garden because most insects don't like it (except for the butterflies which are attracted to pollinate it).
Suggested web pages
with photos and information on Lantana camara
www.interreg-bionatura.com/especies/pdf/Lantana%20camara.pdf
Information.
www.fao.org/forestry/13375-06ba52ce294a4e15f8264c42027052db0.pdf
Information and photos.
www.conabio.gob.mx/malezasdemexico/verbenaceae/lantana-camara/fichas/ficha.htm
Information.
www.acguanacaste.ac.cr/paginas-de-especies/plantas/624-verbenaceae/3592-i-lantana-camara-i-vebenaceae
Information and photos.
www.cabi.org/isc/datasheet/29771
Information.
www.theplantlist.org/tpl/record/kew-107934
Synonyms.
First Posted January 2018