FLAAR is a research institute on flora and fauna of Mesoamerica, especially focused on evaluations of scanners, digital cameras, and digital imaging technology to better record flowers and animals of endangered species of Guatemala and adjacent Belize, Honduras on the south and Mexico to the north.
Most of our staff are university trained graphic designers. Plus we have 3D specialists, digital photography specialists, and video specialists.
Since many of the staff are still attending university classes, we are all eager to learn even more techniques and technology. Three of us recently attended SIGGRAPH 2015 in Los Angeles.
Since the founder of FLAAR has been a Visiting Research Professor in Japan, the island of Malta, and in universities in Guatemala and USA, we like to obtain recent books and review them. This way students all around the world can have tips of what books to consider.
Peachpit Press sent us five titles to evaluate: two electronic training courses and three books. First these went to our office in St Louis, and now they have arrived in Guatemala.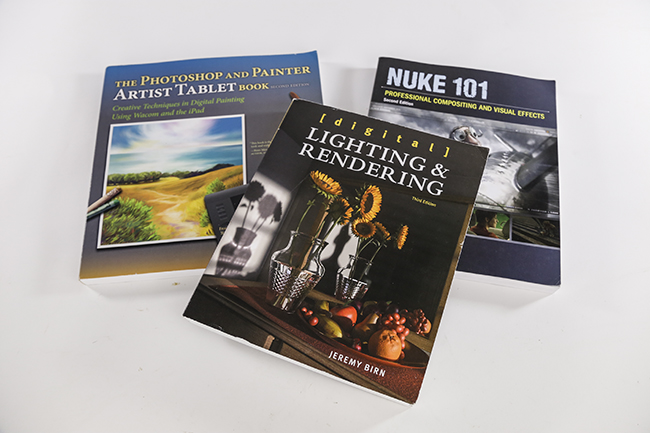 Here are the books arriving in Guatemala for review by the digital imaging team here at FLAAR Mesoamerica, a division of FLAAR (USA).
BIRN, Jeremy.
2001
Lighting & Rendering, third edition, by Jeremy BIRN, 2014, New Riders, 453 pages.
THREINEN-PENDARVIS, Cher.
2001
The PHOTOSHOP and PAINTER Artist Tablet Book. 2nd edition, by Cher THREINEN-PENDARVIS, 2014, Peachpit Press, 270 pages.
GANBAR, Ron.
2001
NUKE 101, Professional Compositing and Visual Effects, 2nd edition, by Ron GANBAR, 2014, Peachpit Press, 387 pages.
First posted October 28, 2015