Among the Oxec and La Canasta cave in Sepacuité Cahabon, Alta Verapaz. There is another cave where it is a ceremonial center for the Q'eqchi in the region.
To reach this cave, you must walk about 20 minutes from where the car stays parked. The road is hilly, slopes, but quite accessible for people of all ages. Our team escorted a man of old age, a woman with a gestation period of 5 months and a woman with a baby of two months old.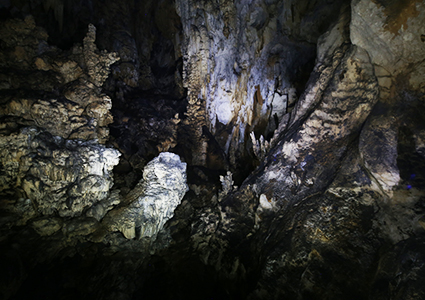 When we arrived at the cave, we saw the huge entrance and millions of swallows flew out through the entrance to welcome us. They nested in holes that had the cave.
The men of the community who were our guides told us that this cave for the community of qeqchies on this area practice any rites and thanks for the corn crop. That was true. The walls of the cave were smoked (by incense were black and they watch it burn inside). In addition there was a cross in the center of the first room of the cave and several remains of candles.
As I mentioned, the first room is a cathedral and the second living stalactites and stalagmites have giant and impressive ways.
We could not move forward and explore the cave for lack of time and because we need an appropriate and qualified to enter the caves.