Different uses of tobacco (besides smoking) include medicinal uses and use as a dye colorant to color native Mayan clothing (native Mayan cotton and bark paper cloth). Several species of Nicotiana are available in Guatemala and elsewhere in Mesoamerica.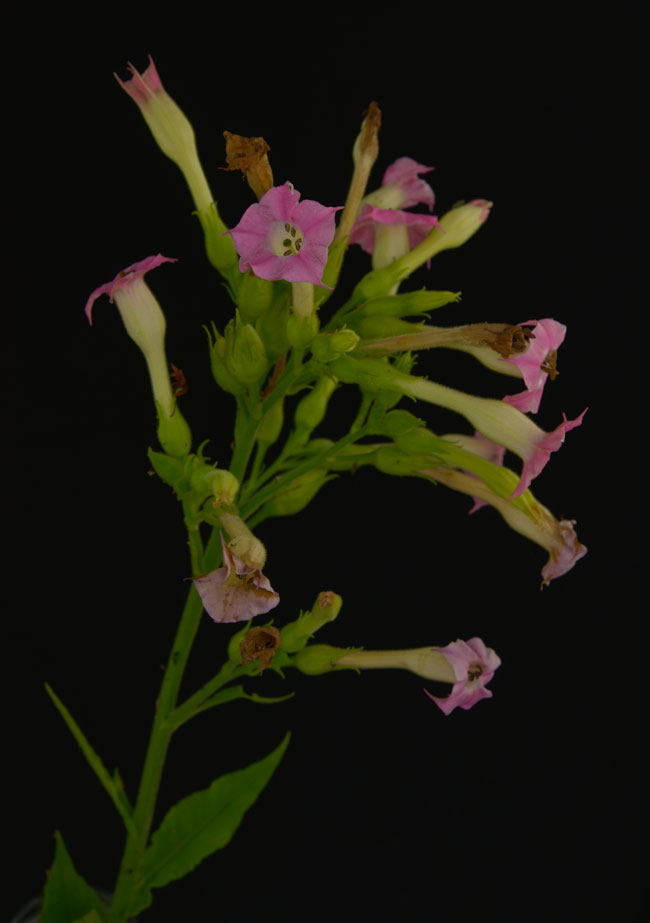 Nicotiana tabacum, its the name of the Tobacco pink flower. We take this picture here in FLAAR's Studios.
Tobacco as colorant, for Mayan clothing (not to color cement grout joints)
We do research on all natural dye colorants from plants (plus red colorant from Cochinilla insects). We are interested in pigment colorants but do not have funding to study pigment colorants (from clay, etc).
In modern society tobacco is used as a colorant to color cement grout joints. Although the Maya invented a cement-like burned lime mortar, Mayan tobacco was not used to color cement grout joints. Our studies are of plants for dye colorants of cotton or bark paper or comparable. So if you need to renew the color of your grout, or want a warm wood acrylic paint color, these we do not study.
Tobacco listed as colorant for Maya textiles in book by Olga Reiche
If you Google tobacco as dye colorant, Maya, Guatemala, other than FLAAR web sites, there is not much information (other than tobacco colorant for grout!). For this reason it is helpful to have the research by Olga Reich on dye colorants of Guatemala. We are proud that many of the photographs are from FLAAR, via photographers Eduardo Sacayon, Sophia Monzon, and Nicholas Hellmuth.
REICHE, Olga
2014
Plantas tintoreas de Guatemala. Ediciones del Pensativo, Guatemala.
Olga Reiche covers tobacco on her pages 162 and 163, mentioning that tobacco produces light brown and dark brown colors. Out web site, www.maya-art-books.org has bibliographies of suggested reading for tobacco in Mayan art and archaeology, bibliographies on specific medicinal plants, etc. We are working on bibliographies on tobacco of Mesoamerica (Maya (Q'eqchi' and dozens of other Mayan languages), Aztec, Mixtec, Zapotec, , etc).
I have observed tobacco colors being prepared when visiting the weaving associations in San Juan La Laguna, Lake Atitlan.