www.Maya-archaeology.org is the premier Internet site for scholarly analysis of Maya art of Guatemala, Belize, Honduras, and Mexico. Extensive photography of Maya art in Guatemala allows us to present colorful rollout photographs of previously unpublished Maya vases from the Popol Vuh Museum.
Iconography is a specialty within either anthropology, art history, or archaeology which studies the meaning of art (usually the meaning of designs, figures, decorations on the art of a past epoch). The scenes painted on these vases reveal the sacred symbol of Maya kingship, based on the design of the petate, a woven frond design of matting. The Maya and Aztec used the design of the woven mat as a symbol of kingship.
The mat, a twisted frond, is the symbol of the petate which covered the floor or thrones in pre-Columbian Mesoamerica. The word for seat in Mayan language and hieroglyphs was pop. The Popol Vuh Museum uses the pop, or regal mat, as their logo. Rollout photographs here show two polychrome Maya vases from the Museo Popol Vuh with these mat symbols.
Link to rollout of Hun Hunahpu, father of the Hero Twins.
Link to rollout of Maya vase showing Maya bat man from Tikal in honor of Ruler A.
The FLAAR Photo Archive has been studying the Mayan ceramic art and hieroglyphic inscriptions in the Popol Vuh Museum for over two decades. Indeed we were photographing this material before the museum was even formed, since we worked on finding the initial house in which the museum was situated before it moved to more formal quarters first in Zone 9 and now in Zone 10.
To read about the mat and pop, the best book is by Francis Robicsek. You can find this book in most libraries (it is long out of print and hence not available inbookstores nor on the Internet).
Museo Popol Vuh Universidad Francisco Marroquin, Guatemala City The vase rolled out here is the style popular in the 8th and 9th centuries A.D. in the middle reaches of the Motagua River. Experts on the pre-Columbian pottery of the Middle Motagua are Dr Guillermo Mata and Dr Gary Rex Walters.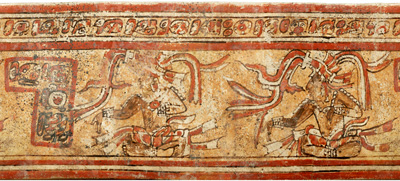 Chama style ceramic rollout at Museo Popol Vuh, Guatemala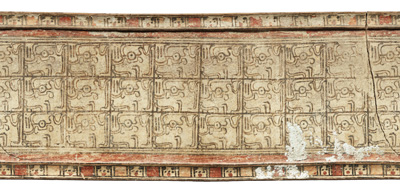 Ceramic rollout at Museo Popol Vuh, Guatemala

Ceramic rollout at Museo Popol Vuh, Guatemala
Nicholas Hellmuth is preparing a book on the rollouts of this area of the Highlands of Guatemala.
text by Nicholas Hellmuth, Director FLAAR Digital Imaging Technology Center