Percussion instruments for Maya Music
In most art and archaeology museums you see lots of ceramic whistles, ocarinas and flutes. Because these are made from fired clay, they last for thousands of years. Yet the trumpets (made of wood) and the drums (those made of wood) are no longer preserved from the 3rd to 9th centuries. Only the ceramic drums are percussion instruments that you see in many museum exhibits and catalogs.
So to experience the drums, raspers, conch shells and other percussion instruments, it helps to visit a museum of music, such as that of Casa Maya Music K'ojom, a few minutes outside Antigua Guatemala.
Another place to see Mayan style drums is in village celebrations
In towns around Lake Atitlan, and in the Quiche and Huehuetenango areas of the Highlands, on a Saint's day or other popular holiday, you may get to experience a procession that may have several Mayan drums being played.
Metal bells could have been available in Post Classic
Most Mayan cities did not have metal working facilities. What little copper or gold which may be found was brought in through trade. But in the Post Classic, more knowledge of how to work metal resulted in a few more metallic artifacts. But our work is on the Classic Maya, and most instruments are of clay, plant material, or deer (or comparable) animal hides.
Be aware that many rollout photos feature Mayan ceramic vases or bowls which have been excessively repainted. The repainting is called "restoration" to hope you don't notice that the repainting is actually modern forgery.
The ceramic vase or bowl underneath is authentic (in 90% of the cases). And the overall scene is generally close to authentic. It is the overlay of fresh paint that is modern.
Stringed musical instruments such as violin and guitar
Stringed instruments, especially violin and guitar, are popular in mariachi music, but no violin or guitar was used by the Maya or Aztec.
Summary of Percussion Instruments of Maya Music
Since I am not a musician, I arrange these in a manner that my brain can better understand them.
| | |
| --- | --- |
| Percussion: on hide | Percussion: no animal hide |
| Upright drum, pax | Rattle, morro or jicaro or comparable; with pellets inside |
| Ceramic drum, Dresden codex | Raspador; you scrape something on a hollow material, a gourd or comparable. |
| Two-chambered ceramic drum | Horizontal log drum; still made and used today, tun kul |
| | Deer antler to rasp turtle carapace |
My favorite instruments are the horizontal hollowed log that is an awesome drum yet with no deer hide anywhere. My other favorite musical instrument of the ancient Maya is the turtle carapace which you rasp with a deer's antler. You can also play a turtle shell with other kinds of hand-held objects. Children seem to like rattles and also the miniature pseudo-marimbas that people sell at tourist places in Guatemala. Music is for people of all ages.
My personal background in Mayan Music dates to the 1970's
Already by mid-1970's I had photographed lots of Maya polychrome vases which showed musical scenes. I provided these photos to Roberto Rivera y Rivera, who with my permission featured them in his 1977 INAH publication, LOS INSTRUMENTOS MUSICALES DE LOS MAYAS.
Today, over 4 decades later I would like to help the children, tweens, and teens of Guatemala to learn about the music of past centuries and past millennia. As soon as funding is available we look forward to doing an inspiring story to encourage young people to recreate the traditional music of Guatemala.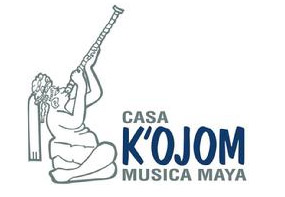 Museo Casa Maya Music K'ojom is an easy place to experience musical instruments of Guatemala, both pre-Columbian and those used by local people today.
This museum is open Monday through Saturday; closed on Sunday.
The museum address is: Centro Cultural La Azotea, final calle del cementerio, Jocotenango, Sacatepéquez, Guatemala, C.A. You can take a TucTuc from Antigua for about US$3.
tel (502) 7831 1486- tel/ fax (502) 7831 1483
email: info@kojom.org / www.kojom.org
The people in the museum are pleasant and hospitable and we appreciate the access to study the instruments provided by the museum manager.
There are what appear to be polo fields for horses on the same property.
Before you enter the museum you can wander around a nice garden to the left.
There is a handsome Ceiba pentandra tree in the parking lot in front of the museum. The kapok tree is the national tree of Guatemala.
Our bibliography of suggested reading on Mayan musical instruments
The two major kinds of drums of the Maya of Mexico, Guatemala, Belize, and Honduras were also the two principal size and shape of drum of the Aztecs (and surely of the Mixtecs, Zapotecs, Toltecs and others of Mexico). We will be issuing our completely bibliography later this year. But in the meantime, you can see lots of these drums, especially my favorite horizontal drum, on this web page below:
www.mexicolore.co.uk/aztecs/artefacts/teponaztli/kids
The photos of the Aztec drums are the lower half of this page.
First Posted February 2018