October 6 – 9, 2011
My wife Meme and I attended the Fifth annual four-day symposium "Maya At The Playa". From October 6 – 9, 2011. Actual venue was the Government Bldg for Flagler County in the town of Bunnell, Florida. This is right at 100 miles from where we live (Cape Canaveral), so we were able to commute rather than needing to stay over. About 150 people attended the event.
Every portion of the event ran very smoothly even though a near continuous rainstorm forced all events, especially the lunches, into the shelter of the building.
25 archaeologists and scientists of other disciplines presented Lectures or Workshops. This meant that sometimes more than one were concurrent, so we had to pick the one we felt would be most interesting.
I saw no major theme in the presentations. There was a wide range of programs, from Codex Interpretation to a Pottery Workshop. As was the case last year, the majority of the presenters were young archaeologists who are working in Belize. Several are doing work somewhat different from the usual ceramics and temples. Heather McKillop is investigating how the Mayas extracted salt from seawater in SE Belize. Alan Cobb has explored a cave in Guatemala called Quen Santo, where the investigation had to be conducted in the midst of ritual use by locals and pilgrims. The Maya Gods are alive and well!
We had fun at the Pottery Workshop by David Lee. First he dropped several terra-cotta pots on the floor to show how they shatter & scatter. He then explained how the fragments are first separated into groups which have the same thickness, color & ingredients and of course any markings or striations on the exterior. We each had a sack of fragments & we quickly learned we did not have complete pots as we sorted and found where pieces fit together. Next the groups intermixed to find more matchups & in some cases reconstruct a complete bowl or pot.
My favorite, (partly because I went there in 1994 on one of Nicholas Hellmuth's expeditions.) was a showing by Keith Merwin of a PBS Documentary from the 1970s of the finding of Rio Bec Temple B, which had been "lost" in Maya History for over 60 years. A relative of Keith's, a cousin he said, Archaeologist Raymond E Merwin and fellow Archaeologist Clarence L. Hay, studied the site in 1912 & took photographs. The film crew in 1973 literally stumbled across the ruins while filming a general discussion of Maya Ruins.
Stepping away from strict ancient Maya research, Dr Virginia Miller showed slides of Maya Revival architecture she has found in both Mexico & USA. The Puuc style of cross-hatches seems to prevail.
Of special interest to me, as a Civil Engineer, was a program by Joaquin (Jack) Rodriguez III of why Maya buildings fall down. There were built with very large safety factors but were not earthquake resistant. His colleague, Architect Rick Slazyk, gave an analysis of the unusual building called "Temple of the Seven Dolls" at Dzibilchaltun.
Many of the other presentations deserve mention, but I will close with the highlight of the Conference.
George Stuart was the recipient of the Lifetime Achievement Award and his Speech was "Getting It Right: The Proper (and improper) Recording of Maya Archaeological Data."
Matt Saunders, who has been the director since the beginning of these conferences, has taken a position at the Davidson Day School in North Carolina. He organized a conference there last Spring, "Maya At The Lago", which we were unable to attend due to conflicts. This will continue and we will make every effort to attend, as well as look forward to future "Maya At The Playas." to meet two of the "giants" of the archaeological work of recent generations – Michael Coe and George Stewart. Michael was the featured speaker at the Lifetime Achievement Award Dinner Speaking on "Ankor and Maya: A Tale Of Two Civilizations."
Report courtesy of Harry and Meme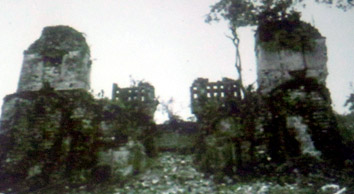 Rio Bec B in 1912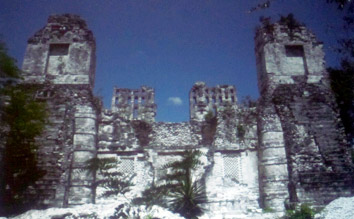 Rio Bec B today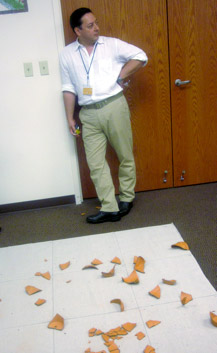 David Lee Shows How Pottery Scatters When Broken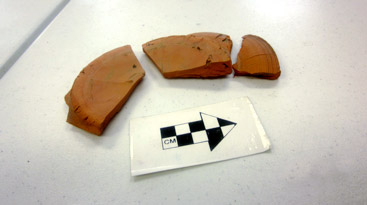 Select Pieces That Match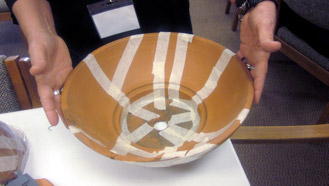 Keep Going and You Will Reconstruct a Complete Bowl