FLAAR is interested in all plants that appear in Maya murals, on ceramics, on sculpture, and are mentioned in the Popol Vuh. For example, a pertinent plant mentioned in the Popol Vuh is Tzite, palo de pito, Its red seeds are still used by the Quiche Maya for divination still today. We found this tree in the Mucbilha community fields and orchards (near Chisec, Alta Verapaz, Guatemala, far from Quiche territory). In fact it was a tree common in the area where they had recently placed vanilla vines.
We are also studying general utilitarian plants. We have a basic interest in medicinal plants but so much of that has already been studied, that we concentrate more on trees, vines, and thatch trees used in making the indigenous houses, for example, or plants that were crucial for diet, or plants for dye (dyeing food such as with achiote, or dying textiles such as with palo de tinto).
Also, practically every plant in the forest and fields had medicinal use for the Maya shamans and curers, so these thousands of species would require substantial grant funding and additional staff. So we prefer to be more realistic, and concentrate on plants such as agave, amate, balche, cacao, cashew, ceiba, copal, croton, flor de mayo (key flower for Lacandon maya), hule, jicaro and morro, nance, papaya, palo jiote, etc.
We are especially interested in cacao species
FLAAR has been studying pataxte for several years (after first seeing it perhaps a decade earlier at Takalik Abaj and of course reading about pataxte in the Popol Vuh decades before we found the actual trees).

During 2014 we went to many diverse eco-systems in Guatemala with this Theobroma bicolor.

Next we began to study Theobroma angustifolium. It took several weeks to find this and we had a thousand kilometer round trip drive to get to the cacao silvestri location.
| | |
| --- | --- |
| | If you wish a list of 96% of the utilitarian plants of the Maya, here is an unprecedented list: edible plants, edible leaves, edible flowers, edible roots. Plus plants for basketry, cordage, house construction. Maya spices, condiments, flavorings: all kinds of plants used by the Classic Maya, including sacred plants. |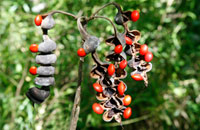 Tzite or Palo de Pito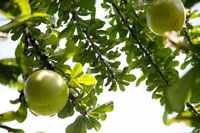 Morro plantation in Chisec, Alta Verapaz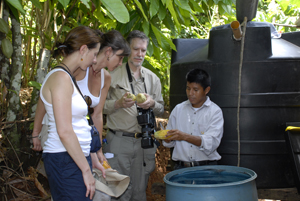 Jennifer Costanza volunteer from Brown University, Silvia Sevilla Nebot a volunteer from Spain and Nicholas Hellmuth with the guide.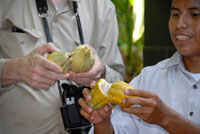 Cacao, iconographic plant of the Popol Vuh
and of Maya civilization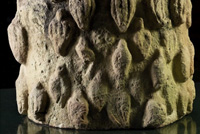 Copan incense burner with cacao, Sculpture Museum
at Copan Ruinas, Honduras, with permission IHAH.
Caves related to Maya iconography and the Popol Vuh.
While in the area of Mucbilha to study vanilla, cacao, palo de pito, and achiote, we took advantages of the fact that the same village was the entrance to several substantial caves. Now that I have experienced the caves of Candelaria at Mucbilha, I notice how much I missed as an anthropologist and iconographer for not having visited them before.
The caves in Alta Verapaz are of such ethnographic and ethnohistorical importance, that university programs should have as a requirement for all students who intend to practice as field workers or instructors in Maya studies, that these students should be required to know the Popol Vuh inside out and should visit at least five major caves in this region, or caves in Belize or in Yucatan-Campeche-Quintana Roo area.
Even though the version of the Popol Vuh that we have today in book form is obviously from the Quiche highlands, the cave system that they discuss is equally obviously from Alta Verapaz.
Caves have been crucial in the iconography of pre-Columbian Mesoamerica since Olmec times.
Chisec area as major destination for eco-tourism.
I personally recommend, highly, that individuals and groups who are interested in eco-tourism, and learning about Maya culture should visit the Chisec area in general and the Mucbilha cave area in particular.
Everyone in the village was pleasant and helpful. The food was yummy, indeed the scrambled eggs with veggies was so good I tried to talk Silvia into giving me her portion (but it was so good she naturally ate it herself). The guide was knowledgeable and patient, especially since I kept asking the same questions: "how many caves are there?" He patiently answered, "about 150."
The guide was knowledgeable and patient, especially since I kept asking the same questions: "how many caves are there?" He patiently answered, "about 150."
Mucbilha Caves in Alta Verapaz
Mucbilha is about 30 minutes from Chisec which is about 2 hours from Coban, Alta Verapaz. The entire area is gorgeous scenery. Sayaxche and the Peten is another several hours further north on the same highway. Summer is a great time because everything is green from the rains (several times a week, but usually afternoons or evenings). Winter might also be a good time (cool, and not much rain). March, April, and early May are a bit dry and hot; but after the rains begin later in May the jungle turns bright green the temperature cools down a bit.
More FLAAR Research in the caves of Mucbilha, Chisec area, Alta Verapaz, Guatemala
During Spring 2009 a FLAAR team returned to the extensive cave system of the Mucbilha area, north of Chisec, off the highway from Coban (Alta Verapaz) towards Sayaxche (Peten). Since I was lecturing in Serbia, Croatia, and Bosnia, my brother, architect Daniel Hellmuth, took my place. He brought his son, Henry Hellmuth. Eduardo Sacayon and Jaime Leonardo from FLAAR Mesoamerica did the photography.
Inside of the caves in the Mucbilha area, Alta Verapaz, Guatemala. If you wish to visit these caves, contact Ricardo Coc Choc at: reservasiqmuc@yahoo.es Phone number (502) 5771-8451
The photo albums on this recent Maya cave photography will be available as free downloads in full-color PDFs shortly. The report by Eduardo Sacayon documents how to do large-format digital infrared photographs (IR digital photography with a 48-megapixel tri-linear scanning Better Light digital camera).
There are many caves in this area. We recommend you visit the caves in the Mucbilha area; the road from the main highway goes to this village.
If you ever wish to hire any of the FLAAR Mesoamerica botanists or photographers to show you how to do all their amazing photography, simply contact us in Guatemala by e-mail, readerservice@flaar.org. We ask a flat fee and a tax-deductible donation to help support our research.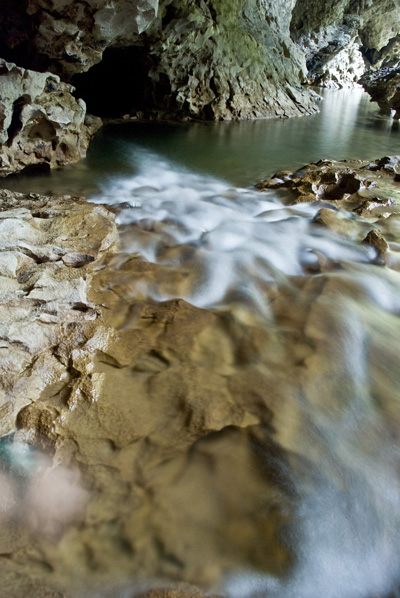 Inside of the caves in the Mucbilha area, Alta Verapaz, Guatemala. Photograph by Jaime Leonardo, one of the photographers who works with FLAAR in Guatemala.
During 2014 we continued to explore caves (of Xibalba)
We explored more caves in 2014, mostly in Alta Verapaz, many in remote areas. We avoid caves when local people say there are Maya burials or archaeology artifacts; these should be studied by IDAEH. Our interest is because caves are of utility for local people to develop alternative tourism, to help provide jobs.
As a child I explored caves on our family farm in the Karst area of Missouri (Ozark Mountains). We have many caves there.