My experience with palm thatched roofs dates back to 1965
Already at age 19 I was sleeping under a roof of guano palm fronds (as a student archaeologist for twelve months at Tikal). At age 30-ish I lived for five years under a palm thatch room at my project camp at Lake Yaxha. I would estimate our roof was guano palm, since it lasts longer as roofing than corozo palm fronds.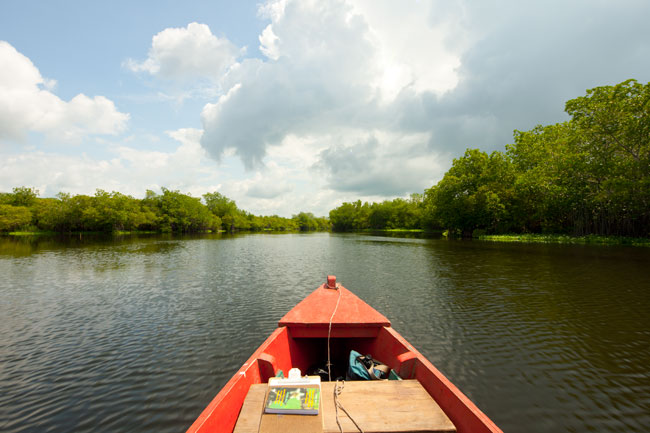 The Canal of Chiquilumilla is a great place for doing flora and fauna tours. But be sure to have a guide who knows the plants and animals. Also be sure to have a boat with a roof (otherwise the tropical sun will roast you and cause skin cancer).
During the last several years FLAAR has been recording palm thatch roofs throughout Izabal and Alta Verapaz. Most of these roofs are corozo palm, but we then found some thatch of ak grass. A few weeks ago (Autumn 2014), while visiting a salt harvesting and processing island in the Canal de Chiquimulilla area near Monterrico, we found that all the houses were of a palm thatch which was very very similar to guano. But all the local people said it was not guano but was "palma real."
What tree is palma real?

To me palma real is Roystonea regia, which has nothing to do with a thatch for Maya houses. But it turns out that palma real is also the name for the Monterrico area thatching palm.
Now my challenge is to identify this palm (no flowers or fruits the week we were there). Since palma real is listed in some places as a local name for Sabal mexicana that is my initial estimate.
The PDF edition of our report has several more photographs of the thatched roofs in the area of the salt processing island another dozen photographs of the palm trees.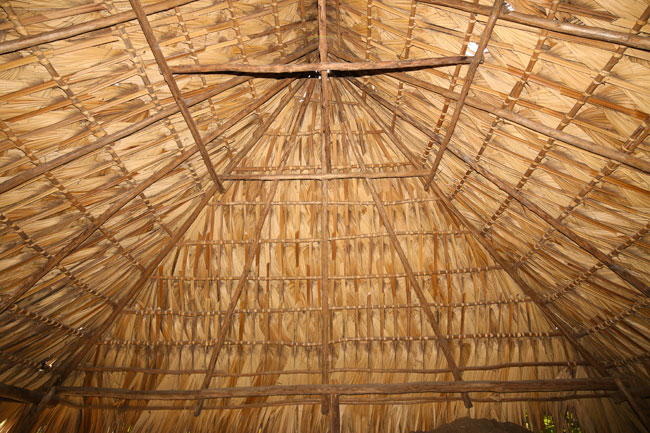 View inside a local house with palm thatched roof. As here you will either need a tripod (for a long exposure) or use a flash (since inside is too dark to do hand-held photography).
What species of palm is guano palm?
Guano palm is most common in El Peten. All the places I have lived in El Peten are roofed with guano palm (because it lasts longer than a roof with corozo palm fronds). The challenge is to know which Sabal species is used since most common Spanish names are inaccurate and are used as names for more than one species. Anyone who is not an expert in palms will probably call any fan palm used for thatch as a guano. Even in books on natural recursos the name guano is misused frequently.
A typical identification for guano is Sabal japa (probably Sabal yapa), botan, cabbage palm (Thompson 1974:xvi, Maya Archaeologist). Evidently the same palm is called two different names, depending on which area, Peten or Belize. I always considered Botan as the really thin super tall fan palms. It is unfortunate that Thompson, who lived and worked for so many decades in the Maya area, was one of the more sloppy users of botanical terms (especially his misidentification of Plumeria as the flower for the Kin hieroglyph).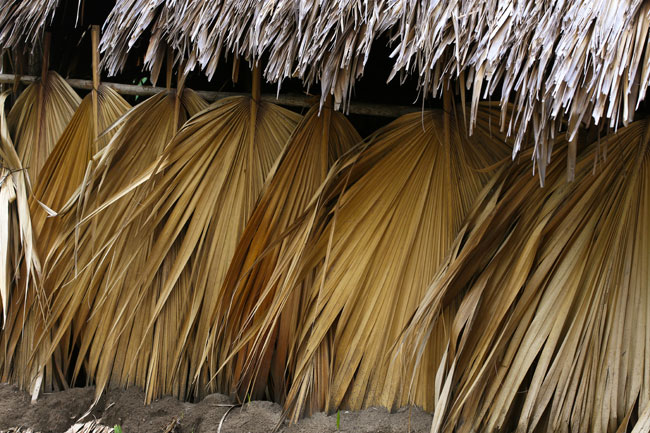 Local house in the salt mine area, Canal de Chiquilumilla, Monterrico, Guatemala.

I estimate that the designation guano palm is used (or mis-used) to cover several Sabal palms, even Sabal mexicana. In other words, some local designations for Sabal mexicana may be imprecise in the Canal de Chiquimulilla area, near Monterrico (on the Pacific Ocean coast). Nonetheless, if all the local people call it palma real in this area, then that is a valid local name which should be fully recorded so that other botanists realize the local people do not mean Roystonea regia.
There are many other fan palms in Guatemala and Mexico, such as
Acoelorrhaphe wrightii
Thrinax radiata
But I estimate that the palm on the salt islands near the Pacific Ocean area of Guatemala are Sabal mexicana.


For more information on palms for thatching a roof
You can check with our bibliography on palms of Mexico and Guatemala.
During 2015 we continued to find additional plants used to thatch Mayan houses in remote areas. The best photographs up to now are in the book on Mayan house architecture by Robert Wauchope (Modern Maya Houses, Carnegie Institution of Washington,1938). But with professional digital cameras and good lighting, today it is possible to take photographs with higher resolution.
Updated October 6, 2015.
First posted October 27, 2014.