Close-up photographs reveal precisely what equipment you need to do your own digital rollouts of any round object, Inca pots, Nazca pottery, Teotihuacan pots, glass flasks, ethnographic items such as wicker baskets. If it is round, the Better Light turntable rollout system can handle it.
Although we picture predominantly Maya and Tiquisate pots, this rollout system can handle anything that is round.
We have done rollouts of Teotihuacan cylindrical tripods, Nazca pots and Inca wooden cups as well as glass bottles.
This rollout system is also useful for the ethnographic recording the weaving pattern on baskets.
On the turntable, a giant Tiquisate cylindrical tripod (which lost its tripod supports in antiquity). The image is Curly Face, a member of the Tiquisate Trinity, a set of pre-Columbian deities recently discovered by Nicholas Hellmuth. A description of the Tiquisate Trinity and pictures of the other two gods of this group has been presented in a book on the prehispanic ceramic art of Escuintla, Guatemala.
This iconographically important Tiquisate pot was donated to the Museo Popol Vuh to insure that scholars could have access to study it.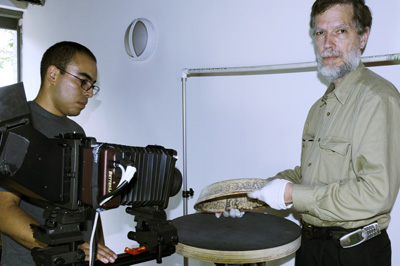 Eduardo Sacayon and Nicholas Hellmuth doing rollout photography of a Codex Style plate at La Ruta Maya Conservation Foundation during 2008. So FLAAR has been doing rollouts, with digital camera, for more than a decade.