The first year 2023 public lecture by Nicholas Hellmuth is on Patolli
First lecture this year will be for THE PRE-COLUMBIAN SOCIETY AT THE UNIVERSITY OF PENNSYLVANIA MUSEUM OF ARCHAEOLOGY AND ANTHROPOLOGY, January 14, 2023, at 1:30 pm (Eastern Standard Time, USA).
Topic is "Patolli Game Boards: Maya, Teotihuacan, Toltec, Mixtec, Aztec."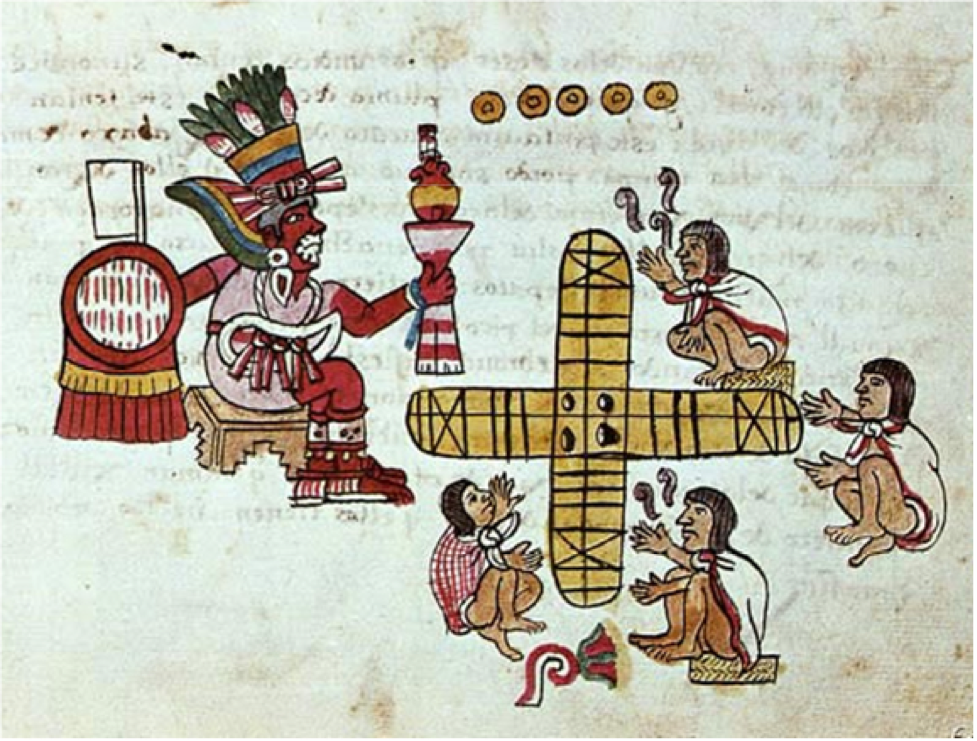 Codex Magliabechiano, Aztec, mid-16th-century. Most 8th century patolli game boards of the Classic Maya are square (but also come in lots of other geometric shapes).
This PowerPoint presentation of hundreds of images will show patolli game boards of the major civilizations of Mesoamerica. Nicholas unearthed one patolli game board while working at Tikal in 1965 (incised into the top of a bench in a palace he had been asked to excavate). Prior to working at Tikal he wrote a seminar paper for his Harvard course and found a Sky Band mixed with one patolli game board at Uaxactun. The rest of the presentation will show the different shapes of patolli game boards at other Maya sites, at Teotihuacan, Tula, and in Mixtec and Aztec codices. The patolli game was also played by the family of the Hero Twins in the book of the Popol Vuh.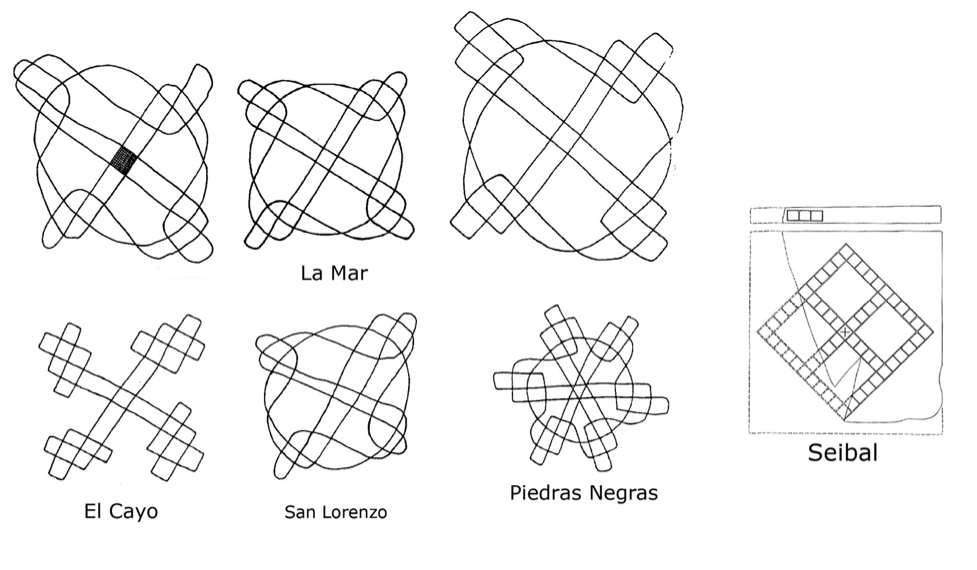 Codex Magliabechiano, Aztec, mid-16th-century. Most 8th century patolli game boards of the Classic Maya are square (but also come in lots of other geometric shapes).
The link to attend is at the bottom of this page: https://precolumbian.org/next-meeting/
Hellmuth's first academic venture into patolli game iconography was during his Harvard seminar in 1964-1965. Then later in 1965, Nicholas Hellmuth uncovered a 9th century Maya patolli game board in 1965 while excavating a palace which abutted the north corner of Temple I (Tikal, Peten, Guatemala). This palace faced the East Plaza. A helpful report is available on-line: https://flaar-mesoamerica.org/wp-content/uploads/2022/11/sky-band-patolli-graffito-Uaxactun-band-patolli-graffito-Uaxactun-Structure-A-V-graffiti-celestial-skyband-Nicholas-Hellmuth-DA-Nov-2022.pdf
Recent lectures by Nicholas Hellmuth are available as video on-line
1. https://flaar-mesoamerica.org/wp-content/uploads/2022/07/Jaguar-lectures-Introduction-May-26-2022-Nicholas-Hellmuth-English-version-VM.pdf Five felines of Mesoamerica given to students and also for Tikal tourist association "Ah Cacao"

2. Jaguar Lecture, as a Master Class, Museo Popol Vuh, Universidad Francisco Marroquin https://maya-ethnozoology.org/home1/featured/jaguar-lecture-as-a-master-class-museo-popol-vuh-universidad-francisco-marroquin

3. https://www.maya-ethnobotany.org/2022-06-10-23-56-11.php TV interview, Guatemala, June 2022

4. Tomb of the Jade Jaguar, Tikal Burial 196, Str. 5D-73, for Aztlander https://www.youtube.com/watch?v=dz4ppkqi4Zg This royal burial was found by Nicholas under the pyramid facing Temple II; the pyramid was at the west end of the Central Acropolis (outside, but adjacent). This discovery was the subject of Hellmuth's undergraduate thesis for Harvard in 1967. The several-hundred page documentation is available as a PDF on-line.

All these PowerPoint, full-color, high-resolution lectures are available in year 2023, in-person, or via ZOOM to museums, archaeology societies, universities, etc. Write FrontDesk symbol FLAAR.org (put the symbol instead of the word and close the empty space). Lectures are available in English and Spanish.

5. "Classic Maya Enema Ritual Iconography" with Dr. Nicholas Hellmuth; an Aztlander presentation https://www.youtube.com/watch?v=2ADeaLJhWrU

6. Dr Peter De Smet and Dr Nicholas Hellmuth won the IG Nobel Prize for Art History 2022. The entire ceremony can be seen in the link below. https://improbable.com/ig/2022-ceremony/ At 3:16 you can see the FLAAR team in their Ethnobotanical Research Garden participating in the Paper Airplane Contest (3 minutes 16 seconds into the video).

At 47:45 (so skip to 47th minute, 45th second) the Art History Prize is introduced (Dr De Smet and Dr Hellmuth). Senaida and Irma are playing the turtle shell marimba in the background. Their presentation ends at 54:16 (so total is about seven minutes).

7. At the XII Congreso Mexicana De Botanica, at the university in Puebla, Mexico, Hellmuth gave a presentation in-person on botanical, ethnobotanical, and biodiverse ecosystems of Izabal and Peten, Guatemala. FLAAR was invited to send a speaker to this international botanical meeting because the organizers said they had speakers from many countries in Latin America (and USA and EU) but did not have a speaker from Guatemala. Sept. 27, 2022

8. In May 2022 Dr Hellmuth presented 3 hour PowerPoint on iconography and ethnozoology of Jaguars and the other felines (pumas, margays, ocelots, jaguarundi). I do not believe there is Video of this.

9. In June 2022, Dr. Hellmuth gave an interesting conference in Universidad Rafael Landivar on Iconography of Marine Creatures in Classic Mayan Art https://flaar-mesoamerica.org/iconography-of-sea-creatures-in-classic-maya-art/

10. FLAAR Mesoamérica Project in Livingston was very important because we were able to document valuable flora and fauna from the Caribbean region of Guatemala. Dr. Hellmuth talked about the amazing water lilies that we found https://www.youtube.com/watch?v=7_L3V23JBeg&t=116s
In Addition, Dr. Hellmuth has participated in different conferences to talk about Livingston wetlands and edible (or potentially edible) fund during the project.
Brief Resume of Nicholas Hellmuth
Rather than the multi-page format curriculum vitae we show here just four paragraphs:
Nicholas Hellmuth went to Palenque in summer 1961 because he had never seen a rain forest and never seen a Maya temple. He returned to high school in St Louis, Missouri, and wrote his high school thesis on Classic Maya Art and Architecture with the photos he took of Palenque and the surrounding rain forest. Since in those years not many 16-year old high school students went by themselves so far away from home to research a topic, the thesis filled with photos of Leica camera quality, won acceptance for Harvard. Circa 1963 he worked as a student intern for INAH at Bonampak to help carry equipment from landing strip in a Lacandon aldea many kilometers through the rain forest to Bonampak in the summer of 1963. He then helped for a week to set up their camp. He worked as an architectural recorder, photographer, and archaeologist for 12 months at Tikal in 1965 for the University Museum of the University of Pennsylvania. His undergraduate thesis at Harvard was on the Tomb of the Jade Jaguar that he discovered at Tikal. MA thesis: Brown University, 1969 (Teotihuacan influence continuing still in the Late Classic); PhD, Karl-Franzens Universitaet, Graz, Austria, 1980's (Iconography of the Surface of the Underwaterworld).
In 1969 he formed FLAAR for improving the maps of Yaxha, Topoxte Island, and Nakum during years 1970-1974. Hellmuth specializes in advanced digital photography: had the first digital rollout camera (4×5-inch camera, German lenses, and tri-linear scan back). His digital-precision rollouts thus can be printed up to a dozen yards or meters in length (at over a 42-inches high). His focus in the current decade is iconography based on thousands of kilometers of driving and then hiking deep into different ecosystems of Guatemala and hiking deep into remote areas to find and photograph all insects, birds, mammals, and flowers that appear in Classic Maya art.
He has been Guest Visiting Research Professor in advanced digital photography and printing technology at the Universidad Francisco Marroquin in Guatemala, Island of Malta, Museum of Ethnology (MINPAKU, Osaka, Japan), Rollins College, Brevard Community College and BGSU (Ohio). Currently director of 5-year project of cooperation and coordination with CONAP to study flora/fauna/ecosystems in the 21,600 square kilometers of the Reserva de la Biosfera Maya, Peten, Guatemala. Hellmuth has lectured in-person in Panama, El Salvador, Guatemala, Mexico, across USA, Canada, UK, throughout EU, Malta, Japan, Iran, Saudi Arabia, Dubai, Abu Dhabi, Taiwan, China and other countries. Nicholas was Post Graduate Research Fellow (in archaeology of Peru) in 1968 at Yale University, Dept. of Anthropology. Then a fellowship by the Organization of American States provided another Post Graduate Research Fellowship in the Dept. of History of Art at Yale University. When that fellowship was over, Dr Michael Coe provided Hellmuth with the same Fellowship at Yale through the Peabody Museum of Natural History (on iconography of animals in Maya art, especially jaguars).
From 1998 through 2020, in addition to studying plants, animals, biodiverse ecosystems and Maya iconography, he was also deep into research on wide-format inkjet printing (so FLAAR could print the photographs of flora, fauna, iconography at large size). Hellmuth and the capable team at FLAAR studied inkjet printer ink, color management software, printheads for printers, wide-format and grand-format inkjet printer technology, plus studied in R&D departments for printable materials (glass, ceramics, metal in addition to fine art giclee media plus all signage media and printable textile substrates. Hellmuth was flown about 2-million kilometers (2,000,000 kilometers) during these years, as a technical consultant, to printer, ink, 3D-printing, photography expos and to the companies that invented and developed all these digital technologies. We phased this research out in 2020 since with COVID it was not realistic to travel. Plus it was crucial to dedicate more time to flora, fauna, and biodiverse ecosystem field work projects in Guatemala.
Posted mid-January 2023 by Nicholas Hellmuth