Flavoring for Mayan food and beverages a thousand years ago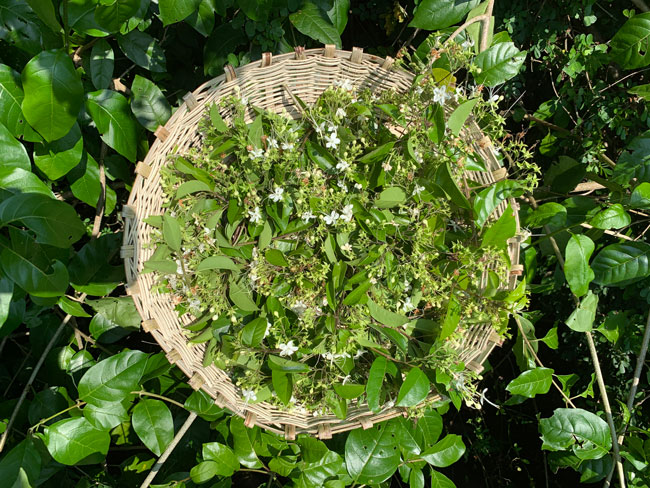 Click to enlarge.
This basket was woven for me the previous morning from bayal palm vines to hold the Clerodendrum ligustrinum for this photograph. The flowers and leaves in the basket are placed over the bush itself.

There are thousands of these bushes along the Arroyo Petexbatun, Arroyo Faisan, and Rio San Pedro in western Peten, Guatemala. Unfortunately these shore areas are all being chopped down and cleared to illegal cutting of palo de tinto so this endangered tree can be loaded into boats to sell as fence posts for cattle ranches and commercial plantations of non-native plants. Our goal is to show the natural beauty of these flowers and suggest that this plant should be re-introduced into Mayan-focused foods of the future (to bring back foods of the Classic Maya of a thousand years ago).

By protecting this plant it can be carefully harvested without destroying the bushes. And the income can help local families (so they don't have to chop down everything).
Clerodendrum ligustrinum is a plant whose leaves are used to flavor fish (by the Mayan people of Guatemala and surrounding countries). The plant is known locally as muste (or moste) or itsimte. There are even Classic Maya ruins in Peten named Itsimte. This plant was also used as an ingredient for a cacao (chocolate) beverage long long ago.
Respected Mayanist Dr Michael Coe, or Yale University, told me while we were conversing by telephone a decade ago, "Nicholas, if I were to update and rewrite my year 2007 edition on "The True History of Chocolate" (of the Maya and Aztec), I would want lots more information on the flavorings for cacao a thousand years ago."
His comment inspired me; he and his wife Sophie Coe had two editions when he spoke with me (1996 and 2007). Sophie Coe undertook research on cacao and chocolate in museums and libraries around the world for many years. Then the two produced the year 2007 update (which included photographs that I drove all the way to Tabasco and Chiapas to take for them; in the 2013 edition my photo became the frontispiece). I enjoyed cooperating with Mike because I had several post-graduate research fellowships at Yale, courtesy first of Dr Thomas Patterson (based on my field work for him in Peru), then though the Dept. of History of Art (via a grant from OEA first with Dr George Kubler and continued with Dr Mary Miller), and then courtesy of Dr Mike Coe through the Peabody Museum of Natural History.
I felt, wow, if Coe worked so many years on cacao and chocolate of Mesoamerica and still felt there was more information needed on the pre-Columbian flavorings, what a perfect topic for me to initiate. So I spent many years doing library research to make a list of all the flavorings (my goal was to find every list in every book already published on cacao, and then find even more flavorings that had been overlooked).
After years of research I had a longer list and now had to find each and every plant when it was flowering (as you can identify each plant best when it is flowering. So I spent almost a decade doing field work in the rain forests, along the rivers, deep in the cacti-filled deserts, and high on the volcanic mountains of Guatemala searching one by one for each flavoring, herb, or other plant that was mixed with cacao.
One flavoring, Clerodendrum ligustrinum (nicely listed in Coe's year 2013 third edition) took several years for me to locate in Peten in order to photograph it. By coincidence, last week, we found more Clerodendrum ligustrinum in one of the areas where we had located it in past years. So I took additional photographs (since I would like to publish all our decade-plus years of cacao-chocolate research (we have enough for 5 volumes of photo-filled coffee-table style; I would like to dedicate these to the memory of Mike Coe and his wife, Sophie (who was focused on native pre-Columbian foods of the Americas)).
Here are some snapshots of Clerodendrum ligustrinum along a stream in Peten: no roads here, so it's a long boat ride.