Second boat-billed heron sighting at Parque Nacional Yaxha Naranjo Nakum
The boat-billed heron is the sacred bird deity and mascot of the Olmec kings and priests of Tabasco and Veracruz Mexico (over 3000 years ago). Although this remarkable bird is present in many areas of Guatemala (Canal de Chiquimulilla (Monterrico), aguada behind visitor's center at Tikal, Rio Dulce and nearby lakes of Izabal, so far it has not been identified as a model for Classic Maya renditions of waterbirds (herons and egrets are much more commonly portrayed in Tepeu 1 and Tepeu 2 Mayan polychrome ceramics (vases, bowls, and plates)).
So finding a second location of this bird around Lake Yaxha and associated Rio Ixtinto helps document that this bird is present in many locations in the Classic Maya lowlands.
Previously we found the boat-billed heron along Rio Ixtinto (between Topoxte Island and Paxte island, in the southwestern area of Lake Yaxha). On our recent October field trip we found the boat-billed heron on a tree at the south shore of the lake (not near the islands, but en route).
So if you are a bird-watcher, be sure to arrange in advance to cruise the south shore in addition to the Rio Ixtinto part, plus the two "cenote areas" (far NE and SE parts of the lake). Then return along the north shore. You need to tell the boat captain in advance since this takes much more time than merely motoring out to Topoxte Island to see the temple and palace ruins there).
The boat-billed heron is a night bird, so it's a challenge to see it during the day.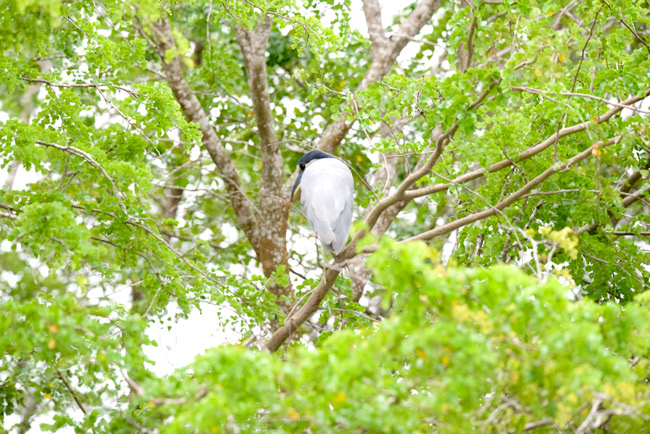 Click to see complete image
Photo by Teco (Moises Daniel Pérez Díaz), park ranger, Parque Nacional Yaxha Nakum Naranjo, with Nikon D810 provided by FLAAR, 600mm lens, f/6.3, speed 1/1250th of a second, ISO 8000 Teco knows orchids, birds, mushrooms, and other Neotropical plants of this park. On his days off he is available as a bird or orchid guide, (+502) 3284-3359. We recommend also before coming to Yaxha (in Flores, Sta Elena or San Benito), or hiring once at Yaxha, a licensed local guide (we have two or more guides on our field trips since each individual has their own distinct years of experience).
Boat is available from hotel Ecolodge El Sombrero, or at the nearby visitor's center of Parque Nacional Yaxha Nakum Naranjo. We appreciate the availability of a boat from IDAEH and CONAP (co-administrators of the park).
We have a whole page about the boat-billed heron in another site.