Mayan measurements
We (FLAAR, USA and FLAAR Mesoamerica, Guatemala) are compiling an annotated bibliography of all Mayan measurements. While I was at Tikal 54+ years ago, measuring terraces, stairways, palaces, temple platforms, and causeways as an architecture student at Harvard working for the University of Pennsylvania Tikal Project, I was curious what the Mayan architects and engineers used to measure their buildings. Especially inside the royal tomb chamber that I discovered in 1965: what were the measurement "sticks" or arm-width or foot pacing that established the length, width, height of each part of this architectural achievement of the Late Classic (probably very late 9th century; probably a few years after Burial 116 of Temple I across the plaza).
Today, over half a century later, I am curious how the Mayans measure their milpa fields and other areas. Plus how do they measure (in their own languages) the distances they walk to the markets. How do they measure the vases, bowls, plates that they made at the Mayan cities? How do they measure all this today (in their own non-Spanish, non-English system).
The first item in our bibliography will be this of measurements for Guatemalan Maya backstrap weaving: figure 2, by Norhert Sperlich and Elizabeth Katz Sperlich, in their helpful book Guatemalan Backstrap Weaving (University of Oklahoma Press, 1980).
We are also interested in terms for counting, for weight, bulk, and other aspects. So as soon as we have finished our bibliography, it will be available on this web site.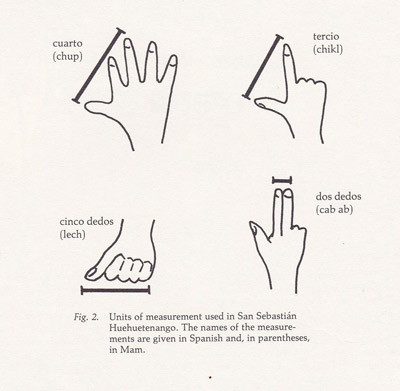 Mayan hand finger measurements Guatemalan backstrap weaving Sperlich and Sperlich