3D scanners for archaeological projects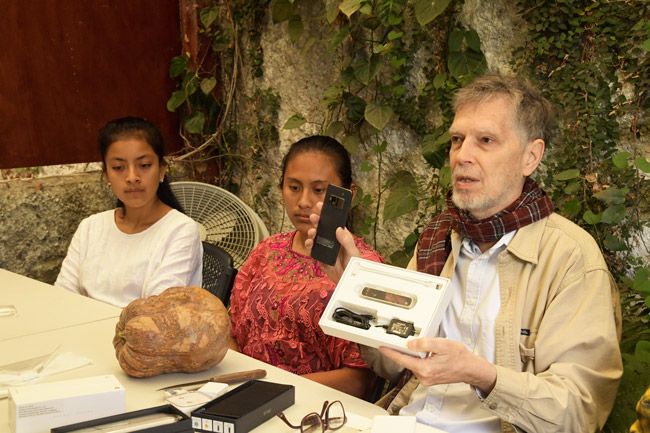 Since I was a professor for several years I enjoy assisting students to learn about aspects of digital imaging which can be used in archaeological field work.
Plus it is helpful to all the countries which have Maya ruins as national parks, if web sites can show really high resolution photographs to attract more visitors. Visitors provide jobs for local people (and the visitor fee helps cover costs to maintain the Maya ruins, the museums, etc).
So today we show two items of equipment for 3D scanning that have the following advantages:
• They are portable
• they are easy to learn how to operate
• their price is not excessive
• they do not use laser beams (like 3D scanners in past years)
First is what looks like a normal mobile phone. But, this is not "just another cell phone." This is a mobile phone equipped specifically to do 3D scanning. This is the ASUS Zenphone AR.
Second is a normal iPad mini 4 but with a Structure Sensor Bracket to hold a STRUCTURE SENSOR to "capture the world in 3D." This 3D scanning equipment is made by occipital. Of course the iPad mini 4 is made by Apple.
In addition to field work, this equipment can be helpful for museums. We look forward to testing it in museums so we can donate the images to the museums (and so we can show the museum curators and staff what equipment they should consider for their museums).
As soon as we do more actual scanning we will show the results: the equipment arrived just before Thanksgiving.
We will also be showing what is considered the best camera system inside a mobile phone (not an add-on; everything is already n this mobile phone). So stay tuned, Dr Nicholas, his team of several dozen capable graphic designers, illustrators, etc are dedicated to provide educational material to help scholars, students, museum curators to learn which innovative equipment can assist them to move forward in the 3-dimensional world.