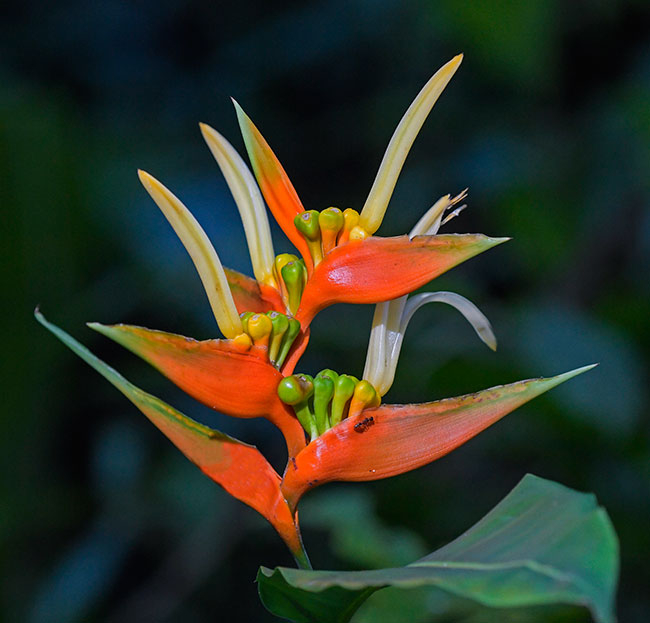 Heliconia aurantiaca it is endemic to Central America. This type of heliconia in the tropics rely exclusively on hummingbirds for pollination.
I bet that 60% of books on plants of Mayan civilization do not picture or significantly discuss the several useful aspects of the heliconia plants of Chiapas, Yucatan peninsula, Peten, Izabal, Alta Verapaz, Belize, Honduras, and El Salvador.
Heliconia tend to be considered pretty garden flower plants.
But when we go to remote mountain areas, far from any city or even town, we find the local Q'eqchi' Mayan people using heliconia for several purposes.
So we now have a new page to rescue the heliconia and suggest it can be added to books on Mayan plants.
Heliconia, dahlia, even poinsettia plants, are all native to Guatemala (and Mexico etc). People in USA and Europe look at these as nice garden plants: but people in rural areas eat dahlia plants. We have been inside mud-floored, thatch-roofed Mayan houses in the Neotropical mountains and seen dahlia stems on the kitchen fireplace area (naturally with 3-stones, used for thousands of years).
If you are interested in tropical flowers and plants, consider visiting Guatemala and learning about these in-person. And in the meantime, enjoy our web sites; the one you are on, and also www.Maya-ethnobotany.org.