Mayan medicinal plants, especially Q'eqchi'
Every day we locate medicinal plants in diverse eco-systems of Alta Verapaz. We do high-resolution photography of the flowers (since you need the flowers to identify the genus and species).
We are also preparing a comprehensive bibliography of medicinal plants of the Q'eqchi' (K'ekchi') Mayan people.
Plumeria, Flor de May, frangipani
More and more discoveries
Since Flor de MAYO obviously blooms in May, we have been focusing on studying Plumeria species eco-systems most of May and June. We have been curious to see whether all Plumeria (in Guatemala) prefers dry desert-like regions (filled with cactus plants).
Now in July, about 50% of the trees (out in the wild) no longer have flowers, but enough still have flowers even in early July that we discovered wild Plumeria in a totally unexpected area of Guatemala: high elevation; lots of rain; no cactus plants anywhere nearby.
And these were wild plants, not house decoration.
We will have lots of information on Plumeria eco-systems available to botanists, students of biology, and people around the world who are interested in flowers (especially flowers of the Mayan-speaking areas of Mesoamerica).
Further research on Plumeria species, sacred Nikte' flower
Because J. Eric S. Thompson totally misunderstood Flor de Mayo flowers, and because he was totally unaware of true 4-peteled flowers for the origin of the Kin hieroglyph, we have been working to rectify the decades of mistaken identifications.
The Plumeria flower is also consistently mangled in most dissertations and monographs on the Lacandon Maya.
So for several years we have been out in the cacti and spiny Ceiba aesculifolia thorn forests of the most dry areas of Guatemala, to study Plumeria species. Plus we are also studying yellow, magenta, rose, pink, and dark red color Plumeria species varieties (which never grow wild in Guatemala; these are only in gardens around people's houses).
As soon as funding becomes available, we wish to produce a photographic monographic on Plumeria flowers and symbolism of Mesoamerica.
We finally found Curatella americana giving flower
The leaves of this rare tree, Curatella americana, are used as sandpaper by the Maya people of Guatemala.
Other parts of the plant are medicinal, and other parts (bark) are used to fix colorants (from other plants) for dying native cloth.
By sheer luck, the day we arrived to inspect this chaparro tree, it was in its last days of giving clumps of flowers. The structure of the bud, flower, and growth of the seed pod are worthy of further botanical research.
Hellmuth photographs of Nim Li Punit stelae, Belize
Sorry it has taken two decades to find and scan these negatives. And we have still not found them all. We have an outstanding scanner (CreoScitex) and an experienced scanner operator (Cami). But no funds for scanning them.

Of course the images are several decades old, so a tad dusty. But not many people have had the patience to use high resolution cameras, and definitely no one has set up a "tripod" five meters up in the air, so we could photograph straight down onto the stela (which is on the ground).
It is traditional to turn a set of negatives into the Belize authorities as part of the project, and if they still exist we would be glad to scan them and give these scans to Belize. But in the meantime, we are still searching for all our negatives. We found about a dozen of them, so are scanning these as examples.
Thousand year old Wooden lintels of Santa Rosa Xtampak
In the 1980's, with the support of capable Mexican archaeologists in both Campeche and Yucatan, of INAH, and Dr William Folan (who at that time was headquartered in Campeche), FLAAR initiated a project to encourage the restoration of the palace of Santa Rosa Xtampak by documenting the fragile status (in other words, to document clearly that unless the palace could be restored quickly, the major parts would collapse).
We used Leica and Hasselblad cameras to record at high resolution the remaining standing architecture. Plus we had recently acquired a 15mm wide angle lens for a Nikon. Some rooms were so narrow they required this kind of lens (fish eye is too distorted; 15mm or 17mm is less distortion). Today we would use a tilt-and-shift 17mm lens for a Canon.
We published four volumes plus Jack Sulak has at least one volume. We are now scanning all five reports to issue them as electronic PDFs. We are trying to locate the original negatives and scan them at high resolution. So far we have found only a dozen of the estimated 100 to 200 original photographs (but something is better than nothing).
During March and April we hope to make these dozen photographs available to students and scholars in Mexico via our web site.
The palace architecture and temples at Santa Rosa Xtampak have features of both Chenes architecture and potentially influence of Rio Bec style. In fact there are probably some traits shared with Puuc style: would be a good dissertation topic to tabulate all three styles using intermediate sites in Campeche, Mexico as examples. In other words, would be helpful to document which features of the palace and temple architecture of Santa Rosa Xtampak are shared with Chenes, which features are potentially influenced from Rio Bec ("towers" on front facades), and which aspects of masonry or size or shape of vaults are shared with Rio Bec.
This research is best done by scholars who have access to all the key sites and access to all the photo archives: Carnegie Institution of Washington, architect George Andrews, Gendrop, Karl Herbert Mayer, as well as capable projects from Germany, Slovenia, and Mexico.
We have thousands of photographs of Puuc, Chenes, and Rio Bec architecture, but really need donations or grants to allow us to find, catalog, scan, and make available all these photographs to Mexico. But with the dozen photographs of wooden lintels of Santa Rosa Xtampak, we wish to indicate that we really wish to share our material so that students and scholars can utilize it to advance studies of the remarkable palace and temple architecture of Campeche, Yucatan, and Quintana Roo.
Potential for using drones
Twenty years ago archaeologists used balloons to do "aerial photography" of their digs. Photographs from helicopters over 30 years ago by Nicholas Hellmuth have attracted many people from around the world to visit Tikal (since our photos are in several popular books on the Maya). So aerial photographs help scholars, and help Guatemala attract investment in tourism (which provides jobs to local people). But nowadays, balloons are passé; and helicopters have always been too expensive: today drones are available.
Drones were the feature of Photokina 2014 trade show in Cologne, and drones were more news at CES 2015 in Las Vegas. Since the FLAAR team is a prime consultant for SGI trade show in Dubai (same week as CES in USA) we had to skip CES, but three of us inspected several brands of drones at Photokina a few months ago in Cologne, Germany.
We are not employing drones at any archaeological site, but we publish this note to encourage scholars to study drone technology. We will be glad to assist in training any project staff members (since we attend the technology expositions where drones are available to study).
Presently we are learning about drones by employing them to study flowers high in trees. It would take a 600mm or 800mm prime telephoto lens to capture images of flowers in a tall tree. These lenses cost about $12,000 and up (so no surprise, until a kind benefactor assists by a donation, we do not have even a 400mm or 500mm lens).
We learned a lot this weekend by using drones to photograph two ceiba trees and two palo gordo trees (all in the Costa Sur area of Guatemala). The first important experience is that the normal kind of camera, GoPro and various clones, is great for hiking, biking, and family use, but has too much circular distortion for scientific use by botanists or archaeologists.
Our goal is to write up a list of suggestions of which drone brands, and which kinds of cameras and lenses would be best for archaeologists in Guatemala, Mexico, Honduras, and all the rest of Mesoamerica. By publishing our trial-and-error test results we can save archaeology projects a lot of time and money (so you don't acquire equipment which will not be adequate for a scientific project).
If you wish an experienced drone pilot in Guatemala, we recommend Juan Carlos Fernandez.
Maize, Beans, and Squash, in Maya slash-and-burn (milpa) agriculture
We have just finished an article on beans of the Maya, for the forthcoming January issue of IMS Explorer, a Maya-focused newsletter of Institute of Maya Studies at the Miami Science Museum. This article will be downloadable from their www.instituteofmayastudies.org in a few days.

In the meantime, the article by Dr Nicholas Hellmuth on flor de Muerto has been at the top of their home page the last month (once 2015 is on the calender, will probably be moved).

Now we are preparing articles on maize and a report on squash (and pumpkins and their kin). The articles for IMS magazine will be one to two pages; the PDF version for their museum web site will be 10 to 15 or more pages, all in full color.

We are fully aware that "maize, beans, and squash" were, in theory, not the mainstay of the Classic Maya diet (maize, beans and squash were the mainstay of the diet of Carnegie Institution of Washington era Mayanists, Spinden, J. Eric S. Thompson, etc.).
But… most Maya today (those who have not turned to Pepsi, Coca-Cola, Tortrix, etc) are eating primarily maize (over 40% of their diet), beans (over 30% of their diet) and in many cases squash also (though nowhere near the percent of maize and beans). Actually a typical mid-day almuerzo and evening cena for thousands of Maya still today is focused exclusively on tortillas and beans.

So we suggest that no matter how different some Maya lived 2000 years ago, maize, beans, and squash were still major items of diet (no matter how many ramon nuts and root crops they theoretically ate). Thus it is a good idea to learn more about maize, beans, and squash. We even have all three growing all around our headquarters building and even have it growing on our roof garden!
Examples of high-resolution photography to assist people studying the animals of Guatemala
Since birds, four-footed animals, centipedes, and potentially millipedes may appear in Maya art, and as many creatures are mentioned in the Popol Vuh or in other myths or local stories, it is always a help to have a good photo archive available so that students, scholars, and interested lay people can learn about these various animals.
Since the "gray" fox is relatively common at most Maya archaeology ruins, most notable at Tikal, we felt this would be a good animal to photograph. Here you see the grey fox, Urocyon cinereoargenteus hanging out in tree limbs. Yes, this fox can climb trees, as can a raccoon and many other animals at Tikal National Park.
We appreciate the hospitality of the Parque Zoológico Nacional La Aurora for facilitating our photography in Guatemala City.
FLAAR is present at Photokina digital photo expo
Sofia, Melanny, and Dr Nicholas of FLAAR Reports studied digital photography equipment, software, and technology at Photokina imaging expo in Cologne for five intensive days.
Sofia is a professional photographer and graphic designer (you can see her work on our www.maya-ethnobotany.org).
Melanny is a student of graphic design and is beginning her career in photography by receiving training and experience at FLAAR in Mesoamerica.
Dr Nicholas Hellmuth has been attending Photokina since 1998 (and probably before that too). His photos have been published by National Geographic already by 1978.
FLAAR evaluates studio lighting equipment, tripods, tripod heads, and cameras, to assist archaeologists, architectural historians, art historians, botanists, and zoologists learn about which equipment is good (and which is inadequate and should be wary of).
If you are doing any kind of photography, and were not in Cologne in September, you can download the FLAAR Reports on Photokina 2014 at no cost.
The first editions will be updated every several weeks as we have time to add more photographs (we took over a thousand at the expo; this trade show filled about 10 giant expo halls).
Continued digitization of Dr Hellmuth's publications of the 1970's-1990's
We are now beginning to scan Nicholas's first monograph: Preliminary Bibliography of the Chol, Lacandon, Yucatec Lacandon, Chol, Mopan, and Quejache of the Southern Maya Lowlands, 1524 - 1969. Nicholas M. Hellmuth. Greeley, CO: KATUNOB.
We continue to scan the 1990's ballgame reports as well (a total of twelve volumes).
Since no scanner software turns the text into readable English we have to manually correct every page (hence it takes weeks or months). But we are working on getting all this material available.
After the Lacandon bibliography we hope to present the 1977 report on Cholti Lacandon agriculture in electronic PDF format.
We make all these PDFs available at no cost for students, scholars and the interested public, as is appropriate for a non-profit research institute.
If you are a professor you can use these for your students.
Lecture on Sacred Maya Flowers (and rabbits)
Dr Nicholas Hellmuth is normally doing research on advanced digital technology in China or Dubai or lecturing in Panama or Johannesburg. So it has been many years since he has done a lecture in Guatemala.
Thus we appreciate the invitation by the Museo Popol Vuh, UFM, to lecture in Guatemala City on July 24th, 6:30 pm in the evening. A week later Dr Hellmuth flies to Istanbul so it is nice to be in Guatemala City this week.
On a separate page we have added some notes on the topics of this lecture, so follow the link. The actual lecture will be in high-resolution, with photos in Stacked Focus for frankly remarkable detail (photographs by Sofia Monzon and by Dr Nicholas both).
We hope to see you this Thursday at the Museo Popol Vuh, on the beautiful campus of the Universidad Francisco Marroquin.
Karl Herber Mayer and the Orden del POP (Museum Popol Vuh)
Karl Herbert Mayer of Graz, Austria, was awarded the Orden del Pop at a well-attended ceremony at the Universidad Francisco Marroquin in mid-July 2014. Unfortunately Dr Nicholas was in Panama, flown there to open a digital technology expo and then present two lectures in the following days. So regretably we missed the Dia del Pop 2014.
Karl Herbert Mayer assisted FLAAR during the eight years that Nicholas lived in Graz to attend the university there. Dr Hellmuth's dissertation was researched and written in the same apartment building. We also appreciate the hospitality of Architect Hasso Hohmann for providing a place to stay for several of those years.
We show here the feature article about Karl Herbert Mayer in the popular Guatemala City newspaper, Prensa Libre.
Learning which is best camera for archaeological photography
When I did archaeological research in 1965 at Tikal and then 1970's at Yaxha, then on projects in Belize (Nim Li Punit) and Campeche (Sta Rosa Xtampak), my photography style was rather "archaeological."
So at FLAAR we would like to assist other archaeological projects learn which cameras and which lenses are best. And which lighting.
Two of us will be visiting the largest photo technology expo in the world this autumn, Photokina, in Cologne. We will provide tips, help, and assistance to archaeological project personnel to see which brands of digital cameras, and which lenses are best (and which are awful: Nikon D800E has the worst color balance of any camera, but it is 36 megapixel and image resolution is awesome).
You can see our reviews of past years on www.digital-photography.org.
Complete Library of Maya Art & Archaeology now available (for sale)
The Maya research library of Dr Nicholas Hellmuth and FLAAR which is in Austria is now for sale.
This is a complete Maya library: archaeology, iconography, epigraphy, ethnohistory. Also includes Olmec and Teotihuacan, plus basics on Aztec, Mixtec, etc.
Estimated 1500 to 3200 books, including fairly complete CIW and Peabody monographs. There is no catalog; though a catalog would obviously be made during the course of the sale. Price will be a fair estimate negotiated between FLAAR and a potential buyer, keeping in mind that this is an ample library of titles and subjects up to circa 1987 (when FLAAR and Dr Hellmuth moved back to USA where they had a separate parallel library).
The second library is also for sale: this consists of an estimated 10,000 books, as this library has general anthropology, ethnography, and ethnology of Latin America, in addition to excellent coverage of Mesoamerica.
As you would expect of a research library by a Mayanist, this includes pretty much every title and subject which a Mayanist would need, which also includes Olmec, Teotihuacan, Classic Veracruz, and basic coverage of Aztec, Zapotec, Mixtec, and Toltec.
This second library is 90% in Ohio, and 10% in Missouri.
We are actively doing research but we have a third library (on loan to a museum; so not for sale) but we wish to sell the other two libraries so that we can have funding for our current projects (on utilitarian flora and fauna of Mesoamerica). We have a separate library on plants and animals of Mesoamerica (not for sale).
We are not interested in selling bits and pieces; it is more realistic to sell the each library completely (but obviously you do not need to buy both, since the Austria library has the same books as are in the USA library, just that the one in America also has more general ethnology topics.
Inquiries are welcomed at FrontDesk "at" FLAAR.org.
Centipedes in Maya iconography & art
As promised in recent NEWs items on our sites (www.Maya-archaeology.org and www.maya-ethnozoology.org) we are working to provide iconographers, epigraphers, art historians, both faculty, students, and biologists, with images of creatures available to the Classic Maya out of which they developed their remarkable composite mythical creatures.
Some were dragon-like (lots of crocodile features, mixed with piscine features and snakes). Others were mixtures of diverse other multi-limbed creatures (such as scorptions, spiders (spider webs for God N housing), and centipedes).
We have found additional creatures which were models (more than just centipedes). First is the millipede, an arthropod. Our staff illustrator is drawing this creature now.
In the meantime, here is the FLAAR drawing of a centipede, from near Rio Dulce, Izabal, Guatemala, altitude roughly 50 meters or less. We found only this species in three days of thorough search in early and mid-January (two field trips).
Within a few weeks we hope to have line drawings of the other remarkable creature: more grotesque than a scorpion or tarantula or centipede or millipede.
Sorry we are not a peer-reviewed journal, but we do produce lots of visual documentation, which we make available to the community of students and scholars. We ask only that reasonable credit be provided and permission be asked (for university papers and thesis etc).
Millipedes in addition to Centipedes in Maya iconography and mythology
Several years ago we (at FLAAR Mesoamerica) began to list every insect, spider, reptile, amphibian, seashell, fish, feline, bird, which appears in Maya art or hieroglyphs, or which is mentioned in the Popol Vuh or comparable myths.
For 2013 we are focusing on arthropods in general, including centipedes, millipedes (myriapods) and arachnids. We have also been studying insects now for several years (especially two genera of cochinilla, local butterflies and stingless bees).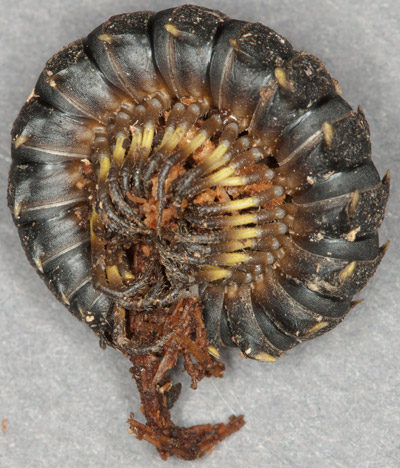 The informative articles from 1994 onward focus on centipedes; but.... what about millipedes? Yes, they are not venomous, but look at their "fanged" exoskeleton structure.
Photograph by Nicholas Hellmuth, 21 megapixel Canon EOS 1Ds Mark III, 100mm Canon macro lens; Canon ring light (macro light around the macro lens). This image can be enlarged to over a meter with abundant detail.
We will also have photographs of all these millipedes in other positions. But the millipede is fully alive here, and it preferred to be rolled up, so we let it stay in its favored position. Near Rio Dulce, Izabal, Guatemala. Elevation about 50 meters, early January 2013.
What we are finding is that several aspects of the iconography of composite saurian monsters can be improved if you have more information on the various creatures which were the model. I also would not be surprised if millipedes have some features of interest (millipedes eat plants; centipedes can be venomous and are remarkably aggressive (they can run surprisingly fast)).
We recently found one photogenic species of millipede, two species of centipedes, and at least two species of scorpions (plus a great black tarantula) in the Izabal area (elevation less than 50 meters above sea level). We now look forward to finding additional species in other eco-systems.
All photographs, at high-resolution, and in macro-detail (and some with stacked-focus technology) will be made available for scholars, students, and interested individuals on our web site network.
Several capable iconographers and epigraphers have written articles from 1994 onward about centipedes in Maya art. We list these authors on www.maya-ethnozoology.org. Our new finds on creatures with more than six legs will allow revising much of what has been written on "centipedes" in Maya art.
Further research on Maya archaeology for 2013
The Maya people throughout Guatemala, Mexico, Belize, and portions of Honduras and El Salvador still practice their Mayan languages and their culture. While in the Lake Atitlan region of Highland Guatemala for studying native dye plants during Christmas week, all our questions had to be translated into Tzotzil Mayan.
The list of non-chemical dyes which we received, and the lists from almost all published reports, include onions, carrots, and beets (and banana as a mordant to fix the color). Our interest is to find the original indigenous pre-Columbian dye plants. An added benefit of having 100% non-Eurasian plants is to increase tourism, as tourists are interested in learning about plants which the actual Mayan speakers would have used a thousand years ago. Actually most of these plants still grow in Mesoamerica today.
Another major goal is to complete our list of prehispanic fruits and nuts. Our emphasis is to improve local nutricion.
We are also studying all the plants other than tobacco which were used to smoke. Tobacco may be the best known, but the Maya (and Aztec) used almost a dozen other local plants as flavorings. And the cigars were wrapped in nance leaves (not always in tobacco leaves!). I first leaned about Maya cigars at age 19, while a student at Harvard, working on the Tikal Project of the University of Pennsylvania. One of the vases in the early 9th century A. D. royal tomb which I discovered pictured a man, with very happy expression on his face, smoking a cigar.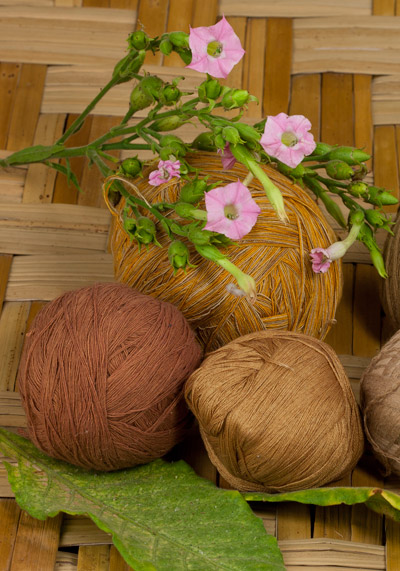 Tobacco flowers and local cotton dyed with various other native plants. Tobacco flowers are attractive garden plants and tobacco provides a good dye for cotton. San Juan la Laguna, Lake Atitlan, Guatemala, photograph by Nicholas Hellmuth.
Plus tobacco is one of the dye plants. Additionally tobacco flowers are great for your garden. I raise two species, white-flowered and light-red flowered. We are seeking other native Nicotiana species and colors as well.
Baktun 13 calendrical cycle ends: Maya predictions of disaster
As a postscript to the endless blogs on the Maya calendar: the books of Chilam Balam and other original Maya writings do very much prophesize catastrophe, though normally for specific Katuns (since Katuns are approximately every 20 years where a Baktun is less frequent). We have already prepared a PDF on this (earlier this year).
Since understandably we at FLAAR research institute do not worry about the world coming to an end on December 21st, we have not joined the often excessive waves of claims. But the Maya of the colonial conquest period did clearly have predictions related to calendrical cycles. However we are busy studying utilitarian plants and sacred flowers so will spare our readers the reality of calendrical predictions.
Plus we have some surprises for 2013 (the year "13" for the rest of the world will probably be worst than the Baktun 13 for the Maya). Indeed the information we do have (based on being in Mesoamerica for over 49 years, plus a Harvard degree, three positions at Yale, an MA and PhD in Maya cosmology and iconography, and most importantly, being familiar with the climate, diseases, caves, and reality of the Maya area), we have enough for a great movie plot.
So once the circus of Baktun 13 calendar end is cover, we look forward to an exciting "Maya modern era 13," namely 2013.
Sorry we are not all talking about Baktun 13
and the catastrophic end of the Mayan calendar Dec 21, 2012.
It is helpful that people are making noise about the Mayan calender so that more people can learn about Maya culture. Unfortunately there is a lot of New Age lullaby romanticism. Sorry, although we work hard to make our research understandable to students and lay people, our background is at the university and in museums. So we tend to focus on realistic research and actual facts.
But we hope you will visit Guatemala, Honduras, Mexico, Belize, or El Salvador and enjoy learning about Maya archaeology and the Mayan people of today. To avoid the nonsense at the Maya archaeological sites, we will not be at Tikal or Yaxha on Dec 21st 2012, but instead around Lake Atitlan studying the flowers and plants used to provide natural colorants to native cotton for Maya weaving.
Once all the Dec 21, 2012 comical theatre is over, we will continue our ethnozoological and ethnobotanical project in Peten with Guatemalan biologist Mirtha Cano.
Search for ceiba flowers
(flowers of the sacred Maya world tree)
I have seen "Guatemalan" ceiba trees flower outside my hotel in Israel (we are a consultant to high tech Israeli firms in advanced digital imaging). But in 49 years in Guatemala I have never seen a Ceiba pentandra tree flower. This year I found out why.
First, a Ceiba pentandra tree flowers only at night; to be precise, the flowers open between 6:30 pm and 7 pm. Second, many of the flowers get knocked off the tree by the frenzy of hundreds of bats which fly crazily around to lap up the yummy sweet nectar in each tiny flower. While we were photographing the ceiba flowers we had to wear hats to keep from having out heads dented by the literal hail storm of flower buds being knocked off as the bats crash landed to suck on the flowers (not to mention bat feces and bat urine).

Fortunately these bats were content to suck on the flowers, not to suck on our exposed necks.
A single tree had easily over one thousand flowers open up, simultaneously, in the space of less than 20 minutes.
Third, a mature ceiba tree may flower only once every several years. And fourth, each individual tree decides when, or whether, it wishes to flower. An identical ceiba tree 10 meters away will act totally different and have a completely independent annual cycle.
But after decades of not being in the right place at the right time to witness a ceiba tree in full bloom, last week I experienced two different mature ceiba trees (each one over two hundred years old). We will have full-color discussions upcoming. Plus we hope to return with a zoologist specialized in studying bats to do close-up photography of the bats in action (fortunately they are not vampires; two species of vampire bats, however, live nearby). But last week it was not quite full moon. So we survived safely (other than being drenched with bat droppings, which is all part of Mother Nature).
Note: November is neither a normal nor expected month for ceibas to flower; the normal month is January onward. But not every individual ceiba tree does what the botanical textbooks and peer-reviewed botanical journals state they are supposed to. This is why we at FLAAR research institute, get out of our university offices and libraries and do actual field work.
If you want to see ceiba trees, come to Guatemala. But if you are in Guangzhou, China, there are several hundred beautiful spine-covered 15-year old ceiba trees lining the main highway near the Guangzhou airport and along the main road paralleling the river through the city. I have seen scores of these ceiba trees while doing consulting on digital printing technology with Chinese ink, substrate and printer factories.
Continuing research on Maya agriculture and diet
We continue studying all fruit of the Classic Maya, in preparation for a photo exhibit in 2013 at the Missouri Botanical Garden.
Last week we had an opportunity to find a Highland Maya variant of passionflower fruit. Although this was sold in the Quiche Mayan market of Chichicastenango, it was a very different species or variety from the common granadilla found even in supermarkets of the capital city (Guatemala City). The Quiche fruit was elongated and yellow (as it ripened).
We dedicated about three hours over two days to photographing the flowers of the Quiche passionflower vine, using both flash and also light reflectors (for natural sunlight). The results of all this photography will be presented in forthcoming FLAAR Reports on our sister site, www.Maya-ethnobotany.org.
Maya ball court architecture
The archaeology of ball courts of Mayan-speaking cultures has been a major theme of research at FLAAR since the 1990's. We have a significant photo archive of ballcourt architecture of Mesoamerica and a dozen publications.
We are working on turning the 1990's publications into electronic format so all will be available (at no cost) to students, scholars, and interested lay people.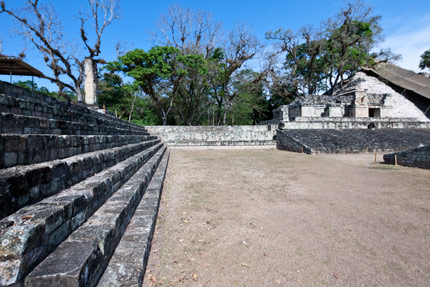 Photograph of the main ballcourt of Copan, Honduras, with a 21 megapixel Canon EOS 1Ds-Mark III, showing the steps. This wide-angle view is with an ultra-wide angle 17mm tilt-shift lens. We will explain the natural distortion and discuss which lenses are good for photographing ballcourts. All these photographs will be donated to the Instituto Hondurano de Antropologia e Historia (IHAH).
Gradually we will showcase the key part of the rubber ballgame courts, which are the stepped areas. We all tend to focus on the sloping sides of the courts (since probably 90% of the Maya ballcourts have sloping sides under the goal stones). But in reality the an additional focus of most of the action and ceremonies was in association with the steps.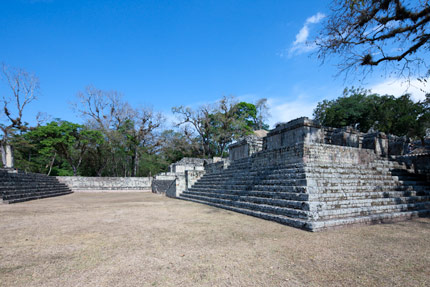 probably 90% of the Maya ballcourts have sloping sides under the goal stones
So this weekend we have initiated additional photography of the steps of the main ballcourt of Copan, Honduras, since this court has one of the nicest sets of steps of the entire Maya region.
But there are also steps on courts of Maya archaeological sites of Guatemala, Mexico, and Belize, and we will be checking El Salvador ballcourts also.
As we have time we will also be utilizing the high-quality architectural drawings of Maya ballcourts by David Morgan.
Sacred flowers in ancient Maya civilization:
Mayan ethnobotany
The Maya world was filled with sacred flowers. Flowers with gorgeous visual impact. Flowers with potent chemical impact. And some flowers which were simply edible (yes, we eat flowers in Guatemala, several species such as isote; I grow them in my garden).
Indeed there are so many Maya artifacts that show flowers that to understand Maya religion and culture we have been doing research on flowers now for several years.
Over the last 18 months we have focused on sapoton, morro, jicaro, cacao, and pataxte (there are over 400 other plants we are studying; you can download the entire list).
Mayan ethnobotany is a focus of our research
RE: Maya archaeology
Our long-range goals are to build up a photographic trove of images of all the plants and flowers that were of interest to the Classic Maya (and still to Maya peoples today). I would bet you could find several hundred plants in a full list. To be realistic we are initially concentrating on sacred plants and flowers, trees used in house construction, plants used for colorants, and the most remarkable edible plants.
We differ from the many excellent web sites on botany by concentrating on providing professional quality digital images. You can see our Maya ethnobotanical studies on the new www.maya-ethnobotany.org.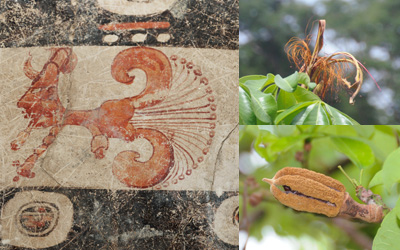 Comparison of the pachira acuatica flower with mayan iconography
We have accomplished enough breakthroughs in knowledge of flowers in art, iconography, and epigraphy that we have opened a separate web site dedicated to flowers, fruits, vegetables, nuts, and all other utilitarian plants and trees of Guatemala, Belize, Honduras, El Salvador and Mexico: www.maya-ethnobotany.org
This autumn we will be bringing to students at Tulane and in El Salvador documentation on some of our discoveries: the iconography of Maya ethnobotany. I also lectured in South Africa last week, though mainly on new printing technologies for museum exhibits and museum signage.
Whatever understanding you previously had of the role of flowers, trees, and plants in the Mayan world, be prepared to have a photogenic feast of documentation that is unparalleled in high-resolution digital imaging, with professional studio lighting (even deep in the swamps or far into the rain forest). This level of photography has been the hallmark of the FLAAR Photo Archive for over 40 years.
Mayan ethnobotany, comprehensive annotated inventory
A new opus by Nicholas Hellmuth provides a thorough list of all plants utilized by the Classic Maya, especially of Guatemala, but also of Belize, Mexico, and Honduras.
Covers fruits, vegetables, nuts, grains, spices, colorants, utilitarian plants, plants for cooking oil, and many other uses.
This list is organized in reader-friendly themes and covers much more ethno-botany than the useful earlier work by Cyrus Lundell.
This full-color publication is the result of Nicholas having been in Guatemala since age 17, having lived for years in Peten, and is a result of his continuing interest in all the plants (and animals) which appear in Mayan art, hieroglyphs, and diet. The photographs are often of coffee-table quality though this is a basic scholarly PDF. The graphic design is the work of Josue Daniel Mazariegos Ochoa, FLAAR Mesoamerica.
This monograph is an introduction to all the themes that will be discussed on a major new web site dedicated to Mayan ethnobotany which will be opened by FLAAR during late June and early July 2011.
Our discussion of Mayan archaeology topics
over the years
Mayan archaeology is the main research topic of this web site. Mayan archaeology naturally includes artifacts, pyramd-temple, palace, and ballcourt architecture. The study of Mayan archaeology includes epigraphy but our decades of research have been dedicated more to iconography.
We include Mayan linguistics when discussing plants and animals in our research on Mayan ethnobotany and ethnozoology. We are fully aware that the academic term is Mayan with an "n" only for the languages (and we are aware there are exceptions: "Yucatec Maya is a Mayan language"). But this is the year 2012 and the academic terms have evolved in popular parlance: just the way Mixe-Zoque words evolved into Mayan words! To avoid being pedantic we tend to use the word Mayan archaeology rather than Maya archaeology. But notice that the web site name is in scholarly format: Maya archaeology.
Architecture of the Maya is of special interest to FLAAR
Our photo archive of Puuc, Chenes, and Rio Bec temple architecture, palaces, interior spaces, corbel vaults, exterior decoration rival the several decades of photography by the Carnegie Institution of Washington. The FLAAR Photo Archive images tend to be clearer, higher resolution, and better illuminated than photographs in other archives of Campeche, Yucatan, and Quintana Roo. We used tripods, Leica, Hasselblad with Zeiss lenses, and portable Metz lighting in the final years.
We estimate there are over 5000 photographs of Puuc, Chenes, and Rio Bec architecture in our archive. Most are with medium format quality; in a final year we also did some large-format photography, including with an 8x10" camera!
We also have admirable photographs of many ballcourts of Mesoamerica, taken with high-resolution cameras.
We stopped doing photography of ruins because local entities demanded unreasonable fees (we ourselves make no profit whatsoever from the photography, so we can't afford fees). Besides, everyone else takes pictures with no permit and sells them anyway. Kind of a loss to have the FLAAR Photo Archive high-resolution photos wasted because of restrictive rules and regulations. If permission were available, we could make all these photos available to students, scholars, and museums.
Mayan ethnozoology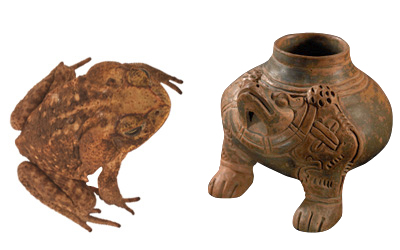 Comparison of a bufo marinus with a ceramic reproduction from Vigua Museum, Guatemala
Jaguars, monkeys, deer, peccary, turtles, fish, and venomous toads are among the creatures of tropical Mesoamerica that are most often pictured by the Classic Maya in murals, ceramics, and in other art or artifacts. FLAAR is working to improve our lists of all animals of interest to the ancient Maya. But once we have the list of creatures the next step is to undertake systematic digital photography of these species. So it is important to understand digital photography in addition to understanding iconography and epigraphy where birds, reptiles, and amphibians are pictured.
Our focus (pun included) is to provide photographs that are better (and hence hopefully more useful to botanists, iconographers, epigraphers, and ethnographers) than just snapshots. Our institute works hard to offer images that really reveal the biological details of the snakes, turtles, insects, toads, and other species.
You can see samples of our initial studies of Mayan ethnozoology on our new web site www.maya-ethnozoology.org
During recent months we have been photographing white-tailed deer, crocodiles, caimans, turtles, iguanas, venomous snakes, and insects. By late September we hope to have opened our new web site on Maya ethnozoology. Our goal is to offer to iconographers, epigraphers, art historians, zoo archaeologists, and ethnographers, pertinent data on the specific features of each creature that caused the Maya to single out each species.
So please return later this year as we begin to offer to students, scholars, and the interested lay public the results of thousands of our photographs of denizens of the diverse eco-systems of the Maya world.
Digital camera evaluations and reviews
FLAAR is known around the world for evaluations and reviews of digital cameras. We are among the few archaeology institutes or museums that provide this service. Our reviews and scores of reports, in full color, can be found on www.digital-photography.org.
Wide-format inkjet printer evaluations and reviews
Now perhaps you can understand why FLAAR works hard to understand digital printing technology. We seek the appropriate printer to print the images that result from our photography of cultural heritage.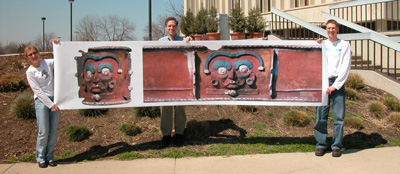 Rollouts by the technology used by FLAAR for fourteen years are in most cases precise enough to be enlarged over one meter high by up to five meters wide. Here you see us with an enlarged print so large we had to take it outside.
This technology can help museums plan better exhibits. Exhibits help provide information and education for the general public.
So every aspect of digital printing technology is an adjunct to our interest in Mayan art, iconography, epigraphy, and archaeology (as well as ethnobotany and ethnozoology).
This leads us back to rollout photographs
Since rollout photographs (and panoramas) are at such high resolution, they can be printed at remarkable sizes. This calls for an understanding of printers at all sizes (which is why FLAAR goes to all the digital printer trade shows: to learn about new printer technology, inks, and software).
The difference between rollout photographs done by FLAAR (and rollouts done elsewhere) is that the FLAAR Photo Archive rollouts are computer controlled. There is no guess work. The FLAAR rollouts are not made by tabulations (by hand). Our rollouts are made entirely by a computer system. We put a square grid in the scene to test that when rolled out the image is still square: and not elongated or squished. Simply compare how large a FLAAR rollout can be enlarged (up to several meters long!).
FLAAR has been beta tester for the manufacturer of this rollout system since about 1997.
The first rollout photograph of a Mayan-related fruit: pataxte in Mayan ethnobotany
Rollout cameras have been made since actually the 1890's. Yes, over 120 years ago the first circumferential rollout cameras were made.
National Geographic made the first rollout in the Mayan area and then Justin Kerr spend several decades doing rollouts of vases in private collections. These have been used by every iconographer and epigrapher since then. These are made with a modified medium format camera, and done by tabulations based on trial-and-error in the early years. They are very pretty at 1:1 size, but don't appear to enlarge very well.
The stretch, or compression, causes some rollouts to be iffy to use for studying Maya style, because you don't know whether the proportions of the subjects in the scene is because of the regional or personal style of the painter, or a defect of the rollout technology.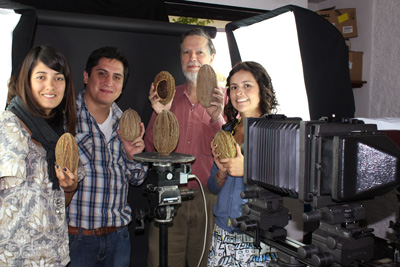 We have extended rollout technology to fruits and vegetables. Here is the first circumferential photograph of a pataxte fruit (a relative of cacao) (using Better Light Pano/WideView). Pataxte is mentioned more often in the Popol Vuh than is cacao. We have two pataxte trees in the FLAAR ethnobotanical garden, though 1500 meters above sea level is a bit rough on them. Cacao grows much better in our garden.

This is Sofia, Nicholas, Juan Luis, and Jennifer, all part of the digital imaging team of FLAAR Reports.
FLAAR was possibly the first to rollout the inside of a Mayan plate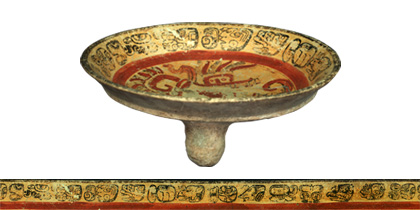 It is a challenge to do a rollout of a Mayan plate inside. And also not easy to roll out the outside of plates either (when they are at an angle. Here we are with the set-up to rollout a Late Classic Maya plate. These images of Maya hieroglyphic writing should assist epigraphers and iconographers both.
We have also been among the first to rollout
cache vessels
Since my PhD dissertation was primarily on iconography of Early Classic Mayan art and artifacts, I have always been interested in the central Peten style cache vessels. The Museo Popol Vuh has an especially nice series of examples. Here is one photographed many many years ago. Museo Popol Vuh, Universidad Francisco Marroquin, Guatemala.

First rollout of a Quiche urn by Nicholas Hellmuth and Tanja Rathjen, Universidad Francisco Marroquin; urn courtesy of Museo Popol Vuh.
Since I do not have the informative archive of other rollouts in-hand, I can't say whether there are rollouts of cache vessels, incensarios, or burial urns in the 1990's, but already in the first years of our digital rollouts at the Museo Popol Vuh, we successfully rolled out Early Classic cache vessels as well as Late or Terminal Classic Quiche burial urns.
One of the first, or at least one of the early
rollouts of Quiche urn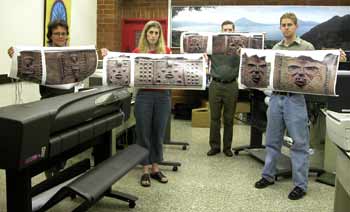 Because of my long-term interest in Mayan ethnobotany, I am always looking for examples of Ceiba tree spikes(conical thorns) in Mayan art. You generally find these ceiba tree spines on incense burns or Quiche style burial urns (these terms are generic; the actual original use of each ceramic is not documentable in most cases).
In part because the rollout system is computer controlled, in part because the system is large-format, and mostly because the system is entirely digital and not medium-format film, the images can be a higher quality overall.
QTVR digital technology to show Mayan artifacts
For over ten years we have been doing QTVR photography of Mayan artifacts. Now we are doing this also of birds, toads, and plants (fruits).
3D scanning of archaeological artifacts and sculpture
We provide an entire separate web site to evaluate 3D scanning hardware and 3D digital imaging software, related primarily to 3D scanning of Mayan archaeology artifacts, sculpture, plants (ethnobotany) and animals (ethnozoology).
Recently two of us from FLAAR Reports attended the international 3D conference and exposition in Atlanta, Georgia. We will also attend the main 3D event in Europe later this year.
Current anthropology projects in Latin America
Anthropology is the broadest term to cover a diverse range of scholarly disciplines that include ethnography, ethnology, archaeology, epigraphy, art and architectural history. In European universities Greek or Roman archaeology is taught either in an institute of archaeology or in art history departments. In Europe the archaeology of pre-Columbian Mesoamerica tends to be taught in a language department or department of "ancient America." In the US, the archaeology of Belize, Guatemala, Honduras, Mexico and El Salvador tends to be taught in a department of anthropology.
In American departments of archaeology, or departments of art history, the studies tend to focus on Greco-Roman civilizations. Exceptions exist, but the FLAAR director has two degrees in anthropology (Harvard and then Brown University) and then an advanced degree in art history (in Europe, where pre-Columbian iconography happened to be a personal interest to the Kunstgesichte faculty of a university in Austria).
As a result of our international background, at FLAAR we are multi-disciplinary, so we don't pigeon-hole our anthropological and archaeological research. Our current long-range programs are dedicated to encouraging higher quality digital photography for recording and utilization of higher quality photographs in publication in all fields of anthropology by means of employing advanced digital imaging technology.
Our largest on-going anthropological research is dedicated to preparing an encyclopedic inventory of the natural resources of Guatemala, Belize, and adjacent portions of Honduras and Mexico, as well as pertinent parts of El Salvador and Costa Rica that interacted with the Mesoamerican civilizations from 2000 BC through to the time of the Spanish conquest in the 15th-16th centuries.
We include under the rubric of natural resources the plants, animals, and minerals that were utilized by indigenous peoples in the daily life, rituals, religious beliefs, myths, and trading with other peoples. Our web site www.maya-ethnobotany.org provides scholars, students, and lay people outstanding photographic coverage of the sacred Mayan flowers of Guatemala.
We utilize digital imaging technologies including digital photography, wide-format inkjet printing, 3D scanning, 3D imaging software, and related 3-dimensional technologies to assist students, scholars and interested public during this special year of the ancient Mayan calendar, the end of the calendrical cycle in December 21, 2012.