Palm thatch is most common thatch roof of Mayan architecture in Guatemala
You see thousands of Mayan houses with palm thatch roofs from guano palm throughout El Peten, Guatemala. You can find even more thousands of Q'eqchi' Mayan houses with corozo (corozal) palm thatch throughout Alta Verapaz and Izabal, Guatemala.

But grass roofed houses of Q'eqchi Mayan can still be found

It was a pleasant surprise to find two or three grass thatched roofs driving from Cahabon down the mountains towards the Polochic River area and then another few in the Polochic area itself.
Local people told us the grass was ak (aak, ac, depending whose dictionary you read). One week later, in another area of Alta Verapaz, a helpful local farmer even took us out into a field en route towards La Chua park area and showed us the actual grass.

We have also been told that there are grass thatched huts to be found in the Chimaltenango area, and around Zacapa. However many parts of Alta Verapaz do not use ak grass for their roofs whatsoever. Our plant scout said if the dirt is really good for agriculture the thatching grass is normally not found in this kind of soil. This part of Alta Verapaz uses corozo and a relative of the guano palm, junco, (looks very similar to guano but is slightly smaller).
We estimate there are at least three different palms (minimum) and two different grasses which are used still today. The list that can be obtained bit by bit from the dissertation of Wilson suggests even more plants were used for roof thatch in the past.
Sugar cane "grass" is also used but this is not pre-columbian. Stephens and Catherwood talk about using corn husks for roofs in the Chorti Mayan Copan, Honduras area.
It is possible that in other eco-systems of Mesoamerica additional species of grasses were used. For example we found this comment on the Internet: Ceren houses (of the pre-columbian site buried by volcanic ash thousands of years ago) "had adobe walls and roofs of thatch made from a type of grass that is now extinct, apparently killed off by alien grasses from the Old World." (New York Times article, John Wilford, 1967).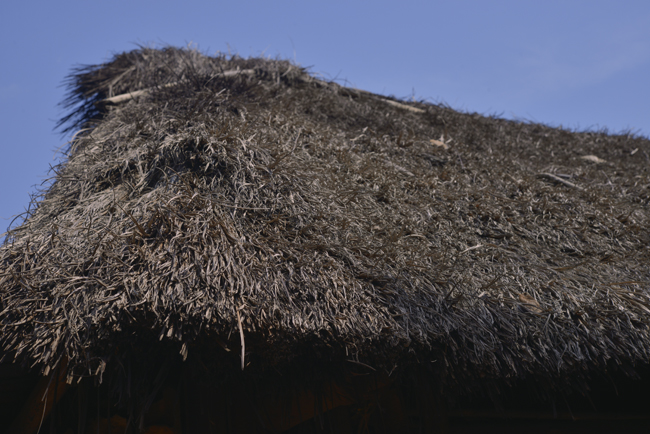 Here is a Q'eqchi' Mayan house of the grandmother of one of the student interns at FLAAR (they come here to learn English, computers, software, and how to illustrate plants and animals). What is interesting about this house is that they are repairing it with a variety of materials, including sugar cane (which of course is not pre-columbian). But the original roof here was probably Ak, a local grass. This domestic residence is within one hour drive of Senahu, Alta Verapaz, Guatemala. Photographed late 2014.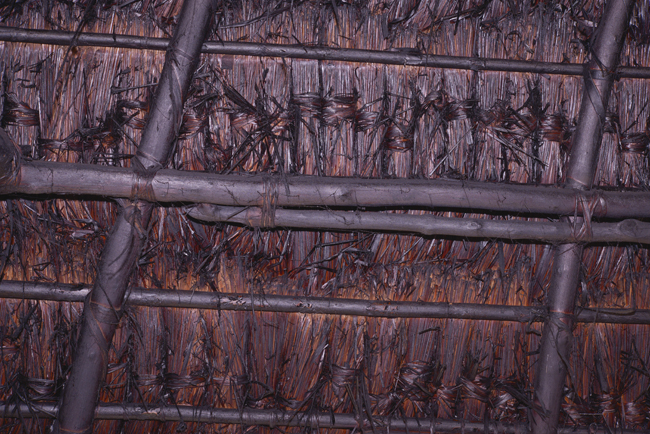 It is crucial to recognize that although palm thatch (minimum three different species, probably actually more in earlier centuries) is by far the most common roofing materials, the Maya used whatever was available, especially in low-cost situations. Since most roofs today are of tin laminas, it is imperative to record all plants which can be used for roofing in this part of Mesoamerica.
Here is a brief list of Maya house roof thatching materials from Lundell

Note that Lundel lists two different kinds of palm each with the same Spanish name, corozo. This is so typical of Mesoamerica: local Spanish names are imprecise because the same word can refer to many different genera of plants.
Same for Sabal species (xa'an). Two species, Sabal yapa, and Sabal mexicana are listed by Martinez, Martorell
Thatching Materials, introductory list by Lundell
Sabal mayarum Bartlett. Botán, huano.
The leaves are much used for thatching. When milpa clearings are made the Maya spare the thatch palms, probably a survival of an earlier practice.
Orbigya cohune (Mart.) Dahlgren. Tutz, corozo, cohune.
In the areas of higher rainfall, where the corozo grows, its huge pinnate leaves are esteemed almost as much as those of the botán palms for thatching materials. In addition, the leaves serve for walling up sides of houses, granaries, etc.
Scheelea lundellii Kantutz, corozo.
The large pinnate leaves are cut for the same purposes as those of Orbignya cohune (Mart.) Dahlgreo.In the absence of these palms the leaves of other species may be substituted.
Imperata contracta (HBK.) Hitchc. Ac.
A coarse perennial grass growing in savannas. In ancient times it was gathered to roof houses and make granaries (7, p.213). Natives now cut it for thatching and stuffing pack saddles.
We also need to add the plants suggested by other authors such as Sabal yapa,listed by writers on Yucatan.
We look forward to learning more about roofing materials used by the Mayan speaking people
90% of our research is in El Peten, Alta Verapaz and Izabal departamentos of Guatemala, and occasionally the Copan Ruinas area of Honduras. We have also done botanical research in El Salvador but rarely have time to get in that direction.
Because funding is difficult to obtain, we do our search for different house roofing materials while we are driving through the countryside on weekends (searching for interesting plants to photograph). If funding were available we could help rescue more information through our ability to take good photographs.
In the meantime, here are some notes from the PhD dissertation of Wilson, looking for everything he lists as usable for thatch. So far I have not been able to fully understand his system of notations, but with these notes, and an experienced K'ekchi' farmer in front of you, it should be possible to clear up some of the confusion, and make a useful comparative tabulation.
Arecaceae
(no specimen)
c'imim; Capuca sp.; thatch; C. G (Wilson 1972:368)
tun k'im; 'lying-down straw'; poor thatch
Dichromena radicans S.& C.
boloc; sedge; Pokomchi' thatch (Wilson 1972:370)
Juncaceae
Juncus effusus var. solutus Fern.& Wiegand
say amoo' (1); 'say of [frog]'; for (2) see Cyperaceae; other rushes included?
J. marginatus var. setosus Coville
tam; used as thatch (Wilson 1972:370)
tam
Juncaceae: Juncus marginatus var. setosus
Coville
bundled for thatch (Wilson 1972:393)
Pac'ac'; forage, thatch grass
Avena sativa L. (Wilson 1972:372)
aq / Öakak; roofing thatch
Panicum sp. (Wilson 1972:372-373)
aq / Öakak
Poaceae: Muhlenbergia macroura (HBK.)
Hitchc.
Bundled for roofing thatch (Wilson 1972:370)
Salab a'qam
'fork of agouti'
Palmae: Chamaedorea sp.
WS; leaf for thatch; lowland var. cf. k'ib (Wilson 1972:392)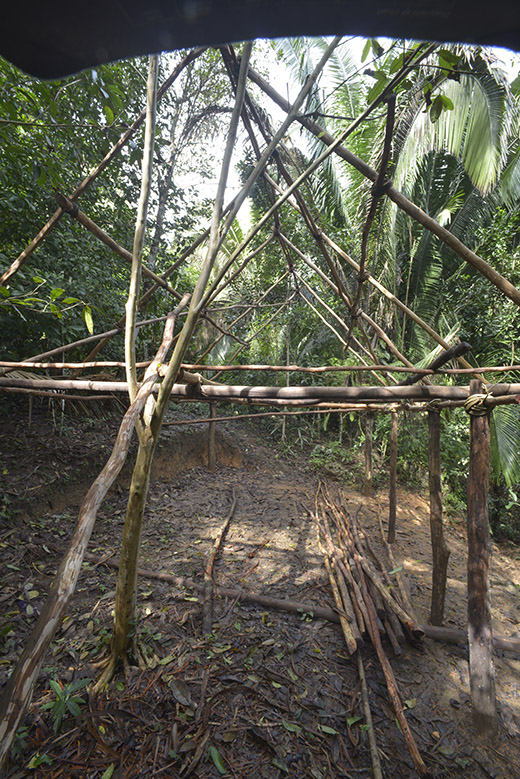 Palm roofed house in process, (structure), Taken with a Nikon D800E, Dicember 2013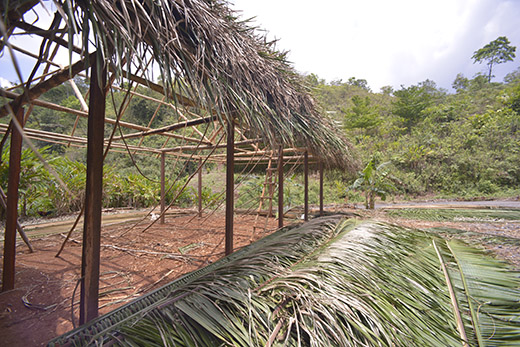 Palm roofed house in process, (side view),
Taken with a Nikon D800E, April 2014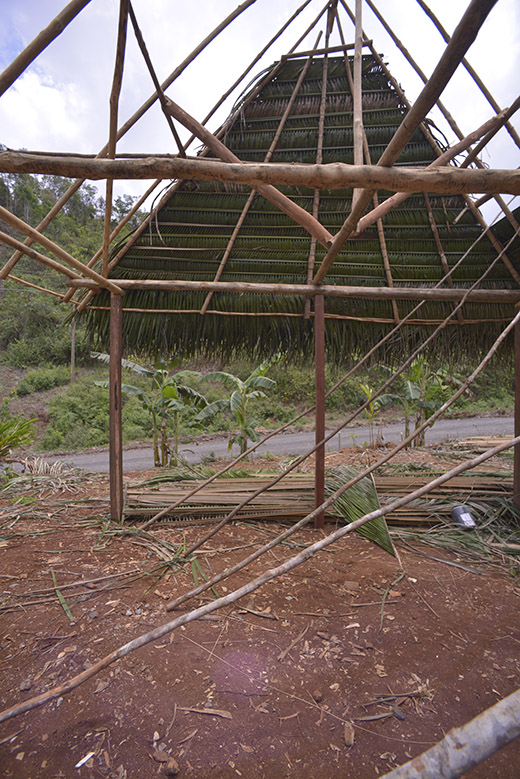 Palm roofed house in process, (inside view),
Taken with a Nikon D800E, April 2014
Our bibliography on palm thatch is a separate page.