Rubber tree latex sap has to be vulcanized before it can bounce
If you collect sap from the Olmec and Maya native rubber tree (of Mexico, Guatemala, Belize, Honduras, etc), the latex from Castilla elastica is not yet rubber-like. To make latex sap become rubbery you have to add a chemical, boil it, and then the tree sap is "vulcanized."
People in the USA are taught that Thomas Goodyear invented vulcanization. But the Olmecs of Mexico discovered how to vulcanize rubber about 3000 years before any Gringo figured it out.
The Maya, Teotihuacan, Classic Veracruz (of El Tajin), the Zapotecs (of Monte Alban), the Toltecs, Mixtecs (of Oaxaca), Aztecs: they all knew how to vulcanize rubber centuries before either Thomas Goodyear or Thomas Hancock (UK) claimed patents in the mid-1800's.
Botanical information on Merremia tuberosa
Scientific name is Merremia tuberosa (L.) Rendle. Common name is woodrose; also spelled wood rose. This is because after the flower dries then additional petal-shaped forms grow out around the bulbous seed pod: so it looks like a "wooden rose."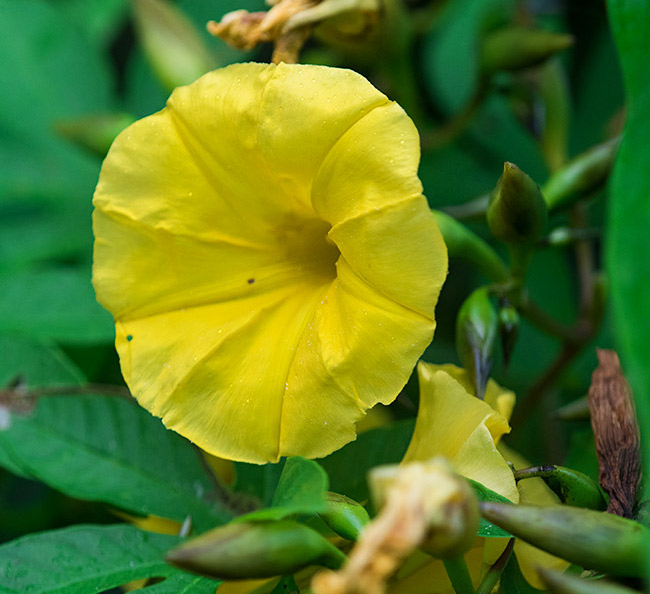 Merremia tuberosa,Taken at Parque Nacional Yaxha, Petén at 9:08 am with Nikon D810,
Zeiss Makro-Planar 2/100 ZF.2, ISO 1,000 f 4.4, Nicholas Hellmuth

To me it looks like a cardboard flower (in a complimentary sense in being sculpted and hard). Of course the petals are so dry they are fragile, but to see a tall vine with "solid brown" "flowers" all over it, is an impressive sight.
These were photographed along the highway from Tucuru to La Tinta. All this has now been totally bulldozed away in recent months as the highway has been paved this year (2018). So the photos of FLAAR are the among the only records of the presence of this plant parallel to the river.
As typical, there are lots of synonyms (older names used by earlier scholars, names which are no longer accepted). Best to find these in a botanical book if you wish to know the endless obsolete earlier names.
The local names given for Guatemala include Quiebra-machete (Suchitepequez; probably an erroneous rendering of quiebra-cajete); rosa de barranco; foco de luz; bejuco de golondrina; quinamacal (Peten)… Called "seven-fingers" in British Honduras. In Honduras the vine is called "mala hierba," it being claimed that the huge tuberous roots are poisonous to pigs and horses.
It is one of the more showy of Central American morning-glories and under favorable conditions attains a great size and is covered with the large blossoms. In Guatemala the dry capsules with their enveloping sepals are much used as decorations in houses or on alters, either in their natural brown color or embellished with silver or gold paint.
Moist or wet thickets, 1,200 m. or lower; Peten; Alta Verapaz;
Baja Verapaz; Izabal; Escuintla; Suchitepe"quez; Retalhuleu; Quiche";
Quezaltenango; San Marcos. Mexico; British Honduras to Panama;
West Indies; South America. (Standley and Williams 1970: 74 and 75).

Botanical scientific Family: Convolvulaceae. So this is same family as Ipomoea alba (they both look like morning glory vine flowers). Ipomoea alba also provides chemicals to vulcanize rubber. Ipomoea alba looks like all other morning glories, but blooms at night! So is called Moon Flower. We raise both Ipomoea alba and also Merremia tuberosa in the FLAAR Mayan Ethnobotanical Research Garden, 1500 meters above sea level, in Guatemala City. The original location for these plants is in various diverse eco-systems of Alta Verapaz, Peten, and other parts of Guatemala.
Nahuatl name (Aztec) is xixicamátic (Sahagun).
Merremia tuberosa is native to Mexico, Guatemala and other countries
Merremia tuberosa is invasive as an unwanted weed in many parts of the world. However I am totally content to have it taking over my entire garden and, literally, covering my entire house.

Merremia tuberosa is the most rapidly growing and spreading vine we have introduced to our garden. It grows up over a 3-story house with ease. It grows up into trees and spreads throughout their branches. I am totally happy to have this plant wandering around my garden.

It took well over a year before it decided to bloom, but finally, in October and November, it is blooming. Flowers open after 10 am, so barely a "morning glory."
We have watched the flower open; it opens so fast that unless we have our fingers on the camera cable release we miss its opening sequence.
In Guatemala this plant is common growing both near and also physically adjacent to Castilla elastica rubber trees. Literally: the two are happy in the same eco-system.

Ipomoea alba Moonflower vines grow a few kilometers away. So it would be great to start a project to see to what degree Merremia tuberosa can vulcanize rubber the same efficiency as already well documented for Ipomoea alba. Suzanne Cook's thorough study of plants of the Lacandon Maya area of Chiapas clearly documents that the Lacandon Maya use Merremia tuberosa to vulcanize latex (2016: 216) from Castilla elastica tree.
Can be found in Parque Nacional Yaxha Nakum Naranjo?
Both Ipomoea alba and Merremia tuberosa are listed for Calakmul area (a few kilometers north of the Campeche (Mexico) Peten (Guatemala border (so not far from El Mirador, a bit south of the border (CONANP 2013: 8-9).
Park ranger Teco (Moises Daniel Pérez Díaz) found Castilla elastica between Yaxha and Nakum and now is tracking down whether Merremia tuberosa is also present.
Our FLAAR team has found Ipomoea alba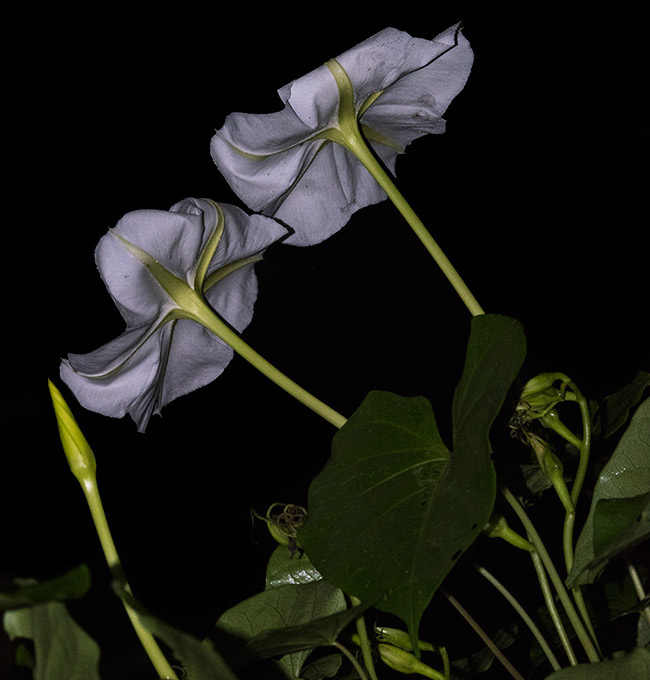 Senaida Ba, one of our plant scout team, found Ipomoea alba in two locations at Parque Nacional Yaxha: there is one mass together with another local (purple) morning glory vine species, between the two lakes (Yaxha and Sacnab).
Photo taken with Nikon D810, Nikon AF-Micro-NIKKOR 200mm, f/4D IF-ED Macro,
ISO 2,500 , f 14, Nicholas Hellmuth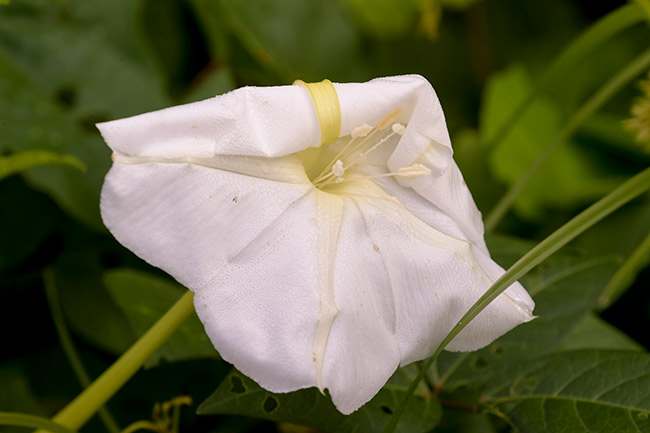 Ipomoea alba taken at 8:34 am with Nikon D5, Zeiss Makro-Planar 2/100 ZF.2,
ISO 1,600, f 4, Nicholas Hellmuth, along the shore of Rio Ixtinto (on the shore of Topoxte Island). Since the flowers bloom at night, by the time we arrive in the morning they are wilted.
Merremia tuberosa is not considered to be hallucinogenic
Even though Merremia tuberosa is not considered to be psychoactive, we recommend NOT taste testing or eating it.
Merremia tuberosa is considered a potential medicinal plant
Lots more to learn about the medicinal potential of Merremia tuberosaI.
Useful plants of the Mayan people
In other words, our discoveries suggest that Yaxha may have been an ancient Maya producer of rubber for all the many uses of this practical substance.
Same with Nakum and Naranjo, and the many Mayan sites in between.
Suggested Reading on Merremia tuberosa
Austin D. F.
1998
Xixicamátic or wood rose (Merremia tuberosa, Convolvulaceae): origins and dispersal. Economic Botany, 52(4): 412-422.
Hammel B. E.
2010
Convolvulaceae. Monographs in Systematic Botany from the Missouri Botanical Garden, 119:72-126. [Manual de Plantas de Costa Rica, Vol. 5.
CONANP
1998
Nomination of Ancient Maya City and Protected Tropical Forests of Calakmul, Campeche By the Government of Mexico for Inscription on the World Heritage List. CONACULTA, Mexico.

Totally unclear who is the author(s) and which is the "publisher": CONACULTA or CONANP. However the list of plants is impressive.>

https://whc.unesco.org/uploads/nominations/1061bis.pdf
COOK, Suzanne
2016
Lacandon
O'Donell, C. A.
1941
Revision de las especies americanas de Merremia (Convolvulaceae) (Lilloa) 6:514-516.
STANDLEY
1938
Convolvulaceae, in Flora of Costa Rica. Field Museum of Natural History, Botany Series 18:960-974.
STANDLEY, Paul C. and Louis O. WILLIAMS
1970
Convolvulaceae. In P. C. Standley, L. O. Williams and D. N. Gibson, eds. Flora of Guatemala, Fieldiana: Botany, Volume 24, Part IX, Number 1, pages 4-85.
Bibliography of Castilla elastica, rubber tree of the Olmec and Maya
http://www.maya-ethnobotany.org/useful-plants-trees-to-grow-utilitarian-species-uses-mayan/castilla-elastica-hule-rubber-tree.php
On our Maya-Ethnobotany Site
First Posted: 2nd week of November, 2018