Download report
The Classic and Preclassic Maya fabricated baskets by the millions and also wove petates (the local form of mat). These baskets and petates are made from dozens and dozens of different local materials from the fields, swamps, and forests: no plastic was available a thousand years ago. And I bet some of their baskets and petates lasted longer than modern plastic containers and modern floor coverings.
Several royal Maya tombs have had remains of petates, such as the Burial 116 under Temple I in Tikal. It was the tradition of a Maya king to hold court on a simple basic petate mat (to attempt to show the population that even he the king was also aware of basic house furnishings such as a frond mat as a rug-like floor or throne covering). The woven material even created a royal logo, the Pop, used today as the logo of the Museo Popol Vuh in Guatemala City.
You can also see the Pop woven frond symbol at Copan ruins, in Honduras. If you have a good eye for iconography you will notice stylized woven fronds as decoration for Tepeu 1 and Tepeu 2 bowls, plates, and vases.
And many 6th-9th century vase paintings show baskets and wicker containers being used in the palace or in ceremonies. So learning about baskets and petates is a useful undertaking for a person interested in learning about Maya culture a thousand years ago. Besides, it's nice to see products that are not modern plastic.
There are dozens of villages in Yuactan, Quintana Roo, Campeche, Chiapas, Tabasco: the Maya portions of Mexico, where baskets are still made. And of course non-Maya people still make baskets from plant materials elsewhere in Mexico, Belize, Honduras, and El Salvador. But since Guatemala is closer for me, it is in Guatemala where I enjoy finding villages where baskets are made. Chilascó is one such town and it is worth visiting if you live in Guatemala or are visiting Guatemala.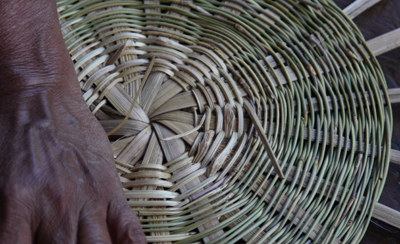 Process of basket weaving, San Rafael Chilascó, Guatemala August 2011.
How to reach San Rafael Chilascó
Leave Guatemala City driving towards the Atlantic Ocean. In an area known as El Rancho, take a left turn at the major intersection towards Coban. Continue north an hour or so. The turn off to Chilascó is a bit past Km 144. About a half km before arriving at the turnoff there is a hotel on the left side of the main highway Río Escondido Private Nature Reserve.
From the principal highway to the town there are 8 to 12 km. The approximately 10 km of road is not paved but does not require 4WD (the road to Lanquin caves did, which is why we skipped Lanquin and went to Chilascó instead).
The full legal name of the town isSan Rafael Chilascó but many people simply call it plain Chilascó.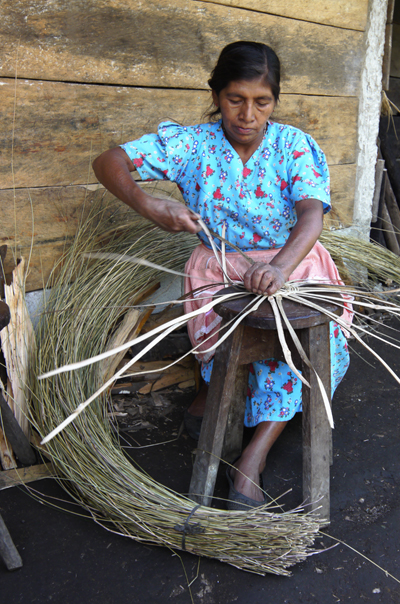 Doña Calletana weaving basket, San Rafael Chilascó, Guatemala August 2011.
Touristic information at the entrance to Chilascó
After you pass through the ridge overlooking valleys of broccoli fields (not a pre-Columbian plant), you reach the outskirts of the town of Chilascó.
Here there is a small tourist office. Stop here to get a guide. Obviously it helps if you call in advance.
Genaro Rojas is the guide we found. He is helpful as he knows everyone in the village. His telephone # is: (502) 5184-5089.
Basket making
The name of the woman who can show you how to make baskets is Doña Calletana. What I liked about visiting her was that she showed us every single material that goes into making a basket.
She uses "venas" (the very thin and several meter long materials she used the most) and "varas" for maintaining the structure strong.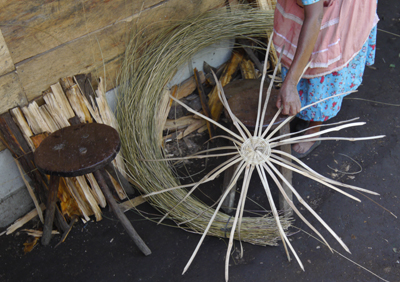 Process of basket weaving. Approximate completion time: two hours. San Rafael Chilascó, Guatemala August 2011.
When the person is finished showing you how to make the baskets it is appropriate to buy some or tip them, either way. We spent almost two hours watching the process.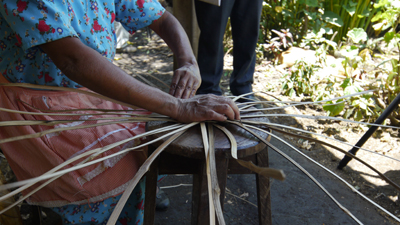 Hand-woven baskets, San Rafael Chilascó, Guatemala August 2011.
Then you can spend a few minutes walking around the center of the town. It reminded me of what wild west frontier towns of western America must have been like a hundred years ago. But San Rafael Chilascó is a lot less peaceful.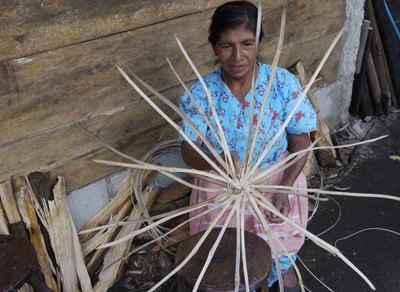 Doña Calletana showing process of making basket in San Rafael Chilascó, Guatemala August 2011.
Ethnobotany of Mayan basket making
We now have a separate FLAAR web site for studies of plants, www.maya-ethnobotany.org. So on that other site we will, as time and funding allows, add pages on each plant that is used to make the baskets. Of course each village uses slightly different plants than other villages since the forests are completely different in one part of Guatemala from another part.
If you are a student looking for a thesis or dissertation topic, Chilascó would be a nice place to study basket making. Frankly I like baskets because these are used both in the home and also in long distance trade. Plus baskets are the key items for displaying produce in market stalls.
And, weaving baskets is related to weaving flat petates. Petates, as mentioned above, are essential parts of both the Maya household as well as royal iconography.
Now you can understand why I enjoy finding, and photographing, basket-making and weaving. I hope to locate other towns elsewhere in Guatemala where they weave other sizes and shapes of baskets.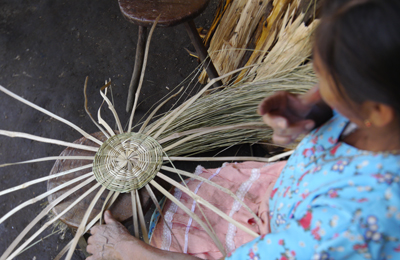 Doña Calletana hand weaving the basket in San Rafael Chilascó, Guatemala August 2011.
Chilascó is a friendly town
Everyone we met inChilascó was pleasant, friendly and hospitable. Since I like to photograph native maize, one lady even let us into her home to photograph maize piled in her inner courtyard. The same happened four years ago when I was in the same town (with a different person).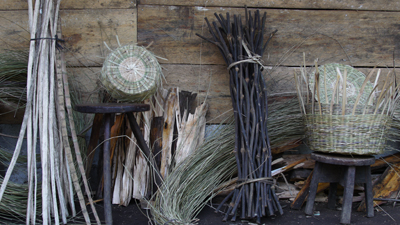 Samples of different materials, types and sizes of baskets, San Rafael Chilascó, Guatemala August 2011.
Basic overnight accomodations in the town of Chilascó
We stayed an hour away in Hotel Tz' Alam Ha' in Salama valley because prior we did not know whether Chilascó itself had accommodations. But as we were leaving Chilascó we passed by a hotel with basic space.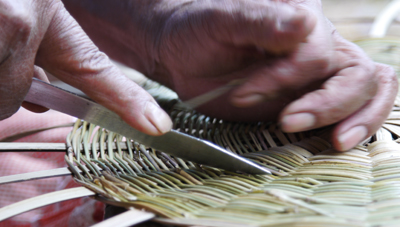 Hand-woven baskets. San Rafael Chilascó, Guatemala August 2011.
Hotel Aldea San Rafael
Chilascó, Aldea Salama, Baja Verapaz
A 160 Km de Ciudad de Guatemala
Q50 per person
Services:

Wifi
Breakfast, lunch and dinner.