Publications of articles and reports by Nicholas Hellmuth
The original Mayan speaking people of the Lacandon area of Chiapas spoke a regional variant of Cholti. I informally call it Cholti-Lacandon. The Spanish slaughtered some, probably took others as slaves, and finally moved out of Chiapas the survivors (that did not die of Spanish-introduced diseases). Into this subsequently depopulated and relatively now available area other Maya (Yucatec speakers) moved in (because they were fleeing Spanish oppression and introduced diseases in the nearby Yucatan Peninsula.
In other words, the Lacandon Maya of today, who speak a regional variant of Yucatec language, were unlikely here in the Classic or even the Post Classic. Naturally they worship in caves, naturally they have similar deities, and understandably they treat Yaxchilan, Bonampak and Palenque as part of their cultural history. But DNA-wise it is highly unlikely any of the current population of Lacandon is a direct descendant of the Classic Maya of Yaxchilan, Bonampak, or Palenque. Lacandon Maya culture is important, is fully and truly Mayan, as well documented by ethnographers. I have respect for their culture; I spent over a decade studying their history and wrote one of the first comprehensive bibliographies of their culture and history.
Articles and List of Suggested reading on the Cholti Lacandon and Lacandon Maya
I studied the Cholti Lacandon (17th and 18th century), the Yucatec Lacandon (1700's to 1970's), Quejache Maya (Peten, 16th-17th century) and Peten Itza Maya (1700's to today):
as a student in Dr Evon Z. Vogt's class at Harvard on the Maya, circa 1967
in the Carnegie Institution of Washington archives (of copies of handwritten Spanish documents) in the Tozzer Library, Peabody Museum, while an undergraduate student of Harvard in the 1960's and also in subsequent years as a visitor.
In the Archivo General de Centro America, Guatemala City, Zona 1 (about three blocks from where I lived in the 1970's).
In the Archivo General de Indias, Sevilla, Spain, summer 1971, with a grant from the American Philosophical Society
In the Trudy Blom library in her house in San Cristobal de Las Casas (while she was still alive, late 1960's).
Click to Download
FLAAR scan of my first publication, a bibliography resulting from my Harvard class where I started studying the Lacandon after visiting Chiapas.
We are in the process of trying to find, and then scan, all my hand-typed notes and early 1970's reports on the Cholti-Lacandon, Yucatec Lacandon Maya, Quejache of Peten and Peten Itza Maya. Until funding is available from a kind soul, having staff to handle all this is a challenge, but since lots of people are stuck at home during the Coronavirus pandemic we wanted to get these three items available to start with.
To learn about the Mayan culture (past or present) it helps to visit the area in-person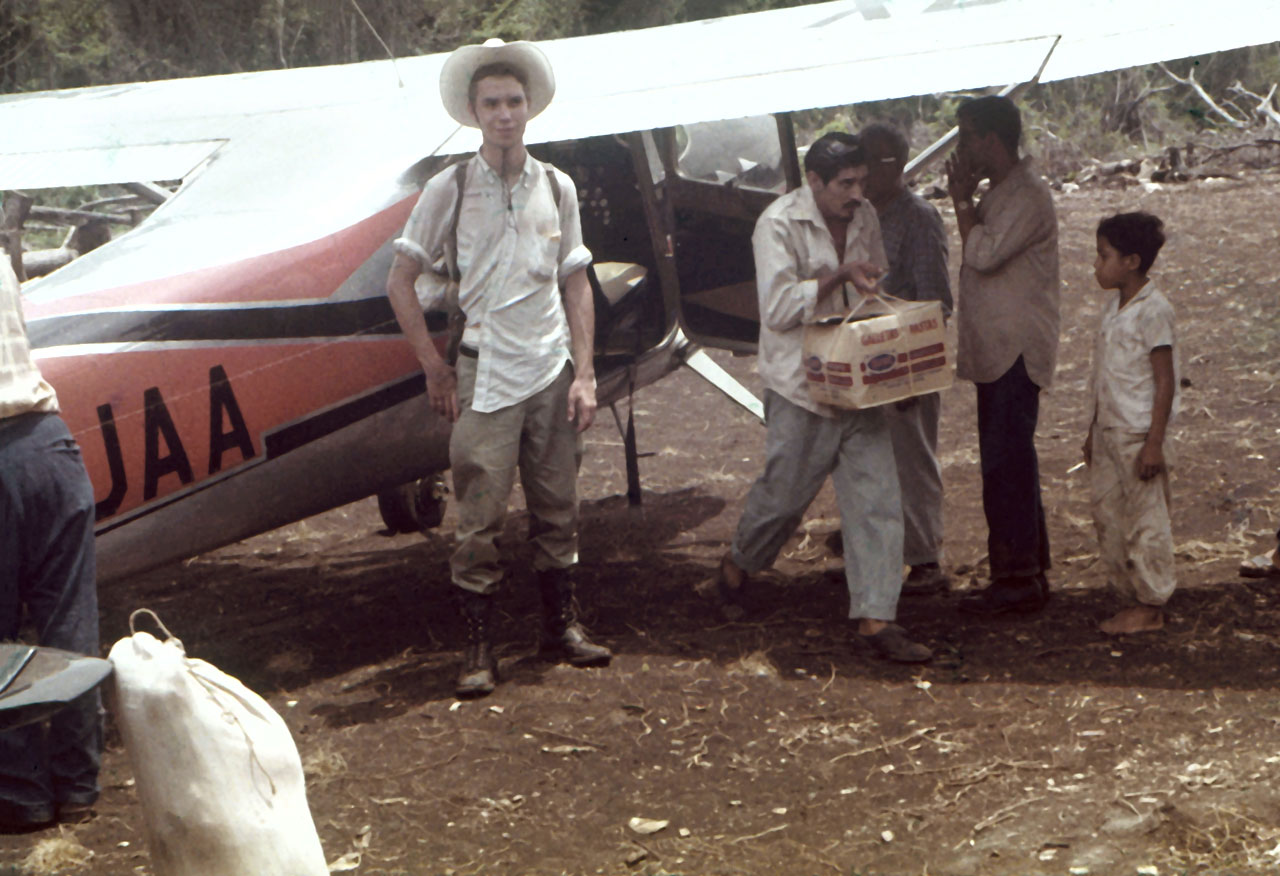 Click to enlarge
This is the plane in which the INAH team kindly flew me into the Lacandon area. This airfield was, in those early 1960's, the airfield from which you hiked through the hills, through the creeks and rivers, to finally reach Bonampak. Quite an experience at age 17.
I also worked as a student intern for the INAH Bonampak project (circa 1962 or latest 1963). I happened to be at the same hotel that they were staying in (in Tabasco), and when I heard them speaking about Bonampak I went over to their table to introduce myself and to ask if I could join them in return for my helping them carry things, set up their camp, etc. So I met Lacandon Maya at the airfield where the plane from Tabasco landed in Chiapas (no airfield at Bonampak that early in the 1960's). Plus I met Lacandon Maya on my several subsequent visits to Bonampak, plus in the house of Trudy Blom in San Cristobal de las Casas, Chiapas.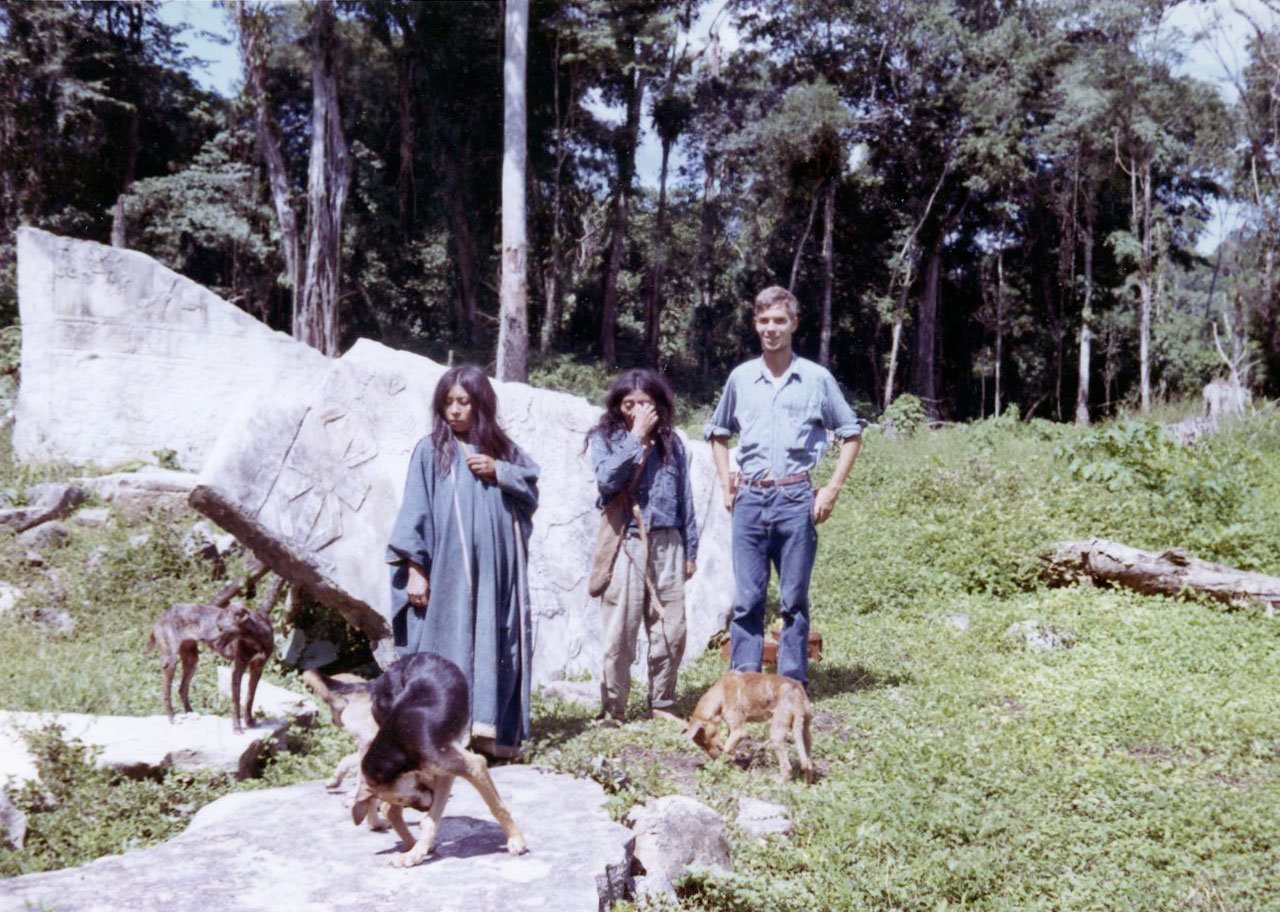 Click to enlarge
Most of my visits to Bonampak were in the 1960's (as you can see in this photo); then one final visit in 1990's.
Many excellent books are available on the Lacandon Maya
Suzanne Cook has two books now on the Lacandon Maya. Her The Forest of the Lacandon Maya: an Ethnobotanical Guide is literally stored on my desk since I refer to it every week, every month, all year. I have been so busy doing field work that I do not yet have her nice new book.
James D. Nations and Chan K'in Jose Valenzuela have worked together to produce Lacandon Maya: The Language and Environment. If you Google James Nations Lacandon you will find lots more.
First Posted April 28, 2020