We will have more information on this pleasant hotel later this year. In the meantime we can report it is a quiet place for people who want to get away from urban areas. The view from the restaurant area is spectacular.

The people who run the hotel are nice; you won't get ripped off here. We can vouch for, and recommend the managers and the staff. The meals we had were yummy.

No disco (so no disco noise); no fancy frills. In distinction this hotel offers solitude for getting away from hectic. Be sure to bring some books so you can peacefully sit and read.
You can use the hotel as a center for excursions to nearby villages.
You can download a PDF to have the views in PDF format.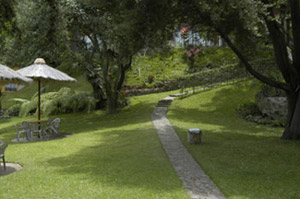 Transportation to the hotel: If you don't want to hassle with renting a car and getting lost, you can hire a vehicle with driver. Christian's Tourist Services, is an option, you can also call them for tours to the whole republic, taxi and bus service.
e-mail: gerardos_christian@hotmail.com
Telephones: (502) 2-337-3171, (502) 5-898-6846 or (502) 2-238-6742.
Realize that all Guatemalan telephone numbers changed recently.