Yucatec Lacandon Edible and Useful Plants: Ethnobotany and Ecology
I have visited the Lacandon areas of Chiapas first in 1962 and several times since then. I also have done library research at Na-Bolom, the house of Trudy Blom. Frans Blom, her husband, was dying the first time I was in San Cristobal de las Casas, Chiapas (he drank himself to death). So when I learned he was in the process of passing away, I did not enter the house to try to meet him or her. But in subsequent years I did spend time there doing research.
Everything I found up to about 1968 is in my 1969 original (KATUNOB) and 1970 reprint of my bibliography (by University of Northern Colorado). So here on this web page are monographs and books published after 1968 that mention the landscape, ecology, flora, or fauna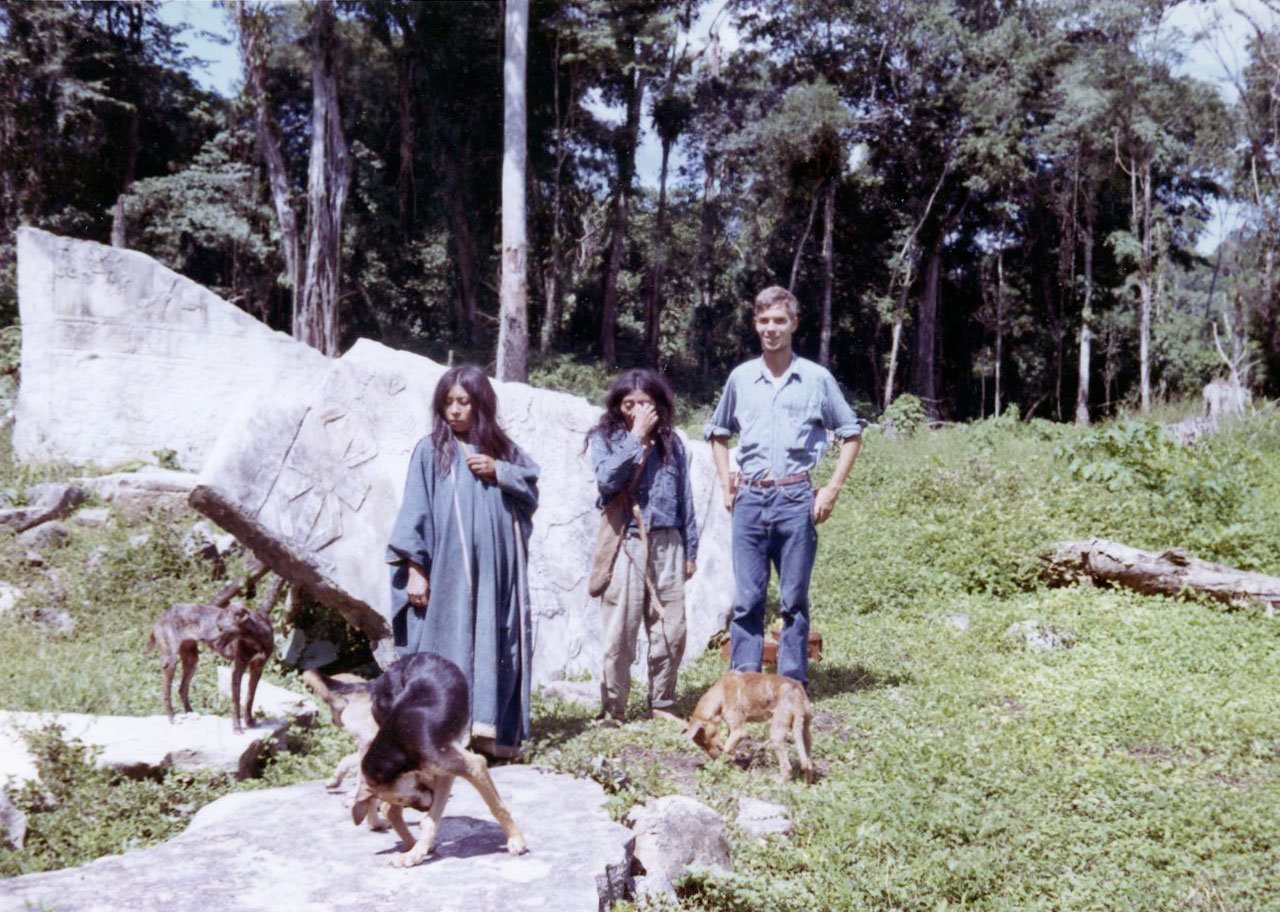 Most of Dr Nicholas visits to Bonampak were in the 1960's (as you can see in this photo); then one final visit in 1990's.
PDF, Articles, Books on Cholti-Lacandon's Ethnobotany and Ethnozoology
BUDA, A., G.
2002
Manejo y aprovechamiento persistente de Aechmea magdalenae en la selva lacandona, Chiapas. Tesis de Licenciatura en Biología, Univer-sidad de Ciencias y Artes del Estado de Chiapas, Tuxtla Gutiérrez, Chiapas, México. 73 pages.
COOK, Suzanne
2007
Documenting Lacandon Traditional Ecological Knowledge. University of Victoria
HITCHNER, Ruth
1947
Notas sobre la alimentación e indumentaria de los indios chol de Chiapas, México. Boletín Indigenista.
LEVY Tacher, S. I.
2000
Sucesión causada por roza-tumba-quema en las selvas de Lacanhá, Chiapas. Tesis de Doctorado en Ciencias, Colegio de Posgraduados, Montecillo, Texcoco, Estado de México, México. 165 pages.
LEVY Tacher, S. I., AGUIRRE R., J. R., ROMERO M., M. M. and A. DURAN F.
2002
Caracterización del uso tradicional de la flora espontánea en la comunidad lacandona de Lacanhá Chansayab, Chiapas, México. Interciencia 27 (10): 512-520.

Available Online:
www.redalyc.org/pdf/339/33907302.pdf
LEVY Tacher, S. I. and John Duncan GOLICHER
2004
How predictive is traditional ecological knowledge? The case of the Lacandon Maya fallow enrichment system. Interciencia. September 29(9): 496-503
LEVY-Tacher, Samuel I., AGUIRRE-Rivera, Rogelio J. GARCÍA-Pérez, José D. and Magdalena MARTÍNEZ-Romero
2006
Aspectos florísticos de Lacanhá Chansayab, Selva Lacandona, Chiapas. Acta Botánica Mexicana 77: 69-98.

Available Online:
www.scielo.org.mx/pdf/abm/n77/n77a5.pdf
LEÓN-Cortés, J. L., MARCIAL-Ramírez, N., RANGEL-Salazar, J. L., NARANJO-Piñera, E. C. and Lorenzo MONTERRUBIO
2005
Patrones de diversidad florística y faunística del área focal Ixcan, selva Lacandona, Chiapas. El Colegio de la Frontera Sur. Unidad San Cristóbal de las Casas. Informe final SNIB-CONABIO. Proyecto No. Y036. México, D.F.

Available Online:
https://datos.gob.mx/busca/dataset/patrones-de-diversidad-floristica-
y-faunistica-del-area-focal-ixcan-selva-lacandona-chiapas1
NARANJO-Piñera, Eduardo Jorge
2002
Ecología poblacional y conservación del tapir en la Selva Lacandona, Chiapas. El Colegio de la Frontera Sur. División de Conservación de la Biodiversidad. Informe final SNIB-CONABIO proyecto No. R080. México D. F.

Available Online:
www.conabio.gob.mx/institucion/proyectos/resultados/InfR080.pdf
NATIONS, James
1980
The Evolutionary potential of Lacandon Maya Sustained-Yield Tropical Forest Agriculture. Journal of Anthropological Research, Spring 1980 Vol. 36 No.1

Available Online:
www.jstor.org/stable/3629550?seq=1
SCHERRER, Varela, MIGUEL, Carlos and Felipe TRABANINO
2016
La cacería tradicional chol y tzeltal en los acahuales de Palenque: implicaciones para la zooarqueología maya. Revista Pueblos y Fronteras Digital. Vol. 11, No. 22. Pages 165-191.

Available Online:
www.redalyc.org/pdf/906/90648638008.pdf
TAJEDA-Cruz, Carlos, NARANJO, Eduardo J., CUARÓN, Alfredo D. PERALES, Hugo and Jorge L. CRUZ-Burguete
2009
Habitat use of wild ungulates in fragmentes landscapes of the Lacandon Forest, Southern Mexico. Mammalia 73, 211-219
Suggested web pages with photos and information on Cholti-Lacandon's Ethnobotany and Ethnozoology
https://www.nationalgeographic.com/travel/destinations/north-america/mexico/jungle-trek-tour-lacandon/
Photos and information about the Cholti-Lancando's ecosystem.
http://www.bigorrin.org/archmn-lacandon.htm
Information
http://campus.albion.edu/library/archives-and-special-collections/exhibits/marvin-j-vann-exhibit/lacandon-indians/
Information