Cassia grandis, Bucut, has many edible parts for food of the Maya
The Bucutz, Bucut, Carague, Carao, Mucut (Mayan names) or Pink Shower in English is a tree of great interest to the FLAAR Mesoamerica team for a long time, mainly because it is a cacao flavoring.
During our visits to different municipalities in Guatemala, we have confirmed the use of this tree as a flavoring agent. A local person from Petén shared with us his experience with the edible use of the tree: "The pods are edible and when they mature they turn black, measuring between 50-60cm. These pods have several cells that contain seeds much like those of a watermelon. It gives off a bittersweet honey, whose smell is not very pleasant, but the taste is." Obviously you do not eat the thick black outside of the pod; you break it open and you go after the yummy part inside.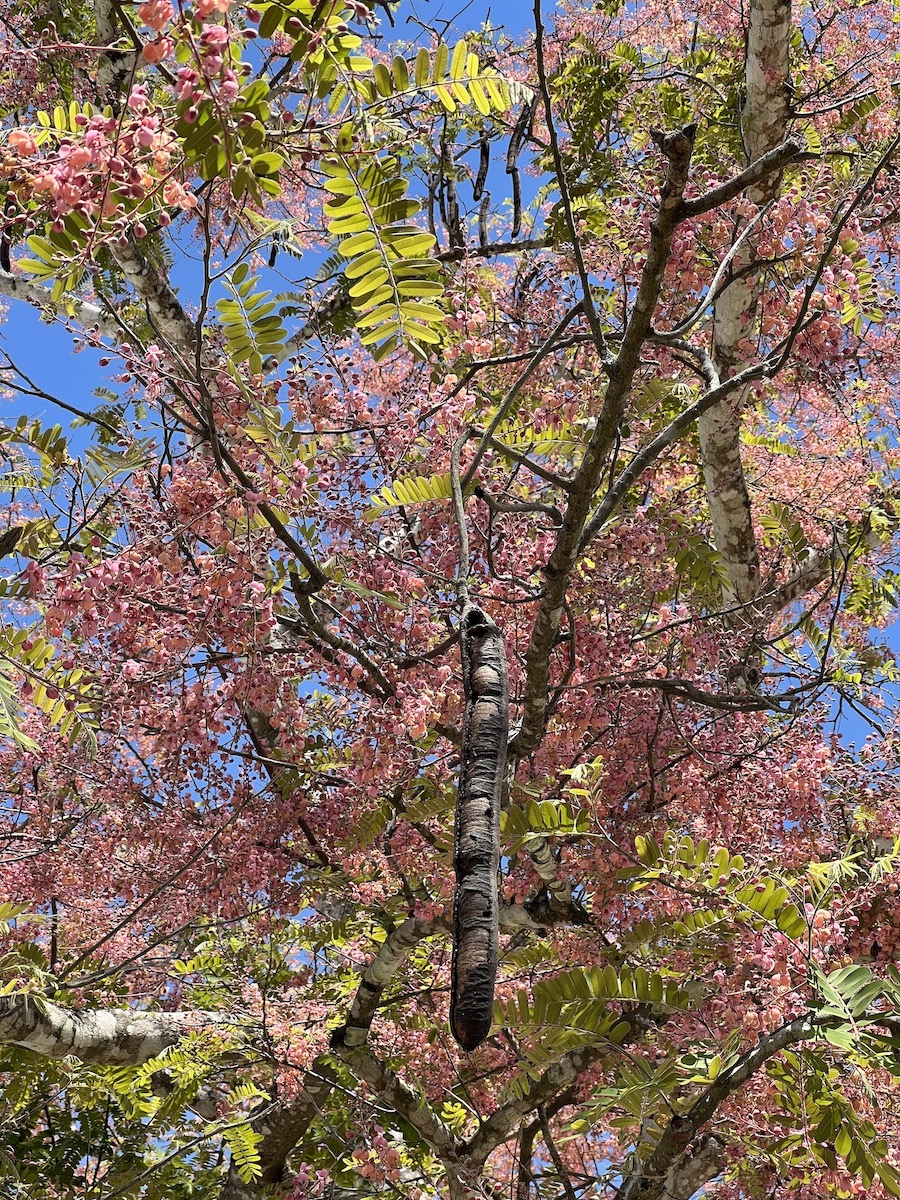 This photograph allows you to see the leaves, the flowers, and the seed pod relatively close. This helps you to identify this Cassia grandis tree since during March and April lots of trees with small pink flowers are blooming.
Lots of this tree are along the road from Lake Peten Itza to Lake Sacpuy, Reserva de la Biosfera Maya, RBM, Peten. Photo by Nicholas Hellmuth, iPhone 13 Pro Max, April 3, 2022.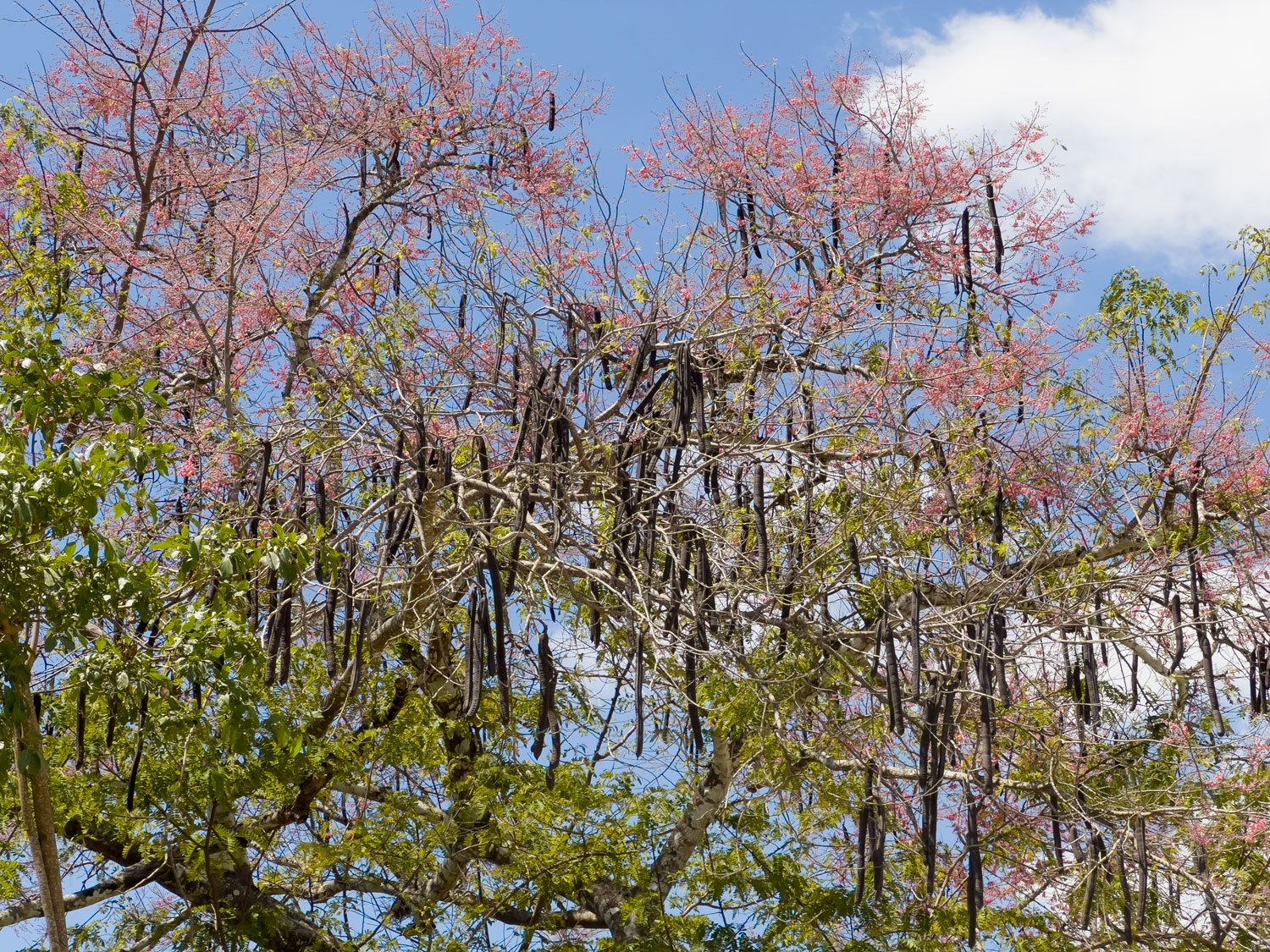 Here you can see how many seed pods are available on a single tree. So this is a good edible food source for the Mayan world for thousands of years. If you are interested in ancient Maya cuisine this is a good tree to learn about.
Lake Peten Itza to Lake Sacpuy, Reserva de la Biosfera Maya, RBM, Peten.
This was a raw (DNG format) from the, iPhone 13 Pro Max. Photo by Nicholas Hellmuth April 3, 2022.
Cordero and Boshier (2003: 439) complement this information by mentioning that in Central America, especially Costa Rica, the sugary brown pulp that surrounds the seeds is used as a substitute for chocolate and the Mayans used it to sweeten drinks. The pulp is sweet but smelly. In Nicaragua it is cooked with milk and in Choluteca, Honduras and El Salvador they are made fresh. However, it seems to have laxative, cleansing and stimulant properties, so its use is limited. In Guatemala they are sold in markets in Petén for home medicine. They are also sold in markets and stores in El Salvador for their edible pulp, which is usually made into drinks.
On March 28, 2022 during our expedition in the Reserva de la Biósfera Maya, we found many Bucutz trees blooming. Mainly on the road from the center of San Andrés to Cruce Dos Aguadas, where we begin to enter the RBM. It was an incredible surprise to find it, as we are always interested in documenting the flowering stage of useful plants like this to show the different phases of their development.
Taxonomy and description of Cassia grandis
| | |
| --- | --- |
| Dominian | Eukaryota |
| Kingdom | Plantae |
| Phylum | Spermatophyta |
| Subphylum | Angiospermae |
| Class | Dicotyledonae |
| Order | Fabales |
| Family | Fabaceae |
| Subfamily | Caesalpinioideae |
| Genus | Cassia |
| Species | Cassia grandis |
Cassia grandis is a tree that generally reaches a height between 10-18m and, on average, a diameter at breast height between 45-80cm. Its glass is irregular and round. The bark of its trunk is thick and smooth, brownish-gray in color. Its leaves are compound, alternate and measure approximately 50 cm long. Its flowers are pinkish in color and grow in a cluster 10-20 cm long and contain 15 or more flowers. Its pods are large, reddish, brown or black, up to 75 cm long, being one of the largest among the species of its family. They need a year to mature and do not open on their own. (Cordero, J. and Boshier, H. 2003: 442) As mentioned above, an edible pulp is extracted from these pods. According to Velasco et al (2010), the flowering stage occurs from February to May, and pod maturation lasts 18 weeks.
It is considered native to Central and South America and has now been widely distributed across both the New and Old World tropics as a result of cultivation as an ornamental and its uses for medicine, agroforestry, and as a wood product source (Toruan-Purba, 1999)
According to Janzen, (1971) C. grandis is often confused with C. fistula, but it has yellow flowers and a thinner pod than C. grandis.
Local common names for Cassia grandis
Belize: bu-kèt, bookut, bu-kut, bu-kút, carao, stinking toe (Balick, Nee and Atha 2000: 86).
Guatemala: Bucut, Carague, Carao, Mucut (Cordero, J. and Boshier, H. 2003: 439).
Cassia grandis in Belize
Cassia grandis L. — Loc Use: MED, FOOD, BEV. — Reg Use: MED, ORN, FUEL, PRD, FOOD. — Nv: beef-feed, bu-kèt, bookut, bu-kut, bu-kút, carao, stinking toe. — Habit: Tree.  (Balick, Nee and Atha 2000: 86).
So Cassia grandis can be used for medicine, food, beverage, fuel, to make products, and of course as an ornamental plant in a garden. So for the Mayan world of thousands of years this tree produced lots of helpful edible and useful products.
Cassia grandis trees in Mexico
Cassia grandis L. f. CAM, CHIS, COL, GRO, MEX, MICH, OAX, QROO, TAB, VER, YUC (Villaseñor 2016: 738). So this tree was available to the Classic Maya in Campeche, Chiapas, Quintana Roo, Tabasco and Yucatan.
Uses of different parts of Cassia grandis trees
As mentioned by botanists Balick, Nee and Atha, Cassia grandis has a wide variety of uses. Not only is it edible and used as a cocoa flavoring, but it is also used medicinally and has many applications. Cordero and Boshier (2003: 439) indicate the following: The cooking of the leaf with salt is drunk for digestive tract illnesses. Washing and massage with the ground leaves is used for itchy skin. The drink of the leaf, flower, fruit pulp or seed acts against hysteria, nervousness, but can cause abortion in pregnant women. The root macerated in alcohol is applied as a tincture for skin infections. For fever and rheumatism, the infusion of the root and bark is drunk. In Honduras the leaf is crushed and applied to the skin for fungi, scabies, herpes, "jiotes" and white cloth. For anemia, the fruit is prepared in soda or milk and a glass is taken in the morning and at night. For cough and liver, take a glass of fresh fruit three times a day. The flowers mashed in lard are They are used to cure mange on the face of dogs.
C. grandis has been widely introduced for ornamental purposes, but has also been found useful for agricultural purposes; it is recommended for revegetation in especially periodically flooded areas, can be planted as a live fence, and is recommended for dry
zone intercropping with perennial crops and in pastures, as cattle feed upon the plant's fruit pods (ICRAF, 2014)
Economically speaking, it has potential when used for charcoal and firewood, and has been reported to provide multipurpose hardwood, used in joinery, carpentry, and beams, among other uses (Toruan-Purba, 1999). The seeds of C. grandis are also a potential commercial source of gums, seed gum is a potential binder for the pharmaceutical industry (ICRAF, 2014). In addition to the medicinal uses already mentioned.
Undoubtedly, the Bucutz is a very interesting tree with many uses, it is important to continue research on its properties as well as dissemination for its use.
Cited references on Cassia grandis
BALICK, Michael J., NEE, Michael H. and Daniel E. ATHA
2000
Checklist of the Vascular Plants of Belize: with common names and uses. New York Botanical Garden. 246 pages.

Plant family index on-line: www.nybg.org/bsci/belize/families.html.
Book format not available on-line.
CORDERO, J. and D. H. BOSHIER (editors)
2003
Árboles de Centroamérica: un Manual para Extensionistas (Trees of Central America: a Manual for Extentionists), OFI-CATIE, pages 439-442.
JANZEN, D. H.
1971
Escape of Cassia grandis L. beans from predators in time and space. Ecology 52(6):964-979.

Available online:
www.jstor.org/stable/1933802
ICRAF
2014
Agroforestry Tree Database. Nairobi, Kenya: International Centre for Research in Agroforestry (ICRAF).
TORUAN-Purba, A. V.
1999
Cassia grandis L. In: Plant Resources of South-East Asia (PROSEA) No. 12 (1): Medicinal and poisonous plants 1.
VELASCO, E., PEREZGROVAS, R. A., GONZÁLEZ, V. A., HERNÁNDEZ, A., SALVADOR, M. and J. MARTÍNEZ
2010
Etnobotánica, fenología y reproducción de vainas en árboles de Cassia grandis L. f. del centro de Chiapas. Rev. Fitotec. Mex. Vol. 33 (4): 333 – 341
VILLASEÑOR, J. L.
2016
Checklist of the native vascular plants of Mexico. Revista Mexicana de Biodiversidad, Vol. 87, No. 3, pages 559-902.

Available online:
www.redalyc.org/pdf/425/42547314001.pdf
Suggested additional reading to learn more on Cassia grandis
ALBUQUERQUE, P., BARROS, W., SANTOS, G., CORREIA, M., MOURÃO, P.
2014
Characterization and rheological study of the galactomannan extracted from seeds of Cassia grandis. Carbohydrate Polymers, Vol. 104. Pages 127-134.

Preview online:
www.sciencedirect.com/science/article/abs/pii/S0144861714000125
CORDERO, J. and D. H. BOSHIER (editors)
2003
Árboles de Centroamérica: un Manual para Extensionistas (Trees of Central America: a Manual for Extentionists), OFI-CATIE, pages 439-442.

Available online:
https://repositorio.catie.ac.cr/handle/11554/9730
CACERES A, LOPEZ BR, GIRON MA, LOGEMANN H.
1991
Plants used in Guatemala for the treatment of dermatophytic infections. 1. Screening for antimycotic activity of 44 plant extracts. J Ethnopharmacol. 1991 Mar; 31(3):263-76. Faculty of Chemical Sciences and Pharmacy, University of San Carlos, Guatemala.

Sold online:
www.ingentaconnect.com/content/ben/ctm/2019/00000005/00000001/art00005
LAFOURCADE, A., RODRÍGUEZ, J., ESCALONA, J. and C. LAURIDO
2014
State of art in Cassia grandis L. f. (cañandonga) / Estado del arte sobre Cassia grandis L. f. (cañandonga). Revista Cubana de Plantas Medicinales, Vol. 19, No. 1. Pages 21-28.

Available online:
www.medigraphic.com/pdfs/revcubplamed/cpm-2014/cpm141d.pdf
LEVY TACHER, SAMUEL ISRAEL, AGUIRRE RIVERA, J. ROGELIO, GARCIA PEREZ, JOSE D. and MARIA MAGDALENA MARTINEZ ROMERO
2006
Aspectos floristicos de Lacanja Chansayab, Selva Lacandona, Chiapas. Acta Botanica Mexicana, Octobre, numero 077, pp. 69-98. Instituto de Ecologia A.C., Patzcuaro, Mexico.

Available online:
www.scielo.org.mx/pdf/abm/n77/n77a5.pdf
LODHA, S., JOSHI, S., VYAS, B., UPADHYE, M., KIRVE, M., SALUNKE, S., KADU, S. and M. ROGYE
2010
Assessment of the antidiabetic potential of Cassia grandis using an in vivo model. Journal of Advanced Pharmaceutical Technology & Research, Vol. 1, No. 3. Pages 330-333.

Available online:
www.ncbi.nlm.nih.gov/pmc/articles/PMC3255413/
MARCÍA, J., MONTERO, I., SARAVIA, S., VARELA, I., SILVA, C., HERNÁNDEZ, F., CRUZ, E., CASTRO, B., ZUMBADO, H. and M. ALVAREZ
2020
Physical-Chemical Evaluation of the Cassia grandis L. as Fortifying Egg Powder. Journal of Agricultural Science, Vol. 12, No. 8. Pages 277-232.

Available online:
https://repositorio.unag.edu.hn/admin/archivos/eVGYcel4Jj6LiK0vH45M.pdf
PENNINGTON, T. D. and JOSE SARUKHAN
2005
Arboles tropicales de Mexico: Manual para la identification de las principales especies. 3rd edition. Universidad Nacional Autónoma de México, Mexico D.F.
VELASCO, M. E., PEREZGROVAS, R. A., GONZÁLEZ, V. A., HERNÁNDEZ, A., SALVADOR, M. and J. MARTÍNEZ
2010
Etnobotánica, fenología y producción de vainas en árboles de Cassia grandis L. f. del Centro de Chiapas / Ethnobotany, phenology and pod yield in trees of Cassia grandis L. f. at Central Chiapas. Rev. Fitotec. Mex, Vol. 33, No. 4. Pages 333-341.

Available online:
www.scielo.org.mx/pdf/rfm/v33n4/v33n4a11.pdf
Websites
Description and pictures
https://catalogofloravalleaburra.eia.edu.co/species/202
Information and pictures
www.naturalista.mx/taxa/160171-Cassia-grandis
Botanical description
http://orton.catie.ac.cr/repdoc/A0008s/A0008s36.pdf
Description, distribution and ethnobotany
www.nparks.gov.sg/florafaunaweb/flora/2/7/2788#:~:text=Bark%20is%20smooth%
20and%20light%20grey.&text=Alternate%20leaves%20(30%20cm%20long,reddish%
20purple%20on%20the%20underside
Characteristics and uses
www.missouribotanicalgarden.org/PlantFinder/PlantFinderDetails.aspx?taxonid=
280436&isprofile=0&letter=C
Description, distribution tables, pictures and general information
www.cabi.org/isc/datasheet/11439