This list of Q'eqchi' Mayan words for mammals is based on work by Luz Maria Caal and Pedro Chub Choc , both of Senahu, Alta Verapaz. They had available three standard Q'eqchi' dictionaries, but the word list is based on their own knowledge of the Q'eqchi' Mayan language and their own knowledge of animals.
In our reference library we also have the K'ekchi' dictionary of Guillermo Sedat, plus permission of his son, archaeologist David Sedat, to use the dictionary as a source. We will update this page with a comparative tabulation of all readily available Q'eqchi' dictionaries in the future.
The list here also includes some animals from Africa that you see in zoos (even in Guatemala) and of course you see animals of Africa in movies (such as Madagascar).
Animals are helpful for epigraphers, iconographers, zooarchaeology
Knowledge of animals is helpful to Mayan languages, archaeology, epigraphy, and iconography. So we have a long-range goal to make this information easier to access. It takes a long time to find a diccionario, and figure out what animals to look for. So we try to get a lot of this time-work done for you in advance.
The list which follows is a first stage. We have no funding so this is not a formal project. Part is to help myself learn as many Q'eqchi' Mayan words as possible. The rest is to help zoologists, zooarchaeologists, and all the other scholars and students plus lay people who would like to exercise their brain so it does not atrophy.
We marked in bold font animals which are native or (in the case of dogs) which existed in close species before the Spanish species wiped out the local DNA (on this subject, native barkless, relatively hairless dogs did exist in the Q'eqchi' areas of Guatemala until two years ago. We have spoken with two people who saw them 20 years ago. We went there (10 hour hike into the mountains) but the local people said the last one died 2 years ago. This is all the more reason to work now, since in a few more years not much of the original Maya eco-system will remain.
African palm oil plantations bulldoze entire areas (but we all use the products which result). Teak plantations bulldoze even more. Mines for minerals take down entire hills (after all, we all need metal). Brazil rubber plantations obliterate what is left (cars and trucks need to have tires). And sadly, milpas wipe out even more natural forest (but at least they are subsistence farmers).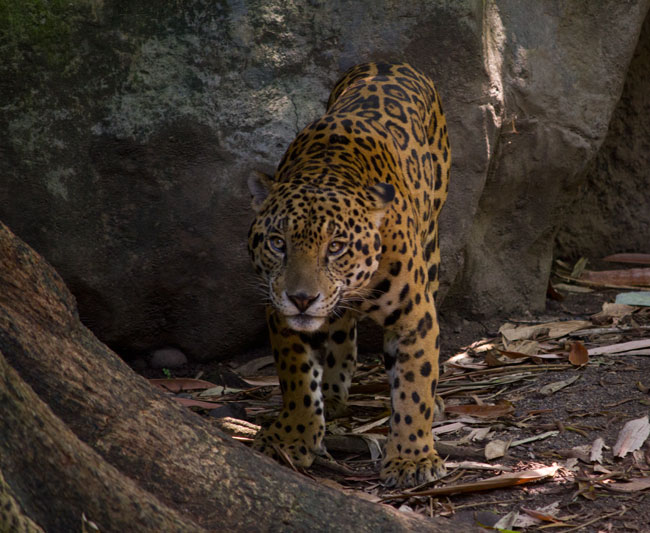 For example:
| | | | |
| --- | --- | --- | --- |
| Q´EQCHI´ | ESPAÑOL | ENGLISH | ZOOLOGICAL NAME |
| B'ALAM | Jaguar | Jaguar | Panthera onca |
What is left is obliterated for cattle haciendas (most of us pig-out on hamburgers or steaks).
So we are doing our best (even though we have no grants and no private donations (yet, we would certainly appreciate funding, write FrontDesk "at" FLAAR.org), to provide information on our diverse network: www.maya-ethnozoology.org, www.maya-ethnobotany.org, www.digital-photography.org, and www.maya-archaeology.org.
NOTE: in local Spanish language, especially in Chiapas, Peten, Campeche, etc. the word "tigre" usually means jaguar. And the world "leon" usually refers to the local puma (mountain lion). The local Mayan people are not referring to the animals of Africa. It was the invading Spaniards who started the use of the incorrect words.
The same problem is with the brocket deer. This is not "venado." Venado is the word for the white-tailed deer (Virginia deer, which is fully native here in Guatemala albeit a tad smaller than the ones in North America). The word for brocket deer in rural areas of Central America is cabro (otherwise the word for goat).
I also suspect that the Mayan word for "leopard" may actually refer to a local feline and not necessarily always to a leopard from Africa. We need to check with Q'eqchi' speakers to get a full list of words for ocelot and margay and jaguarondi. There are five felines native to the Mayan areas. The wild cat is not present in the Classic Maya areas.
MAMIFEROS in Q'eqchi Mayan - MAMMALS
Q´EQCHI´

ESPAÑOL

ENGLISH

ZOOLOGICAL NAME

AAQ

Pecari

Peccary

Tayassu tajacu

AAQAM

Cotuza

Cotuza

Dasyprocta punctata

AJ B´OOX UCH

Tacuazin negro

Black Tacuazin

Didelphys marsupialis

AJ RUP KUK

Ardilla voladora

Flying Squirrel

Glaucomys volans

AJ YOO

Perro cazador

Hunting dog

AYINKAAQ

Dinosaurio

Dinosaur

B´A

Taltuza

Taltuza

Othogeomys grandis

B´ALAK´ XUL

Cebra

Zebra

Equus quagga

B´ALAM

Jaguar

Jaguar

Panthera onca

B´AQXUL

Armadillo

Armadillo

Dasypus novemcinctus

B´ATZ

Mico

Spider monkey

Ateles geoffroyi

B´OOYX

Buey

Ox

Bos primigenius taurus

CHAJAL KUK

Ardilla Gris

Gray Squirrel

Sciurus aureogaster

CH´EM SAMXUL

Elefante

Elephant

Loxodanta africana

CH´O

Ratón-Rata

Mouse, rat

CHIB´AAT

Cabra

goat or broket deer

Capra aegagrus

CHO´HIX

Leopardo

Leopard

Panthera pardus

HALAW

Tepezcuintle

Agouti

Cuniculus [Agouti] paca

HIX

Tigre

Jaguar is the correct translation, NOT tiger.

Felis onca

IB´OY KAAN

Cochinillo

Armadillo

Cabassous centralis

IMUL

Conejo

Rabbit, unlikely a hare in Guatemala

Sylvilagus brasiliensis
Sylvilagus floridanus

JILIX KAWAAY

Cebra

Zebra

K´AMB´OLAY

Tigrillo

feline

Potentially ocelot

K´ICHE´ AAQ

Coche monte

Peccary

Tayassu tajacu

K´ICHE´CHO´

Lirón

Mouse

Heteromys desmarestianus

K´UNUCH IMUL

Canguro

kangaroo

Macropus rufus

K'AX LAN UCH

Tacuazin cazador de pollitos

Tacuazin

Tlacuatzin canescens

KAQKOJ

León

Puma, mountain lion

Felis concolor

KARNEER

Carnero

Bighorn sheep

Ovis canadensis

KAX AAQ

Hipopótamo

Hippopotamus

Hippopotamus amphibius

KAXCHIXL

Rinoceronte

Rhinoceros

Rhinoceros sondaicus

KAXLAN YUK

Macho Cabra

Red Brocket

Mazama americana

KAXMIS

Marmota

Marmot

Cynomys ludovicianus

KEJ

Venado

White-tailed deer

Odocoileus virginianus

K'IX UCH

Puercoespin (Tacuazin con espinas)

Porcupine

Coendu mexicanus

KUK

Ardilla

Squirrel

Sciurus spp.,

KUY, -AAQ

Marrano

Pig

Sus scrofa domestica

MAMA´AYIN

Cocodrilo

Crocodile

Crocodylus acutus
Crocodylus fuscus
Crocodylus moreletti

MAMA´MAX

Gorila

gorilla

Gorila beringei

MAX

Mono

Howler monkey

Alouatta palliate
Alouatta pigra

MIS

Gato

Domestic cat

Felis silvestris catus

MUUL

Mula

Mule

Mula

OW

Mapache

Raccoon

Procyon lotor

PAAR XUL

Zorrillo

Skunk

Mephitis macroura

PAKUNWAKAX

Buey

Ox

RAL CHIB´AAT

Chivo

Baby coat

Capra aegagrus

RAL WAKAX

Becerro

Bull calf

Bos primigenius taurus

RUPKUK

Ardilla voladora

Flying squirrel

Glaucomys volans

SAQ B´ALAM

Tigrillo

Leopardus weidii

SAQ'I UCH

Tacuazin blanco

White Tacuazin

Didelphis virginiana

SAQB´IN

Comadreja

Mustela frenata

SIS

Pizote

Pisote

Nasua narica

SOTZ´

Murciélago

Bat

Desmodus rotundus
Artibeus jamaicensis

T´INITZ

Caballo

Horse

Equs ferus

TIS (Wilson)

Danta, tapir

Tapir

Tapirus bairdii

TZ´UQTZUN

Oso hormiguero

Anteater

Tamandua mexicana
Myrmecophaga tridactyla

TZ´UQXULEB´

Moth, possibly toxic

TZI´

Perro

Domestic dog

Canis familiaris

TZI´K´ICHE´---XOJ

Lobo

Wolf

Canis lupus

UCH

Tacuazín

Opossum

Didelphys marsupialis

WAKAX

Vaca

Cow

Bos primigenius taurus

WON XUL

Oso

Bear

Ursus americanus

WOYO´

Cabeza de viejo

Eira barbara

XOJB´ TZ´I PIM

Coyote

Coyote

Canis latrans

XUL IIQANEL

Burro

Donkey

Equus africanus asinus

YA´K´ACHKEJ

Jirafa

giraffe

Giraffa camelopardalis

YAK

Gato de monte

Lynx

Lynx rufus

YUK

Hembra cabra

Goat (Wichmann and Hull, p.21)

Mazama americana
Acknowledgements
This tabulation is the work of several helpful individuals from Q'eqchi' Mayan villages: Luz Maria did the first draft. Pedro helped Nicholas understand some of his questions. Both these individuals are native Q'eqchi' Mayan speakers from Alta Verapaz (who assist us at FLAAR Mesoamerica to understand local words).
Nicholas edited the translations since, having lived in Guatemala for over 50 years, he is well aware that the word tigre and leon can also mean jaguar and mountain lion (if the Spanish is local lingo).


We have a bibliography on Q'eqchi' diccionaries and vocabularios
We have a separate web site in the FLAAR network where we have all our bibliographies, www.maya-art-books.org. In this web site we have a page listing the best known diccionaries and vocabularios of Q'eqchi' and K'eqchi' Mayan language.
Most recently update April 20, 2016.
Updated November 20, 2015.
Updated January 21, 2015.
First posted Jan. 5, 2015 To prepare for the new year 2015 with more information on Mayan languages to assist all Maya research scholars and students.