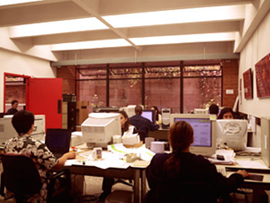 Notice the size of the staff that works on FLAAR digital imaging research projects (also see the framed circumferential rollout photographs of Maya vases on the wall at the right, from the museum on the other side of the campus). Presently our staff is 20+ and growing, though actually some projects do not require as large a staff.
For several years, FLAAR was situated in the New Media building across the campus from the museum on the campus of UFM, Guatemala City. FLAAR engages in photographically oriented research and public education in the fields of art history, architectural history, archaeology, anthropology and ethnohistory with emphasis on pre-Columbian Mesoamerica. Nicholas Hellmuth, the director, offers training courses in digital photography, panorama photography, digital imaging and much more, which might also be of interest to the volunteer. FLAAR is also a leading giclee production and training institute. See our companion website, www.FineArtGicleePrinters.org.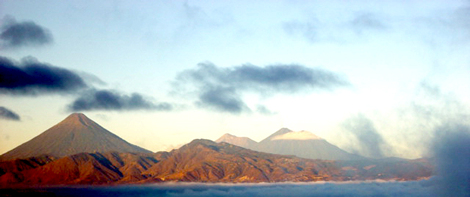 Guatemalan volcanos surrounding Lake Atitlan. FLAAR specializes in panoramic photography to show the ecology in which Maya civilization rose.
FLAAR is also involved in market research in the field of digital imaging, and shares its experience with interested consumers via reports and reviews. They have an extensive range of digital photography and large format printing equipment in the office in Guatemala, and a volunteer will get a training in some of it, for example in projects of rollout photography of archaeological vases from museums; in the past from the Museo Popol Vuh. The volunteer will have the opportunity to learn a lot about the importance of digital technology and how to apply it professionally within his or her field of study. The experience gained while at the Digital Imaging Center will be a good addition to ones CV and noticed positively by potential employers.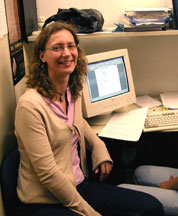 Tanja Rathjen, from Germany, was a volunteer with FLAAR
It would be an advantage if the volunteer could offer some kind of skill in the field of digital imaging to contribute to the efforts FLAAR undertakes in its research and projects. Knowledge of German would be an additional plus since with a name like Hellmuth, the Director speaks German, and has resided in Zurich, Graz, and Essen-Werden.
Our current projects are devoted to evaluating wide-format inkjet printers in order to determine which are the best printers, inks, and media for producing prints for museums and archaeological sites. Digital photography and scanning are part of our long-range interests for many years, as part of our goal to improve the quality and quantity of photographic information available on pre-Columbian cultures of Latin America. In today's digital world, photographs are the ideal way to reach the interested public.
The University.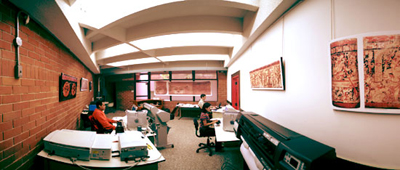 This was one of three rooms of the FLAAR office on the campus at UFM for five years, funded by a five-year grant from the largest manufacturer of digital imaging equipment in the world. FLAAR now has funding that we greatly appreciate from other digital imaging corporations and has moved to a seven-level structure about 1 kilometer away.
The Universidad Francisco Marroquin is located in Zone 10 in Guatemala City, one of the nicest areas in town. It is a private university and was founded in 1971. It has modern buildings, which are situated on a beautiful campus surrounded by greenery. In addition to the Museo Popol Vuh the Museo Ixchel, which has exhibits on traditional costumes, can be found on the campus. Photographs by Nicholas Hellmuth are displayed at mural size in many of the offices and buildings on the campus.
Several years ago the area we occupied on campus was needed for other programs so FLAAR (which was independent for decades before situating on the campus) moved about 2 kilometers away to our own building. We have a staff between 12 and 20 (so rather too many to occupy a normal university anyway). FLAAR Mesoamerica is an independent non-profit institute.
The Museo Popol Vuh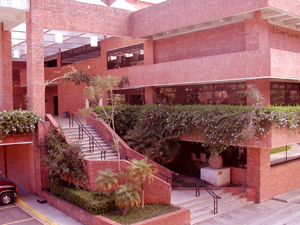 Museo Popul Vuh to the right; Museo Ixchel to the left, on the campus of UFM,
Guatemala City.
The Popol Vuh museum has interesting exhibitions on Pre-Columbian archaeology and colonial art in a modern setting. There have been special exhibitionons of cacao and Pre-Hispanic musical instruments. Dr. Oswaldo Chinchilla is the curator.
The Museum offers workshops for children managed by a capable team dedicated to public education.
Part of the museum is an extensive consulting library on loan from Nicholas Hellmuth and FLAAR. Otherwise there is no formal affiliation between the museum and FLAAR. We list the museum because our website receives over 125,000 visitors and we can provide a free service of recommending this museum to people who visit Guatemala. The Museo Popol Vuh library is open to serious students, to read up on the latest in archaeology or expand his or her knowledge in fields of personal interest.
The official web site of Museo Popol Vuh is popolvuh.ufm.edu.gt. Their e-mail is popolvuh@ufm.edu.gt. The street address is Museo Popol Vuh Universidad Francisco Marroquin 6a calle final zona 10 Guatemala 01010.
The Museo Popol Vuh does not have a formal volunteer program and has requested that inquiries for such a program not be sent since they have no volunteer program at present.
But FLAAR does undertake photography in many of the museums throughout Guatemala: during 2009 we photographed in the Museo Nacional and several private museums (but specifically that are open to the public). In 2008 student volunteer Tina Kosir assisted in digital photography of Mayan sculpture at the Copan Sculpture Museum in Honduras. She is a student at the University of Ljubljana
For Volunteer Work with FLAAR in Guatemala
You can volunteer for digital photography, ethnobotany, ethnozolological, mineral studies or wide-format printing in Guatemala. If you can't get to Guatemala but have a thesis topic related to any of the academic areas that FLAAR works in, you can also volunteer to be associated with FLAAR for your thesis or dissertation work, especially in iconography, epigraphy, tropical flora and fauna, and wide-format digital printing and software. Please check out our separate page on volunteering.