Tourists who visit Chichicastenango can see and smell the incense used by the Quiche Maya of today. The Lacandon Maya of Chiapas, Mexico have been burning incense in their Lacandon incense burners for centuries. Archaeologists find incensarios dating back over a thousand years. Indeed the symbol of FLAAR Mesoamerica is the lid of a Tiquisate region incense burner. Tiquisate is a culture based on local Costa Sur interpretations of Teotihuacan religious iconography introduced during the 3rd-5th centuries A.D.
But "pom" and "copal" are used in a confusing manner: these can be generic words, used for resin of various different trees. There are also several different species of Bursera which produce incense. Bursera simaruba is an even more common tree throughout Guatemala because it can grow in the deep rain forests or the dry desert-like areas as well. Tourists visiting Guatemala will see the gumbo limbo tree everywhere around the ruins of Tikal. However the gumbo limbo tree is not the copal tree, but both produce incense.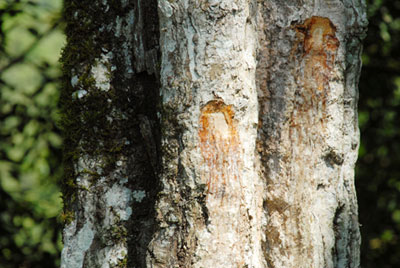 Copal Inciense, pom (Protium copal ), photographed by Alen Bubanja in Semuc Champey area.
Many other species of trees provide sweet-smelling resins that are also used in incense
The FLAAR Photographic Archive of Maya Ethnobotany is working on a long-range project to systematically photograph all the trees, processing, and final products of indigenous incense used in Maya religious ceremonies past and present. Copal pom is the best known and hence most obvious tree to start with first, but many other trees are involved. But we wanted to initiate our project with results both from studio photography as well as photography out in the field (Alta Verapaz region of tropical Guatemala).
Actually native rubber is also used in Mayan religious ceremonies. Unfortunately, 90% or more of the rubber plantations between Mazatenango and Takalik Abaj are Brazilian rubber, which is not native to Guatemala. But our team of botanists at FLAAR has located a few remaining places where indigenous Guatemalan rubber is still grown.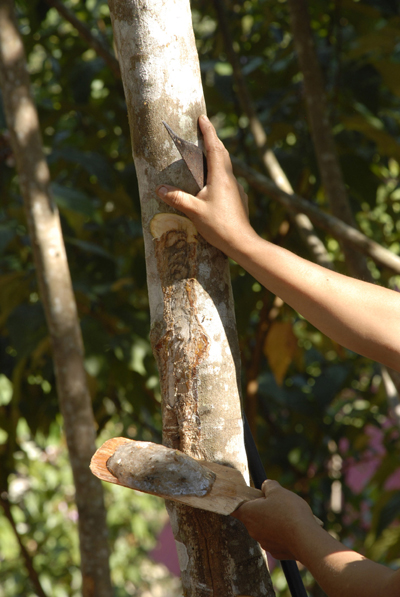 Harvesting copal pom Maya incense, El Portal, Semuc Champey, Alta Verapaz. Harvesting incense is done by women in this area
Long range projects of FLAAR in Maya anthropology
FLAAR has a long range interest in Maya ethnobotany, especially in the utilization of sophisticated digital cameras and specialized software for producing photographs of flowers, plants, trees, fruits, vegetables, etc which are most politely described as better than average. If you check www.digital-photography.org you can see the kind of equipment that FLAAR has available.
Incense is the heart and soul of Maya religious ceremonialism, especially after the collapse of the Classic forms of ceremonialism which probably included considerable ingestion of fermented and mind-altering plant products. The Classic Maya took tasty plant byproducts in almost every orifice of their body except their ears. Although this shocks purists, just look at the Classic Maya funerary bowls and vases which repeatedly show injecting liquids into the body during ceremonies. Michael Coe of Yale University discovered this decades ago. Besides, virtually every other culture in the world, especially in tropical areas, imbibed or smoked about every tasty plant product they could get their hands on.
But our project is not on hallucinogens, definitely not on drugs, and not even on indigenous alcohol. The rate of intoxication on most college campuses on Thursday night, Friday night, and Saturday nights today is probably higher than that of the Classic Maya, so Maya practices a thousand years ago should not be surprising.
Our interest is on incense, and the causes and effects of incense in the culture and religious ceremonies. To understand the core relevance of incense in Maya ethnography, just read the Popol Vuh, or look at the artifacts uncovered in any archaeological site in Mesoamerica: incense burners are quite common.
Or simply visit Chichicastenango on Thursday or Sunday, and you will find incense all over the churches.
Our program is to document the complete cycle of planting, raising, harvesting, and processing the incense with professional quality digital photographs. This is a project of ethnobotany, not religious ecstasy. And primarily this is a photographic project: to locate and photograph the trees, to show how it is harvested, and to show how it is packaged and sold in the local markets.
FLAAR has also planted several incense trees in our experimental garden. The liguidambar is growing well, indeed this tree is a popular decorative tree in the Zone 15 area of Vista Hermosa II area of Guatemala City where our anthropology research offices are located.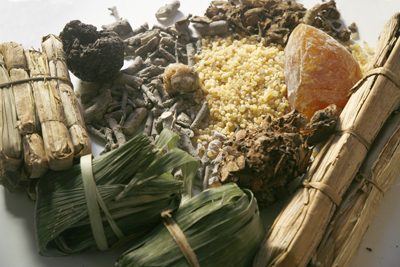 Kinds of inciense used by the Mayas, photo taken by Mirtha Cano in FLAAR Mesoamerica studio.
Current status of ethnobotanical research on incense
You can find copal pom all over the place. You can find incense from pine resin throughout the Highlands of Guatemala (and adjacent Mexico and Honduras). But what is notable is that whereas almost every book that mentions indigenous Mayan incense talks about incense from palo de jiote, we have not yet found anywhere this incense is actually harvested or subsequently processed. Yet this is one of the more common trees throughout Guatemala. It even grows in the dry Rio Motagua area as well as in the adjacent Highlands and is also found in most parts of the humid Peten. There are beautiful specimens of palo de jiote at the Maya ruins of Tikal, Yaxha, and Seibal (Ceibal is how the ruins are spelled in Mayan language).
The situation is similar with liquid amber. This is one of the more common trees in the Highlands of Guatemala. Indeed where I live in Guatemala City the palo de estoreque is one of the most common trees planted along the streets near our research facilities (Zona 15, Vistahermosa II). I also have a healthy young liquidamber tree in my ethnobotanical garden alongside the house (right next to several palo de jiote trees).
Most articles and monographs that discuss liquid amber tree list it as an incense source. But I have yet to find where it is harvested and processed into incense. Ironically on the drive to several places in the Highlands this is the dominant tree species. But when you see people burning incense, they always say it is from copal tree or pine tree. Admitedly part of the problem is that copal and pom are generic words for incense (copal is not limited to define the specific copal tree).
Sooner or later we will find palo jiote and liquidamber being harvested, processed, and used as incense. We have a dozen other ethnobotanical projects going on simultaneously, especially cacao, pataxte, waterlily, ceiba, sacred flowers, squash (especially the flower and the vine) and several other projects. Our in-house full-time staff at FLAAR includes three experienced biologists of which two are primarily botanists.