Introduction to the 5th century pantheon of the Tiquisate area of Escuintla, Guatemala, a period of Teotihuacan influence. Iconography of the Tiquisate Trinity, three native deities.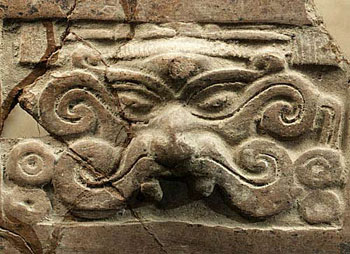 Direct digital rollout of one panel of a giant cylindrical tripod, A.D.400-550, Tiquisate culture, Escuintla, Guatemala.
If you borrow and reproduce this image, please be sure to credit the MPV, UFM, and the photographer (Nicholas Hellmuth), FLAAR Photo Archive, as well as link to this source.
Curly Face is a local Tiquisate, Guatemalan deity, and is not known at Teotihuacan. Curly Face and the Tiquisate Trinity are described in the new book on the iconography of Guatemalan pottery by Nicholas Hellmuth (in final stages of preparation). More of the rollout of this cylindrical tripod, click here.Curly Face is also found in Peten, Kaminaljuyu, Monte Alban, and as far away as Yucatan and even Veracruz, Mexico. This character was reverred primarily during the 5th through 6th centuries A.D. though his origins were centuries earlier, possibly in Highland Guatemala.

All photographs on this web site are copyright, but non-profit web sites may request permission to borrow some images if credit and a link are provided.

Pantheon gateway, deities and goddesses of ancient Guatemala, Mexico, Belize, and Honduras.