These page feature archaeology information and Images of pre-Columbian Maya art from the Museo Popol Vuh. The purpose of this section of the FLAAR Maya archaeology web sites is to draw attention to the museums of Guatemala to encourage more people to visit them.
To appreciate the genius of the Classic Maya artists and scribes, a visit to the Museo Popol Vuh is essential. Although 90% of the visitors to Guatemala visit Antigua or Chichicastenango, and perhaps 50% visit Tikal, too few reach the museums. The exhibits are well designed in a modern manner. The building is new and looks suitably impressive.The exhibits include a colorful display of animals in Maya art. In addition to pre-Columbian art, the museum has a really nice selection of Spanish colonial art.

Closeup photographic detail of a Maya masterpiece in the Museo Popol Vuh, UFM.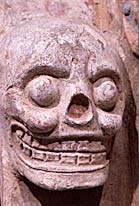 Close-up detail of a skull on the side of a Quiche urn, Museo Popol Vuh, Universidad Francisco Marroquin.
Photography by Nicholas Hellmuth, Hasselblad EL/M with macro Zeiss lens on bellows, Lowel Tota-Lights, Bogen light stands.

For more complete information on the photography equipment used, go to www.digital-photography.org and/orwww.cameras-scanners-flaar.org