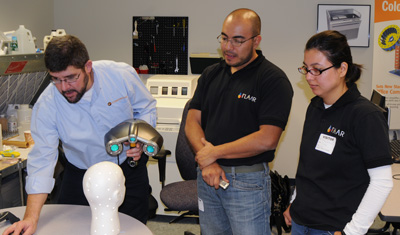 We requested a FARO laser scanner so we could evaluate it for portable scanning of archaeological artifacts and cultural heritage, but we never heard back from FARO (after our meeting in Guatemala and at RAPID '09 trade show) so we are evaluating a ZScanner 800 from ZCorp instead. Here are Eduardo and Cindy during training near Boston in late 2009.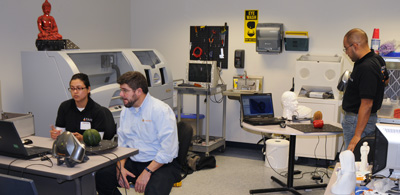 Here you can see Eduardo Sacayon and Cindy Contreras receiving training in scanning at ZCorp US headquarters. The scanner is now in Guatemala and will be used for scanning objects for ethnobotany, ethnozoology, and Mayan archaeology.
FARO makes a wide range of 3D scanner mapping instruments. FARO is most successful in the markets of industrial scanning. However there is a growing market around the world for scanners for architectural history and cultural heritage. So I was pleased to notice that there is a FARO Laser Scanner Photon for 3D scanning of architectural heritage.
But when there was no follow-up from a meeting in the FLAAR office in Guatemala after visiting their booth at RAPID 2009 we decided to switch our project to feature ZCorp scanners.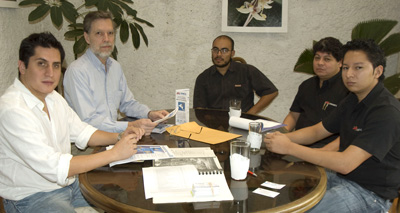 Ing. Roberto Portillo, President Prometca SA de CV is a successful distributor for FARO 3D laser scanners, GCC CO2 laser engravers and other industrial products. He came to visit the FLAAR Mesoamerica offices with Pablo Aquino Technical Manager also of Prometca. In the meeting are Dr Nicholas Hellmuth and the FLAAR team that is working in 3D scanning and 3D rapid prototyping (reproduction of cultural heritage in a digital manner), Eduardo Sacayon and Juan Luis Sacayon.
FLAAR is interested in 3D scanning Mayan architecture, sculpture, and artifacts
For thirty years FLAAR has been a leader in medium format photography of Mayan sculpture and architecture with 120 and 220 rollfilm. Over 40,000 negatives form one of the largest photo archives in the world on Maya ceramic art of Guatemala and the architecture primarily of Chenes, Rio Bec, and Puuc Mayan ruins in Campeche, Yucatan, and Quintana Roo, Mexico.
For the last ten years FLAAR has been recognized in the vanguard of digital photography of Maya ceramic art and sculpture. We were the first to switch from traditional old-fashioned film-based (120, 220, 70mm) circumferenrial rollout cameras to a digital rollout camera for accurate rollouts of Maya vases. The resolution, color fidelity, and overall quality of a digital rollout is significantly better than what can be achieved with a Hasselblad-based system of the past (we know, since we have two film-based rollout systems, Seitz from Switzerland and a special custom-made 70mm rollout system made in Belgium).
Since it is now a new century, and since 3D scanning has been around for many years now, we are gradually acquiring expertise and experience in 3D photography. The limiting factors of course are the cost. We were successful for ten years with digital photography since BetterLight provided their best digital system in 1997 and then a newer model about six years later.
Same with medium format digital photography of archaeological artifacts and temple-pyramids and ballcourts: we have a Phase One P25+ which was provided to us so we could publish our evaluations (our web site that you are on now, www.maya-archaeology.org, is read by about 150,000 people a year and our www.digital-photography.org is read by over 360,000 people a year). So the manufacturers of this equipment are understandably interested in having a FLAAR review available to all our readers.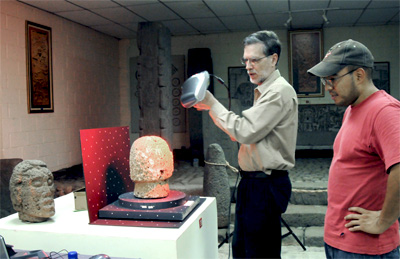 Bilbao style Late Classic sculpture, Cotzumalhuapa area, Escuintla, Museo de Cultura Cotzumalguapa, FLAAR Photo Archive.
Eduardo Sacayon is trained by ZCorp for scanning, as is Cindy Contreras. Camila Morales has learned-on-the-job. Cindy also handles Geomagic software (for post-processing).
We thank IB-ProCADD in Ljubljana, Slovenia for helping FLAAR initiate our 3D scanning evaluation project. We thank ZCorp America for providing the scanner on loan for evaluation.
By the end of February FLAAR will have issued ten reports on ZCorp equipment. Naturally we look forward to evaluating other brands of scanners as soon as different brands are available.
Here is Camila Morales scanning the ceramic model found in the Tiquisate area, Escuintla, Guatemala, pertaining to the 4th-6th century Teotihuacan-style temple, VIGUA, Antigua Guatemala, FLAAR Photo Archive.