Since 1996, FLAAR has been helping museums learn about advanced digital imaging technology, and how this digital hardware and software can assist the study of anthropology and archaeology.
But decades ago FLAAR and Nicholas Hellmuth engaged in typical Mayan archaeological fieldwork: out in remote locations in ancient ruins. In the process Dr Hellmuth has been kidnapped, captured by Communist terrorists, held at gunpoint, and survived an earthquake that killed 28,000 people in precisely the same area where he was situated.
As far back as 1965, Hellmuth had discovered the fabulous tomb of a Maya king. By the 1970's he had mapped ancient cities, and is most proud of having been responsible for creating the National Park at Yaxha and Sacnab, two adjacent lakes in a remote area of the Peten department of Guatemala. He survived in this rain forest area for five seasons. In the recent TV "Survivor" they barely survived a few weeks in the same area even with a million-dollar Hollywood support system assisting them behind the scenes.
But for the last decade Professor Hellmuth has devoted his energies to learning about advances in digital imaging technology and understanding how this can be applied to assist anthropologists and archaeologists, both in Latin America and elsewhere in the world. Dr Hellmuth was the prime consultant and instructor for the Malta Centre for Restoration, University of Malta, to aid them in learning digital imaging techniques to help in preserving their national artistic patrimony in the Mediterranean area.
For 2009-2010 onward, FLAAR will devote its energies and staff to adding evaluations of 3D printing technologies. Yes, you can use a normal Hewlett-Packard printhead and "print" a 6-inch high 3-dimensional model of a Mayan pyramid.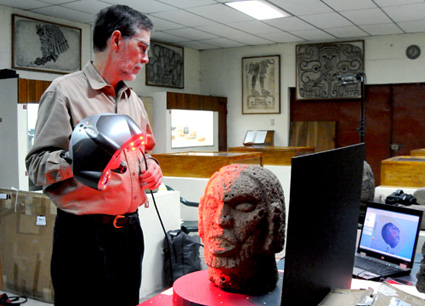 Here is Dr. Nicholas Hellmuth at Museum of Cotzumalhuapa Sculpture scanning archaeology pieces. This sculpture is fascinating since the profile and beard suggest an Etruscan, Phoenician or other Mediterranean DNA. However FLAAR, like most archaeology institutes, does not find any specific archaeological evidence for Mediterranean influence in Mesoamerica. This sculpture has been published by Dr Lee Parsons (Vol. II, 1969: 226: Plate 18 a and b, Head from Lot 908).
You can visit this museum yourself and photograph the sculpture yourself.
If you wish to see the results in 3D for this specific head, we have two different sets of 3-dimensional results: a QTVR object movie and a complete scan. The team for this project also includes Eduardo Sacayon (biologist and photographer) and Camila Morales (anthropology/archaeology student volunteer with FLAAR).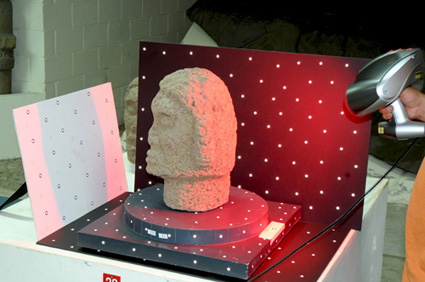 FLAAR is learning new 3D scanning technology by applying it to the study of the Mesoamerican cultures. Our first 3D scanning is in the museum of Bilbao, Cotzumalhuapa sculpture, about three hours drive from Guatemala City. The portable 3D scanner for cultural heritage artifacts is the ZScanner 800 courtesy of ZCorp.
Home page for 3D rapid prototyping as a crucial digital technology for archaeological field research and museum exhibits
This 3D printer is from Z Corporation, and is the kind of basic entry-level model that you would expect at a university. Today Z Corp offers more sophisticated models that "print" in several colors, such as the Z Corp ZPrinter 450 and Spectrum Z510 System.
Objet Geometries , Stratasys, Solidscape and other companies such as 3D Systems offer slightly different technologies or build the models in more robust materials. Our present goal is to ascertain which manufacturer and which technology would be best for museums and universities that want to utilize state-of-the-art digital visualization equipment.
We are starting with 3D printing, one of many diverse forms of 3-D rapid prototyping. Other technologies include stereolithography, selective laser sintering (SLS), fused deposition modeling (FDM) and others.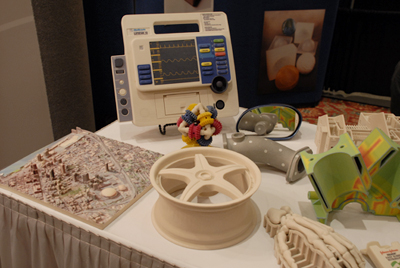 Z Corporation 3D samples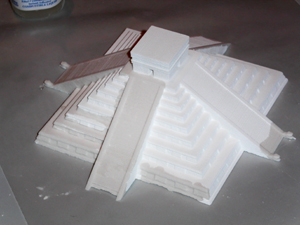 3D Mayan pyramid created by ZCorp rapid prototyper. This is the El Castillo, Chichen Itza, Yucatan, Mexico.
Adding 3D Rapid Prototypers to the list of digital technology that can aid archaeologists and museums
The Mayan pyramid you see here was created by a high school student. So surely all archaeologists and museum personnel should be able to master this technology. In addition to doing prototypes (mainly for tools and manufacturing), 3D printers can also document examples of cultural heritage.
Evaluating CO2 laser engravers for photographs and designing museum exhibits
FLAAR is also working with learning how CO/2 laser engravers can assist archaeological research.
Bowling Green State University has an entry level Universal Laser Systems CO/2 laser engraver cutter in the Center for Applied Technology. This is precisely the building where FLAAR has been headquartered for several years now (until the university tore down the entire 4-storied building). So FLAAR moved all its technology projects to St Louis, Guatemala, and is opening a 3D scanning technology office in Europe (in conjunction with IB-ProCADD in Ljubljana, Slovenia).
Since this particular system is entry-level, FLAAR felt that a slightly larger and more powerful laser engraver would be the kind that would be most helpful for museums. So Trotec provided such a laser engraver three years ago. Unfortunately, since this was a used machine, it arrived damaged from too much jostling from transportation and too much being at so many trade shows. We had a comparable issue with a Sinar 4x5 camera. The Sinar is among the best studio cameras in the world, but they loaned one for evaluation that had been on so many previous demo trips that it was literally worn out; the cogs on its movements were worn down to stubs. It did not make a good impression in the evaluation.
Cambo then provided a 4x5 Cambo Ultima camera for evaluation. It was brand new. Naturally its condition resulted in the results of the evaluation being more favorable: it definitely did not fall apart. Indeed seven years later we still have this Cambo 4x5 and still recommend it. So as soon as we receive a CO/2 laser engraver that is not already DOA, we will evaluate this equipment.
3D Scanning and 3D Rapid Prototypers in 2009-2010
3D scanning and 3D rapid prototyping technology has increasingly been growing year by year, and there are new advances and applications on 3 dimensional printing from different manufactures of this technology.
RAPID 2009 is a good trade show in the US on 3-D imaging capturing, rapid prototyping and additive manufacturing. The Society of Manufacturing Engineers (SME) organizes this event every year and it is home of developers and manufactures for presenting their products and newest technology. This is also a conference, workshop and exhibition show where there is the possibility to learn and interact with the manufactures at first hand. Two technical writers from FLAAR Reports staff where present at this year's event, and got to learn and evaluate the newest advances in rapid prototyping.
The major companies of 3D rapid prototypers that where present at this event were: envisionTEC, EOS Electro Optical Systems, MTT Technologies Group, Objet Geometries, Solidscape, STRATASYS, 3D Systems and Z Corporation.
EnvisionTEC: This company offers a rapid prototyping system using as core base technology selective light modulation that is based on Digital Light Processing technology DLP® from Texas Instruments®.
EOS Electro Optical Systems: is a company that offers laser-sintering systems that can process different materials, basis polymers, metals or foundry sand. The range of their products is: FORMIGA P 100, EOSINT P 390, EOSINT P 700, EOSINT P 730,EOSINT P 800, EOSINT M270
Objet Geometries: Develops 3D printing systems and materials, what is interesting about their technology is that they can produce 3D objects with flexible properties and can combine multiple materials on their printed objects. The range of their products is: Connex500, Eden500V, Eden350, Eden350V, Eden260V, Eden260, Eden250 and Alaris30. Dr Hellmuth has visited the world headquarters of Objet Geometries in Israel already several years ago.
STRATASYS: It uses production grade thermoplastics to produce 3 dimensional durable parts. They have different brands for their products:
FORTUS 3D PRODUCTION SYSTEMS, Dimension 3D Printers, REDEYE (a rapid prototyping and parts building service).
The range of products is: FORTUS 200mc, FORTUS 360mc, FORTUS 400mc, FORTUS 900mc, BST Printers, SST Printers, ELITE Printer, UPrint Printer.
3D systems: Offers 3D modelers that use: Stereolithography and Selective Laser Sintering. Their range of products is:
Stereolithography (SLA) iPro 9000 SLA Center, iPro 9000 XL SLA Center, iPro 8000 SLA Center, iPro 8000 MP SLA Center.
Selective Laser Sintering: sPro 140/230 SLS Center, sPro 60 HD SLS Center, sPro 60 SD SLS Center.
Z Corporation: It has its own complete set of products for 3D imaging capturing, 3D imaging Software's and 3 dimensional rapid prototyping. Their range of products is:
3D Scanners: ZScanner 700, ZScanner 700cx, ZScanner 700px, ZScanner 800.
3D Software´s: ZEdit, ZEdit Pro, ZPrint, Mimics Z
3D Printers: ZPrinter 310 Plus, ZPrinter 450, Spectrum Z 510, ZPrinter 650.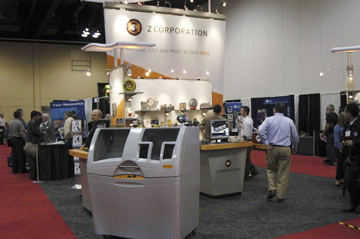 Z Corporation booth at RAPID 2009, showing their 3D scanners, 3D software ´s and Rapid Prototypers.