I have seen literally millions of snail shells along the tributaries of the Rio De la Pasion. I tend to like to photograph waterlilies along the Arroyo Pucte. You can see zillions of discarded snail shells, mostly dropped by snail-eating hawks. The ground is covered with snail shells; almost as thick as gravel in some places along the shore.
Plus in certain times of the year there are fertile snail eggs on the stems of bushes along the shore of the Arroyo Pucte, a tributary of the Rio de la Pasion river.
I am guessing that there are several species of snails in Guatemala; both land, river, and marine.
Snail shells are common as artifacts at Maya sites and in middens
Hawks are not the only creatures which thrived on snails in Guatemala. The Classic Maya were after snail shells also. So you would expect to find many in middens at most Maya sites.
Plus some shells of comparable size were used as jewelry or other artifacts. Some of these shells would be marine (salt water species). Others would be fresh water species.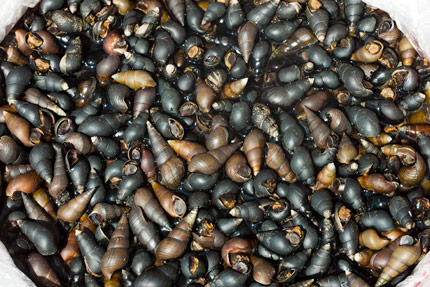 Edible snails, a popular food in Coban, Alta Verapaz. Photo taken at Cobán market by Nicholas Hellmuth, March 2012
The purpose of the present new page on Maya archaeology is to assist archaeologists working in the Maya area to help them find modern use of shells. We found these snails in the main market of Coban, Alta Verapaz, on the last week of March, 2012. Several stalls had the snails.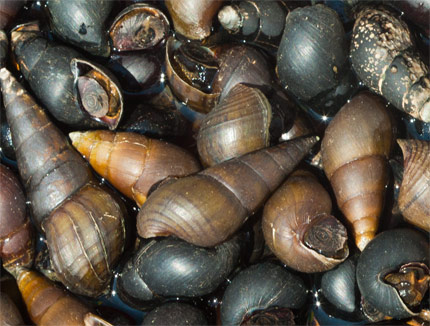 Detailed view of the freshwater snails sold at the market. Image by Nicholas Hellmuth with a Canon EOS-1Ds Mark III, March 2012
If you wish to learn more about these shells, we suggest you go with a Kekchi translator. The ladies in the market are often quite hospitable and ready to help, but it makes a difference if you, or your assistant, speak Kekchi. We were in the market to photograph flowers and fruits, and took pictures of the snails only because we saw them in so many booths.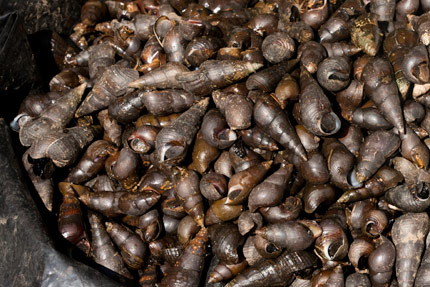 Sails were found in various booths at the larger central market in late March. Image by Nicholas Hellmuth with a Canon EOS-1Ds Mark III, 2012.
There are three public markets in Coban. This was the larger central market. However I would estimate that all three of the markets would have had snails if these creatures are in-season. We were in Alta Verapaz in late March.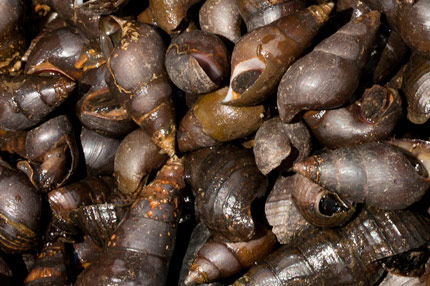 Snails are part of the Maya diet. Photographed by Nicholas Hellmuth with a Canon EOS-1Ds Mark III, March 2012
We hope that these photos, and the tip on finding these in Coban, will help you in your research on Maya diet, middens, and shells as jewelry or otherwise adornment for clothing.
References
We are not currently doing a project on snails, but we can at least mention one useful article. In its bibliography you can find more.
Bibliography
HEALY, PAUL F; EMERY, KITTY, and WRIGHT, LORI E.
1990
Ancient and Modern Maya Exploitation of the Jute Snail (Pachychilus). Latin American Antiquity, I(2), pp. 170-183.
Plus you can Google edible snails Verapaz Guatemala