These page feature archaeology information and Images of pre-Columbian Maya art from the Museo Popol Vuh. The purpose of this section of the FLAAR Maya archaeology web sites is to draw attention to the museums of Guatemala to encourage more people to visit them.
To appreciate the genius of the Classic Maya artists and scribes, a visit to the Museo Popol Vuh is essential. Although 90% of the visitors to Guatemala visit Antigua or Chichicastenango, and perhaps 50% visit Tikal, too few reach the museums. The exhibits are well designed in a modern manner. The building is new and looks suitably impressive.The exhibits include a colorful display of animals in Maya art. In addition to pre-Columbian art, the museum has a really nice selection of Spanish colonial art.Many ancient enema Maya rituals of Belize, Guatemala, and Mexico involved natural drugs obtained from plentiful local plants in the jungle. We do not recommend that you attempt to duplicate their ingestion of these often dangerous plant chemicals.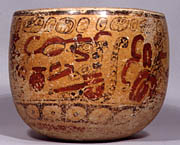 Peten style pottery, Late Classic.
Maya bowl pictured anthropomorphic jaguars, Tepeu 1, circa A.D. 650.
Iconography analysis results in understanding the meaning of the art on this bowl. The felines in this pose with a jug on the floor in front of them all typify the Maya enema ceremony. The other celebrant is a bird man. To read about this ritual consult articles by Peter Furst with Michael Coe, or Peter de Smet with Nicholas Hellmuth.
How can archaeologists figure out what century this bowl was made?Well, this is precisely what Nicholas Hellmuth works on, how to ascertain the date and meaning of ancient Maya pottery.
Establishing the meaning is the study of iconography; working out the date is in the realm of archaeological research.
To understand an ancient culture as complex as that of the Maya it helps to have a background both in archaeology, anthropology, and art history.Professor Hellmuth has labored on this topic for about 27 years, and has amassed over 30,000 photographs of Maya vases, bowls, plates, and related artifacts.
This remarkable archive of professional quality color photographs is currently in storage waiting to decide which museum, university, or community college would be the most appropriate to move the archive to.
For six years we had an annual Maya symposium but decided to put our efforts into finishing long overdue publications so our public programs have been postponed. In past years it was also possible to join Dr Hellmuth on expedition in Guatemala or at Copan in Honduras.
People of all age and any background were welcome to come along.There was a separate program for student volunteers, another for training museum docents, and many programs for lay people who are neither students nor have any background whatsoever.
Our goal is to help you learn about Maya civilization. It is our job to provide a general introduction and then teach you all the fundamentals.We offer friendly, informal, adult education in the field of Mayan epigraphy, archaeology, anthropology, art history, and photography.
Pre-Columbian archaeology is the study of native American cultures before the arrival of Columbus. Also written precolumbian or preColumbian. "Prehispanic" (also written prehispanic) means the same as "pre-Columbian."
Mesoamerica is the technical name used by archaeologists to describe the area where civilizations developed in Mexico and Central America. Thus pre-Columbian Mesoamerica is that area of Latin America occupied or influenced by the great civilizations of the Olmec, Teotihuacan, Maya, Toltec, Mixtec, or Aztec.