These page feature archaeology information and Images of pre-Columbian Maya art from the Museo Popol Vuh. The purpose of this section of the FLAAR Maya archaeology web sites is to draw attention to the museums of Guatemala to encourage more people to visit them.
To appreciate the genius of the Classic Maya artists and scribes, a visit to the Museo Popol Vuh is essential. Although 90% of the visitors to Guatemala visit Antigua or Chichicastenango, and perhaps 50% visit Tikal, too few reach the museums. The exhibits are well designed in a modern manner. The building is new and looks suitably impressive.The exhibits include a colorful display of animals in Maya art. In addition to pre-Columbian art, the museum has a really nice selection of Spanish colonial art.
The rare and elusive Quetzal bird is the national bird of Guatemala. Three quetzal birds are pictured as the lid handles of an ancient Maya ceramic container. Museo Popol Vuh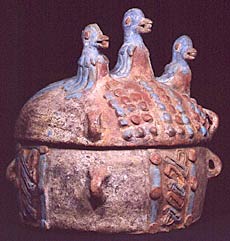 Three blue quetzal-like birds perched on the lid of a ceramic container. Highlands of Guatemala. Museo Popol Vuh.