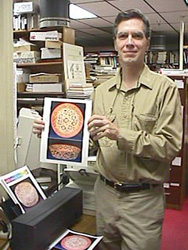 The stylized patterns of feline spots are commonly rendered by Classic Maya painters to decorate polychrome Maya vases, plates and other works of Mayan art. Here you can see spots that are clearly of a jaguar, but are stylized in repeated clusters.

Photo while Dr Hellmuth was a visiting research scholar either at Brevard Community College, Cocoa, Florida or visiting research professor at Rollins College, Winter Park, Florida (over a decade ago).
In the late 1990's FLAAR was evaluating and testing both laser printers and inkjet printers, as well as other types of printer technology. To test the color quality we used photographs of Mayan ceramic art (which were photographed many decades earlier).
Feline spot patterns are commonly rendered by painters to decorate polychrome Maya vases, plates, and bowls. In most cases they are called "jaguar spots" but in reality some are more likely spots of margay or ocelot.
Another aspect I am studying is which part of the feline body the spots come from that are used to decorate Maya pottery. On the jaguar the spots vary in size, shape, and pattern depending on what part of the body you are studying.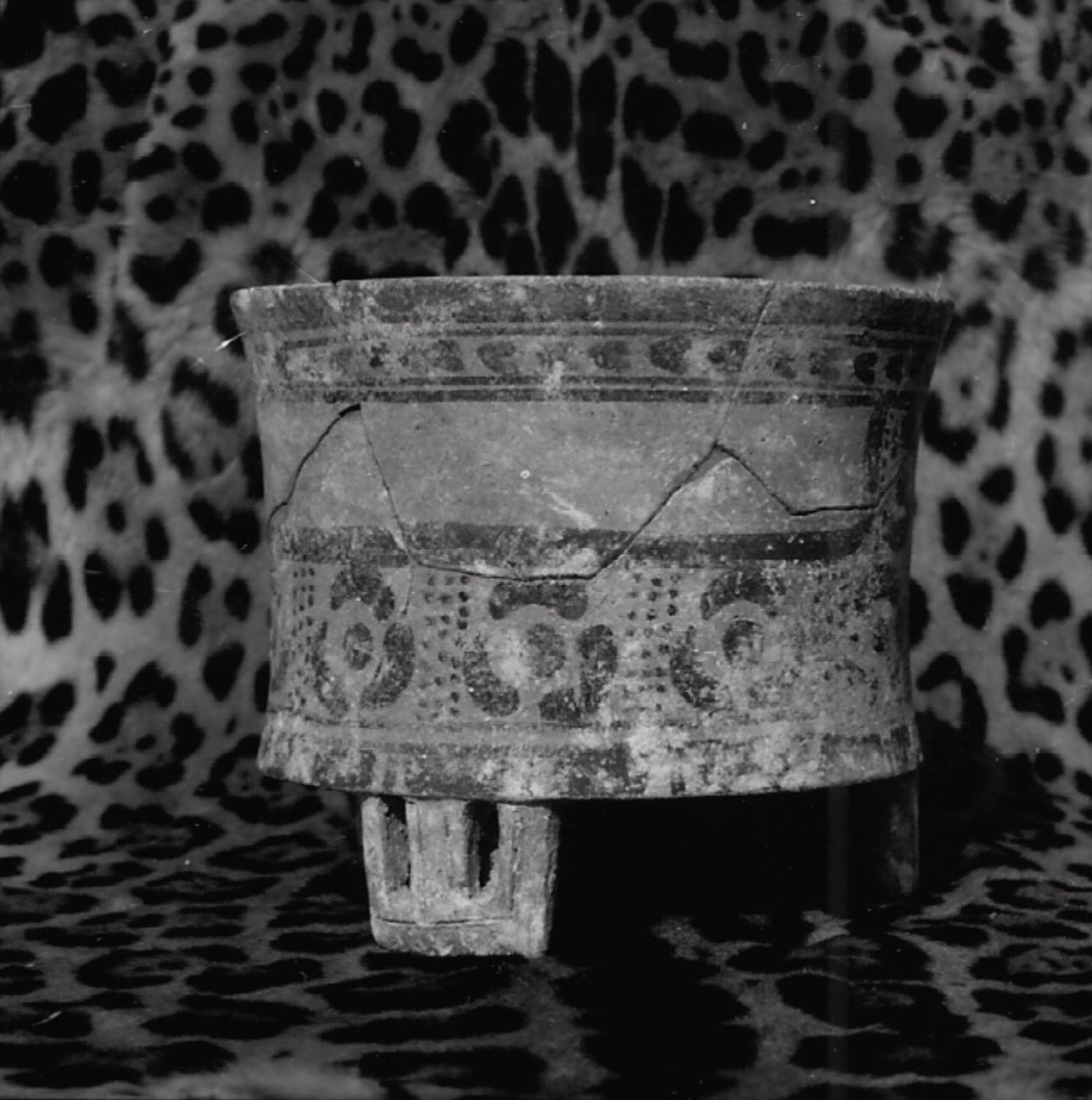 Here is a jaguar hide with a Lowland Maya painted ceramic showing feline spots. I photographed this decades ago, possibly in the house of the person who owned the puma. I say possibly because the records of our photography were long ago eaten by termites and rot, while in storage. These notes were decades before laptop computers were available.

So over the years I have engaged in photographing as many feline pelts as I can find in people's homes and offices. My long range intent is to create a "dictionary" of feline spots to assist studies of Maya iconography, epigraphy, and ceramics.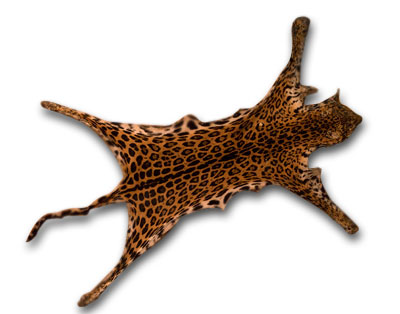 Jaguar pelt at Restaurant Chichoy Tecpan, Guatemala.
Full-color representations of jaguars starts in the Early Classic
At Uaxactun, Tikal, and nearby Maya sites throughout Peten and adjacent Belize, Mexico, as well as Honduras, the earliest full-color portraits of jaguars, ocelots and margays were as decorations for the lids of basal flange bowls or tetrapods.
Jaguars were part of the royal palace.
Enough images of full-figure jaguars can be found in scenes of Maya rituals to suggest that in addition to jaguar impersonators (dancers dressed in feline costumes) that some Maya rulers had trained felines in their royal court as pets.
Long-range interest in studying felines: jaguars, ocelots, margays, etc.
My interest in jaguars is a result of having lived in the Tikal National Park for twelve months (at age 19), while a student at Harvard. I took a year off to spend time in Guatemala to work as a volunteer archaeologist with the University of Pennsylvania. In these years (the blissful 1960's) it was the tradition to take a year off from the university to accomplish something that was to expand your studies and learn something totally new and different. The tradition in the 1960's was simultaneously doing your own thing and avoiding things that resulted in making money.

So I volunteered for an archaeology project at Tikal (definitely a way not to earn any money). But the experience in Guatemala was well worth the time and effort. People I met over 43 years ago are still in Tikal or elsewhere in Guatemala and still remember my year's project.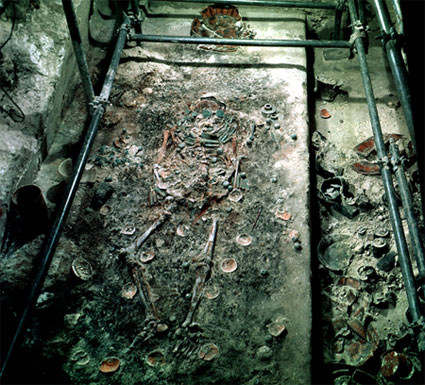 Tomb of the Jade Jaguar, Burial 196, Structure 5D-73, adjacent to Temple II, facing the Great Plaza, early 9th century A.D., Tikal Guatemala. Discovered deep inside a Maya pyramid in November 1965, by Nicholas Hellmuth, at that time an archaeology student of Harvard. The ruler was wrapped in feline hides; all the claws and even some of the leather was still preserved.
Here are the front covers of the two volumes of the Harvard thesis on the Tomb of the Jade Jaguar.

We would like to update this Harvard thesis report with more photographs, but this would require funding for transporting the original negatives of the 1960's to where we have a professional quality scanner for negatives and 35mm slides. Then would help to have funds for students to prepare the new edition (scanned photos must be processed in software to be publishable).

This burial was one of the most thoroughly
FLAAR also studies the ethnozoology of pumas.
Pumas and jaguarundis of course do not have noticeable spots, but especially pumas are as much a part of the tropical landscape as are jaguars. I had an opportunity to photograph a live puma in Belize a decade ago. This mountain lion was kept by a farmer. But since pumas are cats, it's hard to get them to sit still and pose for the camera.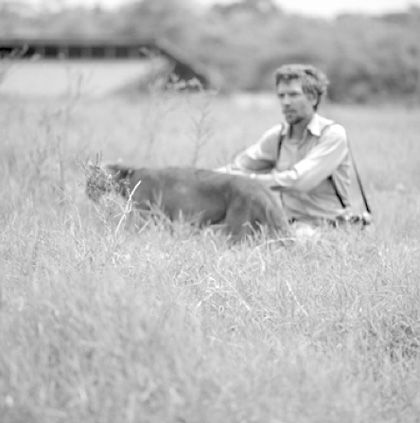 Although the Puma concolor does not have spots as an adult, the cubs have spots. Here is Dr Nicholas with a cougar in Belize.
The photograph is blurred since the photographer was scared of being attacked by the puma (and probably nervous that I would be bitten by the puma while I was trying to get it to be quiet and look at the camera).