We are frequently updating this web site on Maya archaeology with more information about the indigenous plants and animals of pre-Columbian Mesoamerica. Our focus tends to be on Mayan animals of Guatemala since I have been experiencing Guatemala since 1963. But we are also interested in Tabasco, Chiapas, Quintana Roo, Campeche, Yucatan Mexico, Honduras, El Salvador, Belize, and Costa Rica.

The animals that FLAAR is studying are those creatures which
appear in Maya murals.
appear in Maya art, especially on ceramics.
are mentioned in Maya myths (the Popol Vuh but also in other myths).
were used in religious ceremonies.
were worshiped or rendered homage, especially celestial patrons.
fauna that was utilitarian (eaten, used for hides, etc).
or simply creatures that are of special interest if you live in Guatemala.
Sacred animals pictured on Maya vases.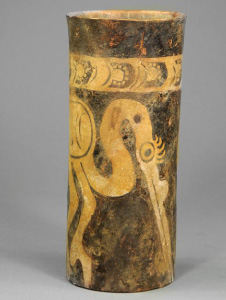 Bird in negative painting on a Late Classic Maya vase
Birds appear frequently in Maya art, especially hummingbirds, parrots, macaws, hawks, eagles, water birds, doves, and others.
Snakes of many species, especially venomous, are common in Maya art. Although the rattlesnake is the most obvious, in fact the Maya show the barba amarilla more often (such as on the lintel of one of the Tikal temples).
Scorpions are found in life-sized 3-dimensional effigies in obsidian and chert ("flint") in stelae caches. On a few vases scorpions are incised or painted. Scorpions are part of Mayan cosmology since Maya astronomers recognized the scorpion constellation.
Bees and other insects: a vase found near Yaxha by Don and Prudence Rice shows a diverse variety of creatures. Regrettably I am not sure if this vase has ever been published.
Cockroach-like insects are common on Late Classic bowls. This is possibly a form of tropical beetle, but most people would immediately think of a cockroach when they see this. Virtually all representations are clearly of the same species though one painting shows a different length of the front legs. It is unfortunate that experts in ceramics (always mistakenly) name these insects cockroaches since it is more obvious that they are probably lightning bugs. Lightning bugs are mentioned in the Popol Vuh.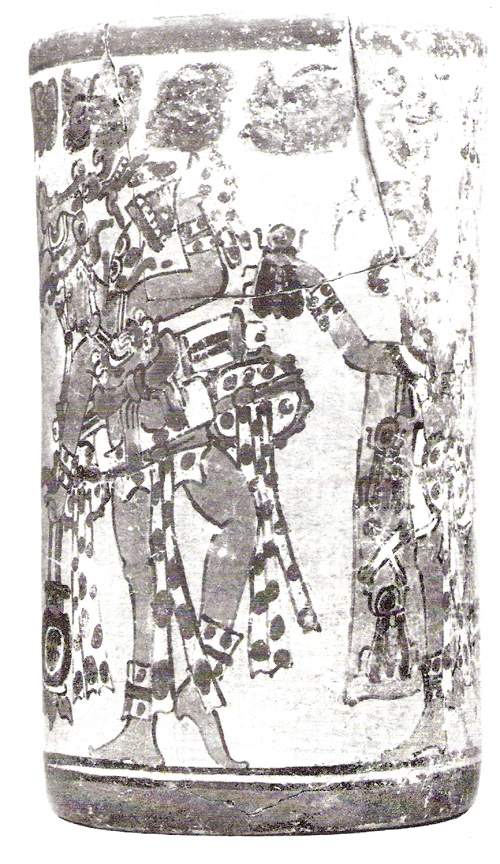 A similar insect is found on a vase that is more likely Tepeu 2, or at least late Tepeu 1, from central Peten (not specifically Tikal since location of find is totally unknown). I published this insect already in 1978 (page 187) in my Travel Guide: A General Introduction to Maya Art, Architecture, & Archaeology. The same scene has been republished, years later, missing any attribution to where it has been known since the 1970's, and identifying the insect as a "bee." At least they did not identify it as a cockroach. I am doing further research, but I am not convinced it is a bee. I believe it is similar to representations of a potential lightning bug as on Tepeu 1 bowls, however on this vase as a ritual prop or puppet (since obviously the insect itself is not this large).

The other option is that this is a stylized rendition, and the species is dependent on the context. I say this because on the Tepeu 1 bowls there are normally no people, no ceremony: only the insect. This is the insect that I estimate is a lightning bug, based on the use of fireflies by the Hero Twins in the Popol Vuh. Dr Schuster, Universidad del Valle, Guatemala, has independently come to the same conclusion (at a conference several years ago). We had worked out this identification independently of each other, but not for this vase; our discussion was of bowls in the Uaxactun ceramic report and Tikal ceramic report which were blissfully identified as "cockroaches" (which is neither scientific nor valid).

The potential for the insect being a bee on this vase is also an option.
Butterflies are more frequent in the murals and ceramic art of Teotihuacan, but because the ceramic art of Escuintla (Guatemala) was heavily influenced from Teotihuacan, you can find many incensario lids of were-Butterflies (butterflies in partially human form, which are usually a deity with a giant butterfly headdress).
Deer, tapirs, coatimundi, agouti, spider monkeys, squirrels, large rodents, and a diverse set of animals are pictured on polychrome Maya vases, especially when Hunahpu and/or Xbalanque are present with their blowguns.
Jaguars are pictured in rituals and the spot patterns of the jaguar, margay, and ocelot are frequently used to decorate Maya vases, bowls, and plates. Pumas are only occasionally pictured andI do not see many jaguarundi representations in Classic Maya art.

Crocodiles are one of the impressive tropical reptiles that are often pictured in Maya art. There are two species of crocodile and one species of alligator (caiman) in Guatemala.
Fish and turtles are popular denizens of the Surface of the Underwaterworld. Fish range from freshwater catfish to sharks. One species of shark is capable of surviving in fresh water and thus can be found in two river systems in Guatemala.
Turtles vary from fresh water to brackish water to marine turtles of both the Atlantic and Pacific oceans.



Rollout by Nicholas Hellmuth and Eduardo Sacayon of a hieroglyhphic inscription that shows denizens of the tropical Peten rain forest. Late Classic plate available to photograph courtesy of La Ruta Maya Foundation (a registered collection, Guatemala City). To our knowledge, FLAAR is the first institute in the world to do rollouts of the inside edge and also the outside edge of Maya plates.

My interest in flora and fauna of Guatemala is a result from having lived for about six years in the Peten rain forest: 12 months in the Tikal National Park (1965) and five years on the shores of Lake Yaxha (1970s). In fact the reason that the ruins of Yaxha are preserved and that this area is a Parque Nacional today is a result of five years of FLAAR raising funds to map Yaxha and Topoxte, our working to interest FYDEP in turning the area into a park, and publicizing these Maya ruins (which were totally abandoned in those years, 1970's. Grave robbers were looting Yaxha the day we arrived). For five years FLAAR paid for guards and helped raise money from the Asociacion Tikal when our own funds ran low.
I feel proud that I was able to create the Parque Nacional Yaxha-Sacnab after five years of work here. We also got the government aware of the need to protect Nakum, since looting had started before we arrived. We alerted IDAEH to the problems and the urgent need to post guards at these Mayan archaeological ruins.

In subsequent years several eco-focused Guatemalans expanded the park to include Naranjo.
Now (2017) we are seeking funds to continue studies of tropical flora and fauna, especially ethnobotany and ethnozoology.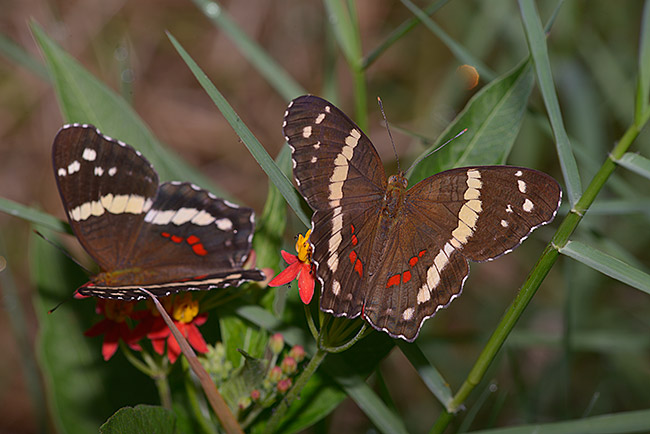 We attract butterflies to our ethnobotanical garden by planting the species of flowers that butterflies like. We then photograph the butterflies when they come to visit us.

Archaeologists have helped by having appropriate zoologists identify the bones of animals that are found at Maya sites. Iconographers have accomplished helpful research too, but occasionally the creatures in Maya art have been mislabeled by people who have not enough experience with insects, fish, etc. and who lack biologists to assist them in their identification. FLAAR is fortunate to have three Guatemalan biologists full time on staff. Plus we have a good reference library on ethnobotany and ethnozoology (on loan to the Museo Popol Vuh, UFM) as well as an additional reference library in our own offices about 2 km from the university.

Our primary assets are dedication to the subjects that we are focused on, a vision for long-range projects (FLAAR is still working on flora and fauna after decades), ability to survive field work in remote areas, and a staff that is completely bi-lingual and 100% Guatemalan (other than Hellmuth, who by accident of birth was born in Detroit, but whose life has been dedicated to learning about the pre-Columbian past and making this information available). Although the staff is Guatemalan, we welcome volunteers from universities in other countries: students from Germany, Ukraine, Russia, and Slovenia are the most recent contributors.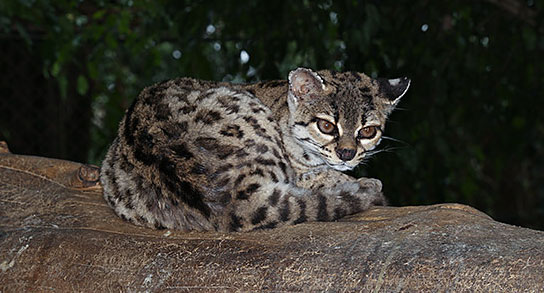 I estimate this is a margay, based on its small size. To distinguish between a margay and an ocelot. The feline spots most frequently rendered in Maya vases, plates, and bowls are spots of jaguars and ocelots; but you can find some margay spots also.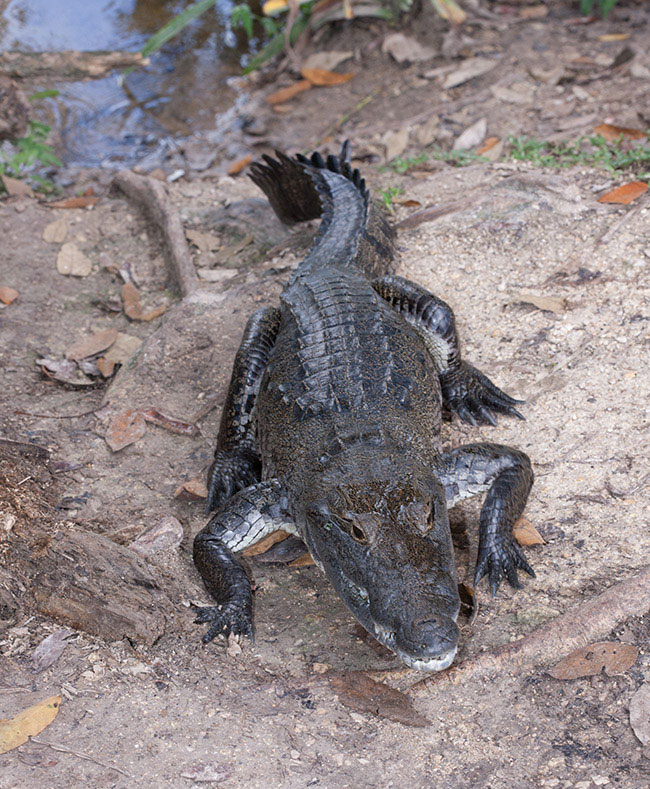 Crocodile, probably at the Tikal aguada. Since this is far inland, it is unlikely Crocodylus acutus. Since this is not near inland swamps parallel to the Pacific Ocean, it is unlikely this is Caiman crocodilus. Thus I estimate this is a Crocodylus moreletii, which is found in rivers, lakes, and lagoons of Peten and adjacent Lowland eco-systems.

Although one crocodile at Tikal did sever the arms and legs of several local people, this crocodile liked to pose for tourists alongside the Tikal sculpture museum. Notice the ceiba-like spines on the back of this crocodile. Crocodylus acutus has even more spiny a back.
We also have been studying spiders and insects
Since we have an ethnobotanical research garden surrounding our office building, we have plenty of insects here to study. We are especially interested in spiders, beetles, and larvae of butterflies.
Animals of the Treetops are an interest to our team
We all know that monkeys live in trees. But the spider monkeys can also wander around on the ground, and even walk on their two feet for longer than I would have expected.
In 2018 we will be studying micoleon, a treetops mammal which is a pollinator of the flowers of balsa wood.
In addition to our full-color FLAAR PDFs on Mayan animals, we also do children's books
We have a growing series of children's books on animals of the Mayan rain forests. You can download 4-page previews of each book on www.MayanToons.org
Our logo expresses our areas of expertise
The logo of FLAAR features our areas of interest:
ethnozoology (butterfly),
ethnobotany (cacao),
archaeology (an incense burner),
and interaction among pre-Columbian cultures (a local Tiquisate, Escuintla adaptation of a foreign Teotihuacan deity).
This logo is stylized but is based on a combination of several different actual prehispanic artifacts that are well known from the Costa Sur area of Guatemala.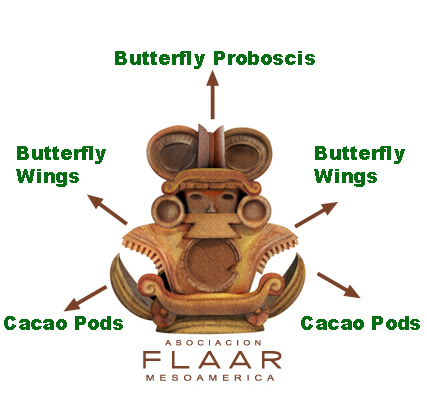 The FLAAR logo features our areas of interest: ethnozoology, ethnobotany, archaeology and interaction among pre-Columbian cultures
FLAAR logo, explanation
There are many capable ethnozoologists doing studies in Mesoamerica, but our notable asset is that FLAAR has experience with advanced digital photography. Whether doing digital rollouts of vases with animals or photographing feline spot patterns (to compare actual jaguar spots with the spots used as artistic decorations by the 8th century Maya) we have everything from a 48-megapixel digital rollout camera to a 22-megapixel Phase One P25+ medium format camera, several Nikon digital cameras (D300 and D100) and a Canon EOS 5D. All students and volunteers who work with FLAAR are taught how to use these cameras if they are interested.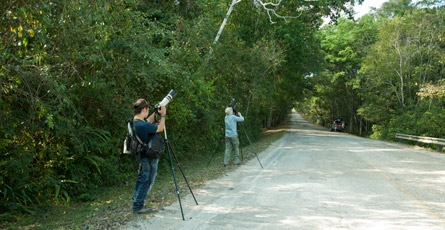 Visiting Guatemala to learn about birds and animals is a great experience. And if you are a student or professor of zoology, you should also consider the opportunities of studying animals in the
La Aurora Zoo
and
AutoSafari Chapin
.
Our downside is that not being an institute stuffed full of extra cash, our progress is a bit slow, but when donations are available, we can ramp up quickly. But even when funds are low, our staff continues their work to maintain and improve the ethnobotany and ethnozoology portions of this popular website on Maya archaeology.