These page feature archaeology information and Images of pre-Columbian Maya art from the Museo Popol Vuh. The purpose of this section of the FLAAR Maya archaeology web sites is to draw attention to the museums of Guatemala to encourage more people to visit them.
To appreciate the genius of the Classic Maya artists and scribes, a visit to the Museo Popol Vuh is essential. Although 90% of the visitors to Guatemala visit Antigua or Chichicastenango, and perhaps 50% visit Tikal, too few reach the museums. The exhibits are well designed in a modern manner. The building is new and looks suitably impressive.The exhibits include a colorful display of animals in Maya art. In addition to pre-Columbian art, the museum has a really nice selection of Spanish colonial art.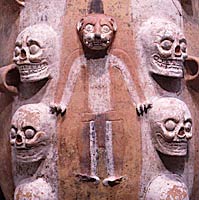 Were-Jaguar deity flanked by death skulls on an ancient Maya burial urn. This is the front of a Quiche Maya urn.
The Museo Popol Vuh has the largest collection of this class of urns in the world (over 100, of which at least twenty are of the large size).When you are in Guatemala two museums offer this class of Maya art, the Museo Nacional de Arqueologia e Etnologia and the Museo Popol Vuh.The official web site of Museo Popol Vuh is www.popolvuh.ufm.edu.gt.
All inquiries related to volunteer work at Museo Popol Vuh must be addressed to popolvuh@ufm.edu.gt, or to the street address: Museo Popol Vuh Universidad Francisco Marroquin 6a calle final zona 10 Guatemala 01010 Tel. 361 2301, 361 2321The museum is on the same side of the street as the Museo Ixchel de Textiles (Maya textile museum). Both are on the campus of the Universidad Francisco Marroquin, Sexta Calle Final, Zone 10, Guatemala City.

Professor Nicholas Hellmuth occasionally gives seminars and archaeology classes at the Museum, or in Antigua Guatemala (one hour away from Guatemala City). So if you want to learn more about ancient religion, pre-Columbian ceramic art, and general archaeology, join Dr Hellmuth in the land of the Maya. At the moment, however, he is in Essen, Germany, for peace and quiet so he can finish his latest book on Maya art.