What did the Mayans eat for food?
Agriculture and arboriculture produced lots of food, but thousands of Mayan people also gathered fruits, vegetables, roots, and other edible plants from their kitchen gardens and from forests (of wild plants).
Most of these edible native foods of the Mayan people have been replaced by commercial crops and junk food in plastic bags. It is a human ethical courtesy to assist people learn what foods are available in the fields and forests.
Foods of the ancient Maya included two edible bromeliads called piñuela
Cyrus Lundell's 1937 monograph lists both bromeliad species as edible: Bromelia karatas and Bromelia pinguin (page 54). He mentions B. karatas five times and B. penguin once. In his 1938 article, Lundell lists only Bromelia karatas L. Cham.
Bromelia karatas is my absolute favorite terrestrial bromeliad to photograph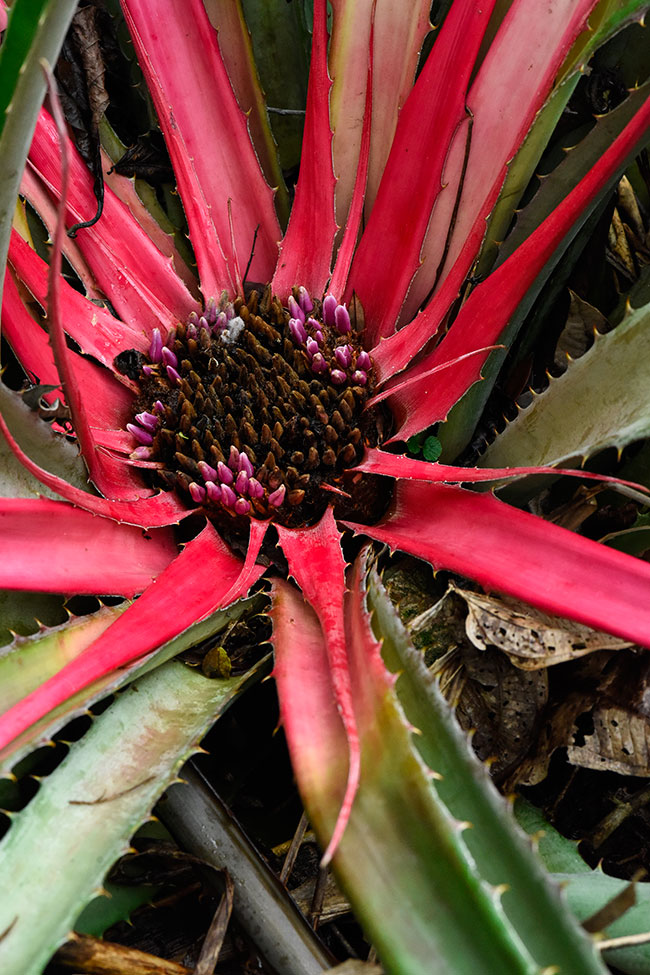 I had never noticed this edible plant until Senaida Ba showed it to me, growing wild in the hillside surrounding her Q'eqchi' Mayan family home (Chipemech, Senahu, Alta Verapaz, Guatemala).
This is an example of how helpful it is to learn from knowledgeable local Mayan people about what foods their parents and grandparents actually eat.
Bromelia pinguin is also a Mayan medicinal plant
There are scores of books and articles on medicinal plants of the Maya. Bromelia pinguin is one of the plants mentioned (especially for Yucatan, as ch'om in Yucatec Maya; sometimes spelled ch'am or even ch'um). I would estimate that Bromelia karatas is also potentially medicinal.
Most bromeliads grow high up in trees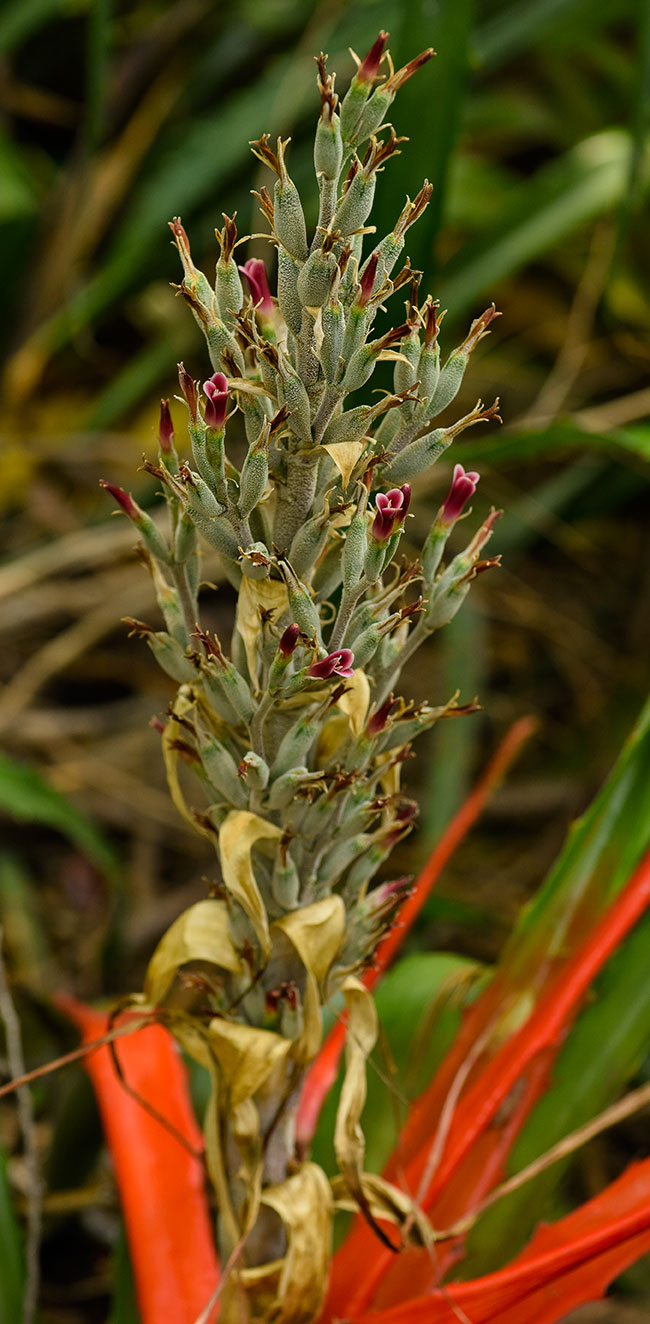 Bromelia pinguin in its standard location on the ground.
Bromelia karatas and Bromelia pinguin both grow on the ground (as does the pineapple). Both are extremely thorny, which is why Bromelia pinguin is used as a cerco vivo (living fence). But the piñuela plants are bromeliads, not henequen, margay, or agave.
Bromelia pinguin prefers dryer areas; Bromelia karatas prefers areas with more rain (such as the Chipemech area of Senahu, Alta Verapaz, Guatemala. Bromelia pinguin can grow in the salty sand facing the Pacific Ocean (as a living fence for CECON Tortugario, Monterrico).
We have a separate bibliography on piñuela of the Maya
One article we include in the bibliography makes a surprising claim:
The only other C4 plants possibly available to the Maya which might confound the maize signature would be amaranth (amaranth sspp.), epazote (Chenopodium ambrosoides) and the CAM plants; nopal cactus (Opuntia) and pinuela (Bromelia karatas) (Wright & White 1996). None of these, however, are expected to have been consumed in any significant quantity by the Maya (Powis et al. 1999: 371).
Yet amaranth is widespread throughout the Highlands of Guatemala (and I would estimate also in Mexico). Although everyone calls it "the Aztec equivalent of quinoa of the Inca" in fact amaranth was and still is consumed by the Maya of Guatemala.
Guatemalan botanist Dr Cezar Azurdia is quite knowledgeable in the many species of this plant, both wild and cultivated.
Epazote is in many people's list of "underutilized plants of the Maya." Nopal cactus grows in many areas of Guatemala though I will admit that in six years it has bloomed only once in our ethnobotanical garden at 1500 meters elevation. But Nopal cactus is readily available to eat if you are at lower elevations.
Last but not least, there are TWO edible species of piñuela, and the family of our Q'eqchi' Mayan student intern (from the remote area between Senahu and Cahabon) eat Bromelia karatas.
There are also other bromeliads of use in Mayan areas:
There is a lot to learn about Maya use of bromeliads. Among others, I suggest looking at:
• Bromelia alsodes St. John [syn. B. slyvestris Burm.f.]
• Bromelia hemisphaerica Lam.
(Kermath, Bennett and Pulsipher 2014: 142-143).
Our goal at FLAAR (USA) and FLAAR Mesoamerica (Guatemala) is to provide annotated lists and bibliographies of all the utilitarian plants which allowed Maya civilization to flourish in Mesoamerica for several thousand years.
No highways to transport food by the ton; no refrigerators to help preserve fruits, vegetables, and meat… the Maya (and their ancestors) had already worked out alternatives to all this.
There is not space in a normal "book on the Maya" to list everything they ate (much less all the other plants they used to make soap, to make baskets, etc). So one of our goals is, literally, not only to itemize every single plant, but to find where each species grows, and harvest nice photographs.
Our parallel goal, as part of education, is to assist local groups to recognize all the local food which is edible. Why let your family and loved ones get sick, diseases, and weakness when your garden can be filled with natural, native, healthy alternatives.
First posted July 27, 2017