FLAAR is interested in all equipment that can assist museums to prepare educational displays. We especially look at equipment that can recreate models of pre-Columbian art, artifacts, temples, and pyramids of prehispanic Mesoamerica.
Most ancient art and artifacts from these areas were sculpted, and thus a CNC router is an ideal way to reproduce replicas at more portable sizes and in material a bit lighter to carry than the original stone. It is important to offer replicas so that tourists do not try to buy originals: it is illegal to take out originals and grave-robbing is a problem in most parts of the world with attractive historical heritage. FLAAR wishes to help in the conservation of the original artifacts in-situ, in Guatemala. Indeed during 1970-1974 it was possible to help create the Parque Nacional Yaxha.
At Sign Istanbul show in Turkey (early December 2006) we visited with the folks from Multicam. In summer 2008 it was possible to visit the factory of MultiCam in Dallas.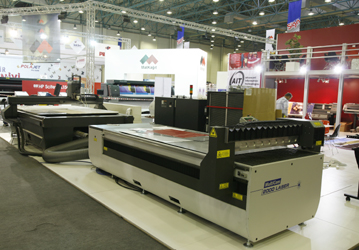 Multicam 2000 Laser.
Various kinds of materials that these machines can handle
CNC routers can cut, drill, and sculpture plastics, wood, MDF (medium density fiberboard, metal, textiles, foam (Styrofoam) and other rmaterials.
Some machines cut with a laser, others use different technology such as plasma or water jet cutting.
Leading manufactures of CNC routers include
AXYZ (also the OEM of the Teckwin TeckRouter)
Haas Automation
Multicam
Thermwood
The CNC routers I see are exhibited at SGIA, ISA and some trade shows in Europe. For example, one Sign Istanbul event that I attended in Turkey (early December 2006) had probably a dozen CNC routers on display. We do not list Chinese CNC routers since there is not yet evidence that these can hold up to serious production work at a European or North American level.
There are different brands in Europe; their higher cost means they are less common in the US, since there are plenty of local American companies (such as MultiCam). Some European brands that I saw at VISCOM Germany trade show include
Colinbus, Franklin Industries, Belgium
FlexiCam (Germany)
Isel, ModuStar, Isel Automation GmbH, Germany
Mecacut (Meca Numeric), made in France
Thermwood and some other companies do not exhibit at sign trade shows since they are mainly in the world of furniture making.
Potential for Museum Displays
You can create scale models of pre-Columbian architecture; you can do topographic maps of archaeological sites. You can see some examples on the website of BlueGenieArt.com. Do a Google.com search for CNC router museum display and you will find many examples.