The Uo (burrowing toad) and Bufo Marinus (marine toad) are the two toads most often present in Mayan art and mythology. The many cute and photogenic tree frogs are not as conspicuous in the Classic Maya art. The large and poisonous Bufo marinus is by far the amphibian most frequently represented in pre-Columbian art of Mesoamerica. Quirigua Zoomorph (Monument 43) weighs several tons.
When you visit museums of pre-Columbian Mayan artifacts in Guatemala, over and over again you see ceramic effigy platters or bowls of toad or frog-like creatures. I would rank representations of Bufo marinus as one of the ten most commonly pictured animals in figurines and effigy bowls. Monkeys, deer, and various birds would also be in the most common animal effigies in preclassic and Classic Mayan art.
So it is not frogs which are common in Mayan art and iconography, it is the toad. However I would not say that frogs are never present, and since frogs are present along waterways, and since lakes, rivers, springs, and especially water issuing from caves were sacred locations in Mayan cosmology, I would expect more frogs too.
List of species of Bufo in the Mesoamerican area
Bufo marinus is the best known toad species because of its larger size. You see them in most parts of Guatemala at night waiting for insects that are attracted to the lights of your hotel (obviously not in the middle of Guatemala City, but certainly in most rural areas that still have trees and patches of vegetation around the hotel).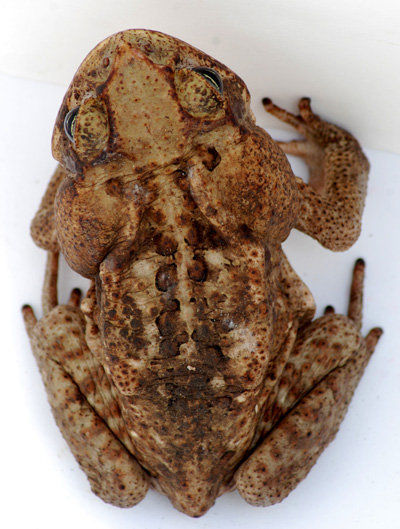 Bufo Marinus toad
In parts of Peten Bufo valliceps may be more common. One biologist said he had not seen many Bufo marinus at their camp alongside the Rio San Pedro Martyr because it is Bufo valliceps that is more common in Peten and especially in areas of mature forest. He said he would expect Bufo marinus more likely in areas that had been cleared. But we indicated that it was the less colored but larger bufo that was in Mayan art, and a thorough search of the campground area turned up a healthy sized Bufo marunus one evening.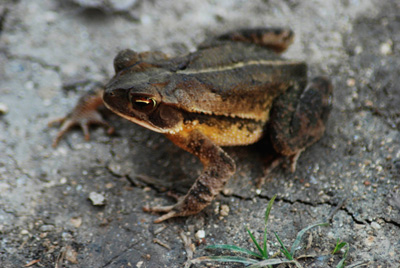 Bufo Valliceps toad.
The monograph by Campbell (1998:66-67) lists a Bufo campbelli Mendelson, which evidently was not identified until 1994. "In Petén this species is known only from an area 8-15 km northwest or north-northwest of Chinanjá." (p. 67).
Bufo alvarius is a toad of the Sonoran Desert of Mexico seemingly well known to users of drugs. I had never heard of this toad, especially not for Guatemala, until reading an article by Davis. But based on its geographic range, I would never expect this species in the Mayan area.
Do not confuse any of these toads with the uo. The uo is a harbinger of the rainy season, has no poison sacs whatsoever and lives underground most of the dry season.
The poison from these toads is quite dangerous
When a dog (or cat) bites one of these toads, the toad secretes a thick goo out the glands. Locally this is called leche, "milk." The results are "profuse salivation, trembling, heartbeat irregularities, high blood pressure, convulsions and death due to ventricular fibrillation (Nellis, "Poisonous Plants and Animals of Florida and the Caribbean).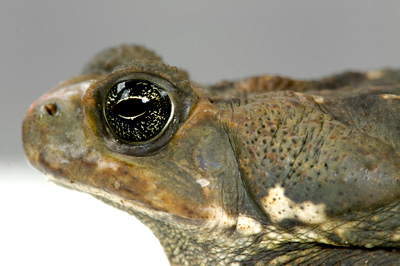 Here you can see the poison glands of this bufo marinus.
Common names
In the Americas common names are Cane toad, Giant Neotropical Toad, Marine Toad. I find Marine Toad especially curious since Bufo marinus is so often found totally unassociated with any water whatsoever.
Bufo marinus in pre-Classic and Classic Mayan sculpture, Mexico and Guatemala
A good list of Preclassic toad sculptures is in the article by Kappelman 2000. If you have any doubt that Bufo marinus was important to the ancient Maya just take a look at the pre-/proto-Maya Stela 6 from Izapa. That toad is so clearly and obviously a Bufo with clearly defined poison glands.
One of the Quirigua zoomorphs, Zoomorph G (Sculpture 43) is clearly a multi-ton rendition of a Bufo marinus
Izapa Altar 1 is a toad but lacks the naturalistic features of a Bufo marinus. Altar 1 is a composite, meaning it includes features of other creatures (in this case dentition).
Izapa Altar 2 is an excellent example of a Bufo species with poison sac.
Izapa Altar 53
Izapa Altar 54, Bufo marinus
Izapa Stela 1, Bufo marinus
Izapa Stela 6, Bufo marinus
Izapa Stela 8
Kaminaljuyu Altar 3
Kaminaljuyu Altar 6
Kaminaljuyu Altar 5, over 1 meter long!
Kaminaljuyu Altar 73
Takalik Abaj Monument 68 (Oreggo 1990: 52, lamina 9).
El Tejar, (Villacorta and Villacorta 1927: 121).
Unprovenanced, but probably Kaminaljuyu, Parque Zoologico Aurora
Toad mortars (Shook and Kidder 1952)
Although most of the monumental renditions of the giant toad are Preclassic (Izapa and Kaminaljuyu) the Quirigua representation is full Late Classic.
Bufo marinus in Mayan art & Archaeology (artifacts)
One ceramic effigy in the Museo Nacional shows a frog or toad with a very full (fat?) throat area. The Bufo that I have seen in the Petén and Escuintla lacked this, but two overly fattened Bufo alvarius shown in a photo of the University of Michigan, Museum of Zoology "Animal Diversity Web" show one individual (Binder Park Zoo, Battle Creek, Michigan) who is more overweight than many seriously obese individuals of other species (namely people). http://animaldiversity.ummz.umich.edu/site/resources/tanya_dewey/Bufo_alvarius2.jpg/view.html
One of the obese toads has a fat neck area precisely the same size as that shown in the ceramic effigy. So if any such toad was kept in captivity (reportedly Bufo marinus eats almost anything and everything), then individuals this obese would be possible. When the Bufo puffs itself up, it is mainly in the stomach area, though if I had not been holding him (or her), perhaps its throat area would also have puffed up. This is a question that a zoologist could answer.
In other words, an obese Bufo marinus may also have such a fat part of their body. Bufo marinus can easily and quickly puff itself up to look considerably larger; most of this puffed up area is his stomach. After holding this excess size for two to four minutes, the toad lets the air out. Then five or ten minutes later, if it so wishes, it can puff itself up again. Since I was holding the toad in my bare hands the entire time, I could not easily notice which other parts of his body puffed up (like under the chin) but definitely his stomach expanded to an impressive plump size.
How to recognize if a sculpture is Bufo marinus
First, it is a challenge to document any amphibian as specifically a Bufo marinus unless the poison sac is clearly pictured. We will need to learn what other features can assist us to certify an amphibian is a Bufo instead of a Uo or other frog.
The "ear" with three dots is the most common design other than the poison sac. The trouble with suggesting that all three-dot-ears are Uo or Bufo is that the body of a Uo is a blob of Jell-O: a Uo has less prominent limbs and not much of a head structure either: it is literally a blob of flesh with small head and fleshy protuberances as limbs.
Amphibians painted on Late Classic northern Peten Codex Style vases have a deity face on their back. The deity face would have been fully frontal if you viewed the amphibian in three-dimensions. This immediately reminds me of the giant altars at Copan with the upward-looking frontal deity faces. The personange may not be the same but the concept of a giant deity face as the back of the toad is a pattern that stands out clearly.
Bufo marinus in the Maya codices
AMPHIBIA
- Frog (Rana), Tro-Cortesianus 31a.
- Same, Tro-Cortesianus 101d.
- Probably a toad (Bufo), Copan, Oblong altar (Maudslay, I, Pl. 114).
- Frog or toad, Tro-Cortesianus 17b.
- Frog and fish, Copan, Altar O (Maudslay, I, Pl. 85).
- Chichen Itza, Temple of the Tigers, Lower Chamber (Maudslay, III, Pl. 46).
Toads in the art of Classic Veracruz
Peter Furst, based on information from T. Knab, indicates that native curanderos in Veracruz are able to extract the venom and process it to remove harmful components before being used by humans. (p. 139; available via www.scribd.com/doc/9416343/Hallucogens-And-Culture).
Bibliographies
Bibliography: Monographs on Toads of Mexico, Belize, Guatemala, Honduras, El Salvador, and Costa Rica
CAMPBELL, Jonathan A.
1998
Amphibians and Reptiles of Northern Guatemala, the Yucatan, and Belize. University of Oklahoma Press.
DAVIS, Wade
1998
Shadows in the Sun: travels to landscapes of spirit and desire. Island Press. 292 pages
Covers primarily the Americas (North, Central, and South). The author has a PhD in ethnobotany from Harvard University.
MENDELSON, Joseph R.
1998
Geographic Variation in Bufo valliceps (Anura: Bufonidae), a Widespread Toad in the United States and Middle America 24 July 1998 Number 8:1-12, Natural History Museum and Department of Systematics and Ecology, The University of Kansas, Lawrence, Kansas 66045-2454
www.archive.org/stream/geographicvariat00mend/geographicvariat00mend_djvu.txt
REPKE, David B., Constantino Manuel TORRES
2006
Anadenanthera: visionary plant of ancient South America. New York: Haworth Herbal Press.
The seeds of this tree include some of the same chemicals as found in the excretions of Bufo marinus. But seemingly this tree is only in South America, not in Mesoamerica.
WRIGHT, A. H. and A. A. WRIGHT
1949
Handbook of Frogs and Toads. Comstock Publishing Associates, Ithaca, NY. 640 pages.

Pertinent articles on Bufo marinus and other toads of Mesoamerica
FIRSCHEIN, I. Lester and Hobart M. SMITH
1957
A High Crested Race of Toad (Bufo valliceps) and Other Noteworthy Reptiles and Amphibians from Southern Mexico, Herpetologica, p. 219ff Herpetologists' League.



Pertinent articles or books that discuss or picture artifacts that show Bufo marinus or related toads
Any monograph on the sculpture of Izapa would almost have to recognize and mention Bufo marinus. Any monograph on the Preclassic sculpture of Kaminaljuyu would also probably tend to mention the monumental stone sculptures of giant toads.
CARLSON, John
1957
From the Olmec to Columbus. The Jay I. Kislak Collection at the Library of Congress.
www.kislakfoundation.org/pdf/Catalog_02.pdf
COE, Michael D. and Richard DIEHL
1980
In the Land of the Olmec, 2 vols, University of Texas Press, Austin.
CYPHERS, Ann; ZUÑIGA, Belem; and Di CASTRO, Anna.
2005
Another Look at Bufo marinus and the San Lorenzo Olmec. Human genetics: Problems and approaches. December 2005. cyphers@servidor.unam.mx
DAVIS, Wade and Andrew WEIL
1992
Identity of a New World Psychoactive Toad. Ancient Mesoamerica 3: 51–9.
FURST, Peter T.
1981
Jaguar Baby or Toad Mother: A New Look at an Old Problem in Olmec Iconography. In The Olmec and their Neighbors: Essays in Memory of Methew W. Stirling, pp. 149-162 (E. Benson ed), Dumbarton Oaks, Washington D.C.
GAGE, Thomas (see THOMPSON, editor)
1958
Thomas Gage's Travels in the New World. University of Oklahoma Press, Norman.
GUERNSEY, Julia
2006
Ritual & Power in Stone: The Performance of Rulership in Mesoamerican Izapan Style Art. University of Texas Press. 229 pages.
KENNEDY, Alison Bailey
1982
Ecce Bufo: The Toad in Nature and in Olmec Iconography. Current Anthropology 23: 273–290. www.jstor.org/pss/2742313
KAPPELMAN, Julia Guernsey
2000
Late Formative Toad Altars as Ritual Stages. Mexicon, Vol. XXII, August 2000, pp. 80-84.
http://vma.uoregon.edu/Mexicon/xxii4kappelman.pdf
LESURE, Richard
2000
Animal imagery, cultural unities, and ideologies of inequality in Early Formative Mesoamerica," in Olmec art and archaeology in Mesoamerica. Edited by J. E. Clark and M. E. Pye, pp. 193–215. Washington, D. C.: National Gallery of Art.
NORMAN, V. Garth
1973
Izapa Sculpture, Part I: Album. Papers of the New World Archaeological Foundation 30, Provo.


1976
Izapa Sculpture, Part II: Text. Papers of the New World Archaeological Foundation 30, Provo.
PARSONS, Lee A.
1986
The Origins of Maya Art: Monumental Stone Sculpture of Kaminaljuyu, Guatemala, and the Southern Pacific Coast. Studies in Pre-Columbian Art and Archaeology, No. 28, Dumbarton Oaks.
REILLY, F. Kent, III
1989
The Shaman in Transformation Pose: A Study of the Theme of Rulership in Olmec Art.
SELER, Eduard
1990
The Animal Pictures of the Mexican and Maya Manuscripts, in Collected works in Mesoamerican Linguistics and Archaeology Vol V. Frank E. General Editor. Labyrinthos, Culver City, California.
SMITH, Virginia G.
1984
Izapa Relief Carving. Dumbarton oaks, Studies in Pre-Columbian Art & Archaeology, No. 27. 103 pages.
THOMPSON, J. Eric S.
1958
Thomas Gage's Travels in the New World. University of Oklahoma Press, Norman, OK.
TOZZER, Alfred Marston and Glover Morrill ALLEN
1910
Animal Figures in the Maya Codices. Papers of the Peabody Museum of American Archaeology and Ethnology, Harvard University, Vol. IV, No. 3. 456 pages.
Bibliography of the chemistry or drug reactions from Bufo secretions
BEYERSTEIN, Barry and Mark KALCHIK
2003
History of the Psychedelic Experience. In Hallucinogens: A Forensic Drug Handbook. Richard Laing (editor). Pp. 1-36. New York: Academic Press.
BLAINEY, Marc
2005
Evidence for Ritual Use of Entheogens in Ancient Mesoamerica and the Implications for the Approach to Religion and Worldview. 33 pages, available on-line.
de SMET, Peter A.G.M.
1985
Ritual enemas and Snuffs in the Americas. Amsterdam: Centre for Latin American Research and Documentation.
DOBKIN de Rios, Marlene
1974
The Influence of Psychotropic Flora and Fauna on Maya religion. Current Anthropology. 15: 147-64.
1984
Hallucinogens: Cross-Cultural Perspectives. Albuquerque, NM: University of New Mexico Press.
Theses or dissertations on Bufo marinus or related toads of Mesoamerica or thesis which includes related iconography or archaeology
KAPPELMAN, Julia Guernsey
1997
Of Macaws and Men: Late Preclassic Cosmology and Political Ideology in Izapan-style Monuments. Ph.D. dissertation, University of Texas at Austin.