Photogrammetric surveying and mapping methods for recording Classic Mayan architecture of Guatemala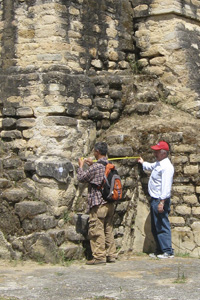 Control points need to be placed in the structure to generate accurate 3D models.
Members of FLAAR Mesoamerica staff attended a several-day Architectural Photogrammetric Workshop held in Guatemala. The workshop was directed towards students and professionals interested in conservation and protection of our national heritage of Guatemala. Since FLAAR is a world leader in technological research we felt more than happy to attend and to exchange our expertise with the other participants. The workshop was held in the National Archaeological Museum, Guatemala City.
One of the goals of the workshop was to start a network of Latin American countries that in the near future can exchange experiences and tools. More than 40 students and professionals in the field of architecture, archaeology and engineering attended the workshop.
Photogrammetric methods can be used to generate 3D digital models of buildings, facades, archaeological sites and objects. This can be then linked to geodatabases and geographic information systems.
The conference was primarily on traditional photogammetry using a Rollei photogrammetric camera system. Photogrammetry has been used for past decades to create topographic maps and the same principles apply to buildings, facades or objects. Using pre-calibrated digital cameras like the Rollei and with precision made lenses a series of photographs are made of a building. FLAAR was instrumental in bringing a team of students in photogrammetric mapping from the Technical University of Graz to the Maya ruins of Santa Rosa Xtampak, in the Chenes architectural area of Campeche, Mexico. That was decades ago. Today the Rollei system is still used by those who were trained on these in the past. Today the results are combined with CAD data in Photomodeler software to generate 3D accurate models.
Photogrammetric mapping with a Rollei compared with 3D laser scanning mapping for national patrimony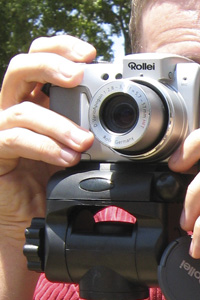 Rollei p3210 digital photogrammetric camera.
One of our own goals at FLAAR will be to compare the traditional photogrammetric methods of past decades, using a Rollei camera, with the more recent 3D laser scanning techniques using a Cyclone II TOPO from Leica Geosystems, Faro Laser Scanner Photon Heritage or Trimble GX 3D scanner. Leica Geosystems has produced many models of 3D laser scanners as has Faro, Riegl, Optech, Trimble etc.
3D scanning can now be done with tripod-mounted or "handheld" devices
For 3D scanning of archaeological artifacts we are interested in KonicaMinolta Vivid brand scanners and the smaller, portable hand-held, less expensive Handyscan 3D or Z-corporation 3 D scanners.
The Handyscan models include REVscan, EXAscan, VIUscan, MAXscan, and ERGOscan.
The ZCorporation 3D scanners come in several versions: ZScanner 700, ZScanner 700CX, ZScanner 700PX, ZScanner 800. The person who can answer your questions on handheld 3D scanners would be Andy DeHart, whose e-mail is adehart@zcorp.com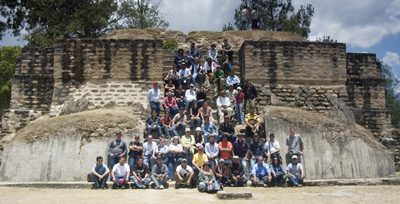 Members of the first Architectural Photogrammetry and GIS for Cultural Heritage Conservation workshop in Iximche, Guatemala.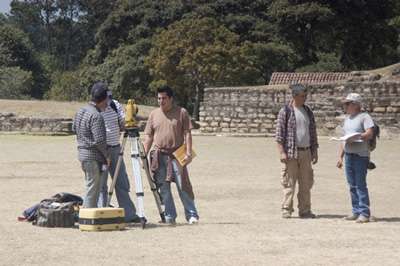 Luis Sacayón, in brown T-shirt learning how to plot CAD data using a Total Station.