Featuring Virtual Reality views of two archaeology Museums, the Ball Court, Mayan Artifacts, and stunning photos from the Museum.
Copan Museum | Panoramas Menu | HOME
Pre-Hispanic Maya Art, Artifacts, and Antiquities in Honduras.
Visit the sculpture museum as well as the village archaeology museums of the Maya ruins of Copan, Honduras, Central America.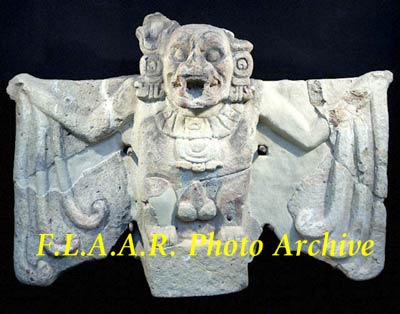 The bat was the symbol for Copan. This monumental portrait and most of the other sculptures in the Copan museum were reassembled by Barbara Fash in years of meticulous analysis of these statues.
These photographs were all taken with the specific permission of the Director General of IHAH with the considerable local assistance of Professor Oscar Cruz, IHAH representative for Copan Ruinas.
The Camazotz "Vampire" Bat Sculpture is now moved from the village archaeology museum to the larger Copan Sculpture Museum in the main Copan Ruinas park.
We have done additional photography of this remarkable Mayan anthropomorphic killer bat monster between 2010 and 2012 and will be doing more publications on bats in Maya mythology (and bats in the caves and rain forests) during coming years.
In the meantime we are posting a bibliography on bats of the Maya area of Mesoamerica on our bibliography web site, www.maya-art-books.org.
To get these photographs FLAAR sent a photography crew to Honduras with a complete portable studio. With a Linhof 4x5, Wisner 4x5, several Hasselblads, Leicas, and a complete Dicomed-Better Light digital scanning camera, Nicholas Hellmuth and Andrea David did exhaustive photography in both museums.
This photography was aided in all aspects by IHAH and Professor Oscar Cruz. We appreciate the assistance of the Hotel Marina for providing a courtesy room in their annex.