Recommendations for a solid workhorse black-and-white desktop laser printer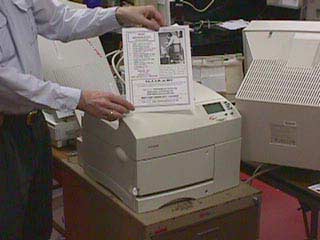 Most people automatically think of Hewlett Packard when they go to buy a laser printer. But it is worthwhile taking a look at the Lexmark, QMS, and GCC.
Lexmark began its corporate life as an offshoot of IBM. Lexmark quickly created printers that were better than anything IBM itself had ever produced! Now Lexmark is independent, and doing quite well. In laser printers they specialize in network printers for large offices. This means that their printers can hold up under all kinds of conditions of heavy use.

The picture shows a Lexmark Optra R black and white printer in the FLAAR office. We also have a Lexmark Optra N 11x17 inch size black and white plus a Lexmark Optra 1275 color laser.

In the two years since we tested the Lexmark we have found out that the quality of GCC printers is better.

If you wish to experience the 1200 dpi photo-quality of a GCC printer in your own office, and learn about the various options and solutions provided by GCC 1200 dpi printers, contact Bob Kinsella, e-mail bkinsella@gcctech.com.
What is the best color laser printer if you want photo-realistic quality?
Comprehensive index of all pages on this web site, Maya archaeology as well as digital imaging.
If you would like help in deciding what color laser printer or which black-and-white laser printer to buy, just send an E-mail to ReaderService@FLAAR.org and our main reviewer, Nicholas Hellmuth, will do his best to help out. Keep in mind he is opening up a new digital imaging test and review center in Guatemala and expanding his test center in Germany, so it may take a day to respond. Be sure to indicate what kinds of images you need to print, what size, and be realistic in your budget projections. It might help to include what printers you already have and what you were considering before reading the reviews of laser printers here.