Lexmark was originally the printer arm of IBM. Then Lexmark's printers became so well known that the company went independent. We selected the Lexmark color laser to test and review because we saw one in action at Brevard Community College. The color was wonderful and the price was reasonable. Best of all, cost per page was just 12 cents.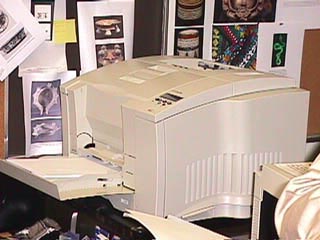 This Lexmark color laser printer has a small footprint and fit nicely on a desk.
Behind the printer, on the wall, are fading prints from several Epson ink jet printers we tried to use. The Epson color faded quickly, the Epson was painfully slow, and its ink excessively expensive.
Other professors on campus also tried Epson printers, to make nice color handouts for their students. Professor Osborne finally bought a Lexmark Optra 1275c, and got rid of his Epson printers. His Lexmark produces up to 20,000 prints each month, month after month.
No Epson could survive this output (it would take hours after hour for an Epson to crank out even a hundred copies, much less 20,000!)
We recently had an opportunity to speak with several people who made the mistake of purchasing an Epson 3000 printer. Two unsatisfied users report that the Epson 3000 printer eats ink, messes up pages with digital garbage (ruining expensive paper) and demands only costly special paper (in other words you do not get adequate results using normal paper). These are the same problems we had with our own Epson 1520. Thus we recommend not to buy the Epson 3000 or other Epson models of this kind. The Epson 9000, however, is a machine of professional quality (it has an EFI hardware RIP).
If you need a monochrome laser printer (black-and-white) but photo-quality, consider the GCC. If you wish specific information about the various options and solutions provided by GCC printers, contact Bob Kinsella, tel800 942-3233, fax 800 442-2329, e-mail bkinsella@gcctech.com
.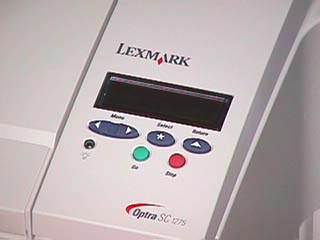 The color laser has a control area similar to other Lexmark printers. The instruction book explains how to set things up.
Paper recommended for Lexmark Optra 1275n color laser printer Lexmark printers are built to last. They now have an 11x17 inch color laser available.
Available now, review of QMS 2060 FX laser printer, can handle up to 13 x 26 inch paper at 1200 dpi photo-quality. We just added this printer to our test center in Essen, Germany. Check out www.laser-printer-reviews.org
Today we have upgraded to the Tally T8204 color laser printer because it gives photo-realistic quality. Reviews and samples are on www.laser-printer-reviews.org
If you need even larger prints in black-and--white, printers from GCC print up to 35.5 inches in length, at a generous 13 inches wide.