A picture is worth a thousand words, so here are some images from the Carlos Pellicer Museum, the state of
Tabasco's regional anthropology museum.

Featuring ancient Olmec and Maya Art and Sculpture.
Examples of detailed photographs of were-jaguar deity, the Night Sun god of the Classic Maya of ancient Mexico.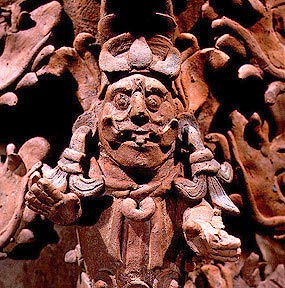 Pre-Columbian ceramic lid for an incense burner.
A dozen of these fired clay statues were found in a cave where the 7th century Maya used these for religious rituals. The Maya consider caves as the entrance to the Underworld.
Photographed with the specific permission of the Tabasco Institute of Culture and the Head of Museums for the State of Tabasco. Used on the Internet also with specific permission of the Carlos Pellicer Museum, CICOM, Villahermosa,Tabasco. Copyrighted both for the image and for the other use on the Web.
Image Menu (each of these images are links)