Vases, pots, bowls, glass, porcelain, or any round widget. We will be announcing our new book of Maya vase rollouts.
ENCAD NovaJet Pro wide format inkjet printer does professional job of enlarging a 5 inch section to poster size. Rollout of a Maya vase from the Museo Popol Vuh, Guatemala. With digital imaging technology this can all be done in-house, with your own equipment. It is easy to learn, after all, we taught ourselves to handle all this equipment. We are now using a Hewlett-Packard DesignJet 2800 CP, 600 dpi (twice the quality of the Encad). For more details on this capable printer, check out www.FineArtGicleePrinters.org. For sample printouts of rollouts with the new printer, click here (Tiquisate ballgame).
All the images here are direct digital photographs taken with digital photography software by Michael Collette, Better Light, which
modifies the Dicomed Field Pro to achieve seamless panorama and turntable rollout capability.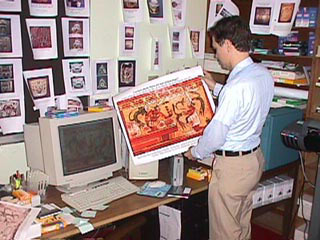 ViewSonic 20 or 21 inch monitors sure help visualize
a long-format rollout.
A 24" or 29" ViewSonic monitor would be even more practical.
Tabloid sized laser printers are now available from QMS, even full-bleed (11.7 x 17.7 inches).
Related links

Digital imaging

, introduction, software reviews, recommendations of useful equipment for www.flatbed-scanner-review.org

Desktop publishing

(how best to print your reports, class notes, publish in your own office)