Rollout of a polychrome Mayan bowl is enlarged to 14 feet long. How is it possible to achieve this quality in an enlargement when the film is rotating simultaneously photographing a round object which is also rotating? It is a wonder that such a moving picture turns out at all. This new technology is a tremendous help for Maya iconography, a crucial aspect of precolumbian art history and archaeology.
Board Member Max Holzheu of Museo Popol Vuh, Guatemala, visits FLAAR office in USA to learn digital imaging technology.
70mm film, enlarged in the one lab in the USA which can produce a print on 100-foot rolls of 24" photo paper. This is a traditional darkroom enlargement, not a digital enlargement.
This is the actual polychrome Mayan bowl from which the rollout was made. It is only about 5 inches tall.
The new FLAAR digital rollout system can also do a rollout of the interior of plates and wide bowls. We did a rollout of the planetary band inside this bowl.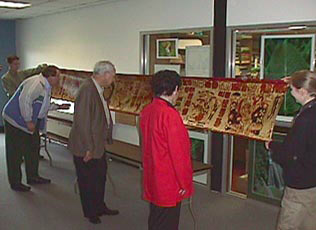 We photographed the same Castillo Bowl also with the digital camera, or you can scan the 70mm film on a flatbed scanner.
14 feet long, world record for an enlargement of a Maya vase rollout. The same pot photographed with the digital camera is even larger!
Rollouts from home made cameras tend to have poor definition. This is akin to lack of focus but is actually a result of improper rotational coordination. This is a polite way of saying that the speed of the film is incorrect when it is estimated by guesswork.
It takes a computer to achieve accuracy.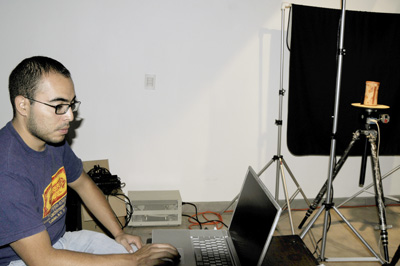 Eduardo with the equipment for rollout pictures at La Ruta Maya Conservation Foundation
Index and links to rollout photographs of polychrome Maya vases on www.maya-archaeology web site. Discussion of advanced technology of turntable rollout technology using sophisticated computer-controlled equipment.