We first experimented with a HP 4MV laser printer, but it produced lines and streaks across many of the images. Since we already had a regular sized Lexmark Optra R+ laser printer, we decided to give the Lexmark Optra N laser printer a chance to prove itself. We have been content ever since. No more streaks.
By January, 2000 the generation of 1200 dpi color laser printers were well established. You have to beware of advertising claims about 1200 dpi... sometimes it is feigned, and only for text. In fact, on some printers, using a 1200 dpi setting will cause your photos to look worse.
So how is the best way to figure out which color laser printer really gives you 1200 dpi? In addition to testing printers ourselves, we visit all the major international computer tradeshows, such as Comdex in the USA and CeBIT in Germany. The best color laser printers that we have seen so far are from QMS, Tally, and Tektronix. The solid ink (crayon) color printers have never been popular with people that want flawless color, so stick with traditional color laser technology. Color laser printers have countless advantages over cheap inkjet printers (color laser is faster, does not fade like inkjet prints, and you can do multiple copies). Cheap inkjet printers are not really made for producing lots of copies.
We spend thousands of dollars to get great photographs. With the quality of Leica, Hasselblad, and now Dicomed and Better Light, it is necessaryto have a desktop printer which is capable of handling this class of high-end photography.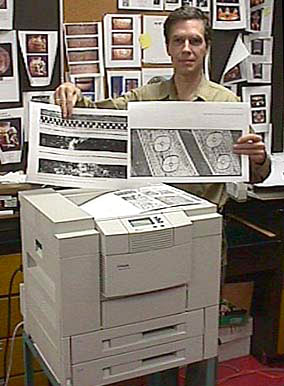 Here FLAAR Director Nicholas Hellmuth displays prints of rollout photographs of 8th century Maya vases.
Formerly we had to send all our 11x17" brochures out to be printed, or worse, to be copied. Everything ended up with streaks worse than before.Now we print in house. Clean, crisp, wonderful photographic images. Everypage is an original, no more second generation copies.
People who receive our brochures report back that they notice the difference.The Lexmark works flawlessly on a Macintosh as well as with a PC. We have both systems in the office and use both to print to the Lexmark.
In 1996 the Lexmark was one of the better monochrome laser printers (better than Hewlett Packard). When we tested the QMS black-and-white laser printer in 1998 we noticed that the quality from the QMS was better than HP and Lexmark both. Then we tested a GCC laser printer in 1999. Even at 800 dpi the quality was better than the others. Now we are testing the 1200 dpi GCC printer.
If you wish to experience the 1200 dpi photo-quality of a GCC printer in your own office, and learn about the various options and solutions provided by GCC 1200 dpi printers, contact Bob Kinsella, e-mail bkinsella@gcctech.com