Crocodiles, Caimans, Alligators in Mayan Iconography & Epigraphy
Copan Ruinas, Honduras, and nearby Maya rock sculptures of Los Sapos have probably more crocodiles or alligator mythical characters than any Mayan archaeological site other than far-away Yaxchilan (on the crocodile infested Rio Usumacinta).
The question is: are these crocodiles, or alligators? Or caimans?
So the team of researchers at FLAAR have been studying crocodiles, alligators and caimans up-close in rivers, lakes, plus in zoos of Guatemala and Honduras. We now have one of the largest photo archives of high-resolution digital photographs of the teeth, fangs, eye crests, and all the scale patterns of all three species of Mesoamerica.
Our goal is to present unprecedented quantity of precision photographs of these large reptiles to assist iconographers, epigraphers, art historians, students, and interested lay public to understand the difference among the three species.
As soon as adequate funding is available from a considerate corporation, foundation, or individual we can publish all our photographs from seven years, but we show at least samples of crocodiles and alligators of Mesoamerica.
FLAAR illustrator Josefina Sequen is also doing scientific illustrations, plus illustrations for children's books.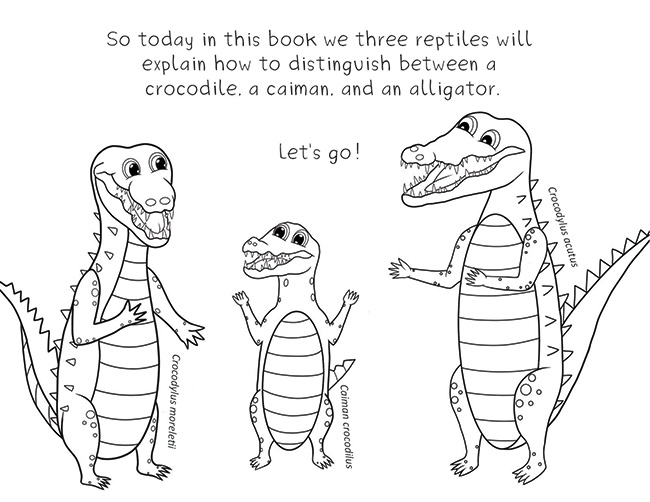 Illustration by Josefina Sequen for Mayan Toons comics.