There are thousands of capable archaeologists, an equal number of experienced museum personnel, and countless art historians. But few have familiarity with or access to the diverse technologies that can assist them in bringing education to students and the interested public.
FLAAR has a background in archaeology, architectural history, and art. Since there are already plenty of people doing excellent field projects, we have gradually evolved into two niches where we can best serve everyone: serve the academic community of scholars, and even more useful, provide services to the general public:
High quality photographs, of a better quality than normal
General assistance to everyone on how to select which digital technology for any particular task that can assist in the study of Latin American anthropology. In this rubric we include art, artifacts, ethno-botany, ethno-zoology, geology (jade, obsidian, etc, for example), and all the sciences that study all this: CAD, GIS, and so on.
Scanning is utilized to digitize archives as well as to record artifacts directly.
Wide format inkjet printers are used for mapping, aerial photography of archaeological zones, and photographic printing. We are especially interested in flatbed printers that can print onto exhibit materials. We have entire web sites on these facets of digital imaging.
Once you have a (UV-curable flatbed) inkjet printer that can print on foam-core or other upright exhibit material, you may wish to cut it out. Lets say you wanted to show (for a museum audience, for a lecture, as a traveling exhibit, or for taking around to schools in your area) what 8th century Maya women wore in the royal palace (you might not want to show school children what they wore at home, since that was probably topless).
Or you might wish to show all the diverse Mayan deities. Or the sacred animals: jaguar, raptors, venomous snakes. You can do rollout photographs of the pertinent vases, and then print them onto flat rigid material.
With today's cameras you can print them at life-size. This was not possible with earlier rollout cameras (too imprecise, so enlargements are fuzzy). But with the computer-controlled BetterLight Pano/WideView circumferential rollout adapter, you can take a Maya vase and enlarge it to life-size (the people on it at 5-feet tall).
Then, you can cut each one out, at life size, and set them up as a scene of what it looked like in the Maya Netherworld (Underworld) with all the gods together. By showing them at life-size, they become more real, just as they would have existed in the pageants, religious theater, processions and ceremonies at Tikal, Palenque, Chichen Itza, Tulum, and Copan.
So every year FLAAR personnel attend technology trade shows around the world. We track down 3D scanners; we look at 3D printers (rapid prototypers); we study CO2 laser engravers.
Every year we add an additional focus to our coverage of digital imaging technology. Since 2007 it has been XY cutters, so that we can recreate Mayan ceremonies to assist bringing this fascinating pre-Columbian culture back to life in museums, exhibits, displays.
Zünd XY cutters: G3 generation
Zund started with cutters for apparel, packaging, textiles, leather and other materials. That's what they are made for originally: thin soft material. The advent of UV-curable flatbed inkjet printers has provided an additional market: cutting signage for point-of-sale displays.
Today (2009) there are so many other brands of cutting table, including DataTech, Misomex but the one we know the best is Kongsberg.
Zund Cutter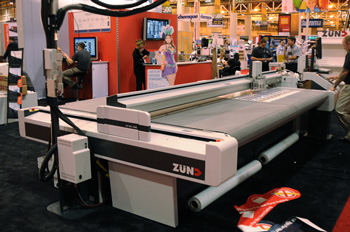 Zund XY G3 L2500 cutter at SGIA 2009
Mimaki CF2-0912, CF2-1215, CF2-1218 Pro Series flatbed cutting plotters
These Mimaki CF2 cutters are for cutting, creasing, and drawing. Mimaki is very honest in their placement of these as entry level in comparison to Zund and Kongsberg. Also in their inkjet printers, Mimaki tends to be modest and normally avoids most misleading advertising claims.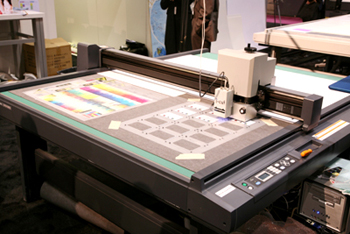 Mimaki CF2 Series Cutter
Gerber M Series flatbed digital cutter
Since this page was first posted in 2006, Gerber has moved further into the cutting market with their M-Series flatbed cutters. These are used for graphics in addition to fashion, apparel, leather, packaging and display. Again, it is the display aspect, but FLAAR is also interested in recreating Maya clothing (they had cotton and bark paper cloth).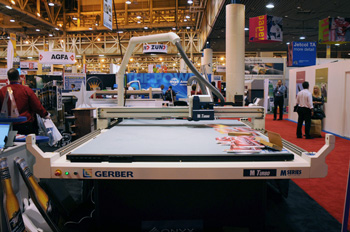 Gerber M Series cutter at SGIA 2009
Kongsberg XP, XL, and XE flatbed cutters and routers (milling machines)
MGE was the company that developed the industry-standard cutting software that is used by Kongsberg and other brands, for example, in large industrial printers sold by Esko-Graphics. I first saw this Kongsberg equipment in Milan, about 2005, together with a Scitex Vision CORjet printer (now reissued as the HP Scitex FB6700)). But we see these machines as ideal to cut out life-sized figures for museum exhibits and educational displays.
Today all these cutters and i-cut vision software are part of EskoArtwork. Indeed the advantage of Kongsberg over Zund G3 and other brands in Europe is that EskoArtwork has every aspect of the workflow development and manufacturing in-house: i-cut vision software, other pertinent operational software (Gent, Belgium), and the flatbed table engineering (accomplished in Norway).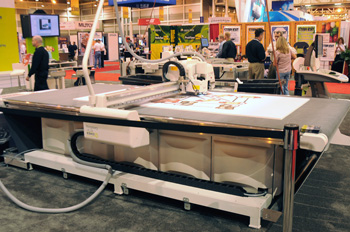 Esko Kongsberg i-XL24 at SGIA 2009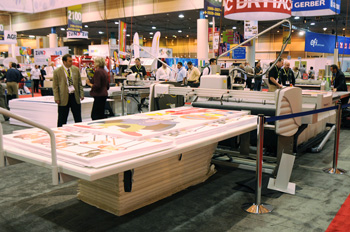 Esko Kongsbert XP24 at SGIA 2009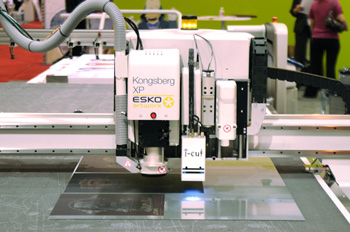 Esko Kongsbert XP cutter at SGIA 2009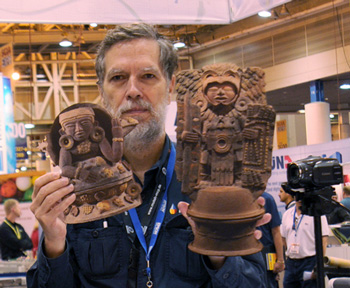 Nicholas Hellmuth at the Esko Booth in SGIA 2009 showing the cut outs of the Teotihuacan incesarios