The official name of this tripod is G1348 MK2 Mountaineer Inter-Pro Studex Tripod, with flat plate. Flat plate means it has no center column. Center columns are primarily needed when the tripod itself is not tall enough. Center columns tend to wobble and are not often used for serious professional photography. But, if your tripod is short, admittedly a center column does come in handy at times.
For years I have had tripods that are not high enough. Often you want to be up high, looking down. If the tripod is too short you are severely limited. This tripod is over 5-feet high (without a tripod head). Any higher and you would need a ladder. For me this Gitzo G1348 MK2 Mountaineer tripod is the perfect height.
The weight is reasonable due to its carbon-fiber construction, and since it is in four sections it folds down into a normal suitcase.
I photograph plants, flowers, animals, insects, archaeology, artifacts, and architectural history. The Gitzo 1348 is an ideal tripod: sturdy; the legs can angle up so you can use it on a hillside. I find this tripod good for fieldwork in any kind of terrain.
If you want an accessory tripod to photograph small flowers close-up, or insects, you might also want to check out the fresh new design concept of the Gitzo G2257 Explorer tripod.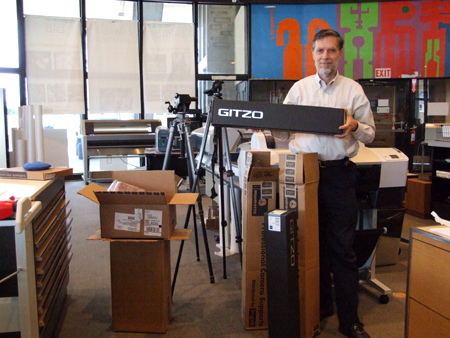 Gitzo tripods