All it takes is a color laser printer and digital images. If you don't have a digital rollout camera you can easily scan the transparencies.
We used a Lexmark Optra 1275n color laser to print this set of rollouts. Today, with improved technology, we would recommend a QMS color laser, especially if you want 11x17 inch or European A3 size enlargements.
Direct digital rollouts with a Better Light adaptation of the Dicomed Field Pro.
FLAAR offers instruction in how to do rollout photography. We can give this instruction in German, Spanish, or English, anywhere in the world. The Better Light and Dicomed equipment is fully portable and adapts to European 220, 110, or Japanese 100 volt electricity.
On the brochure, the rollout at top left is from the inside of a plate. Since the camera is a 4x5 bellows system, you can use tilts and swings to get the lens and/or film plane parallel to the slant of the inside of a plate. You can also rollout the outside of a plate by turning the plate upside down.
Vase with birds and PSS hieroglyphs from the plate are on ceramics in the Museo Popol Vuh, Universidad Francisco Marroquin.
The vase with a black background shows a God N Fishing Bird, described in a forthcoming book on the iconography of Maya vases, bowls, and plates by Nicholas Hellmuth.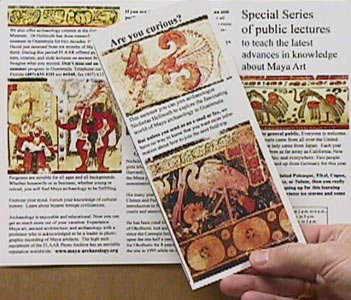 The vase with a black background shows a God N Fishing Bird
Using Better light for rollouts photography at La Ruta Maya Conservation Foundation